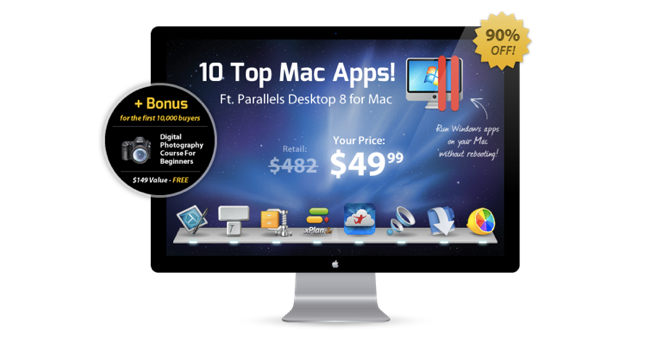 If you haven't checked out the Summer 2013 Mac Bundle yet, you'd better hurry! In addition to the super population Parallels Desktop 8, there are 8 other great apps in here all hugely discounted. Here's what's included in the Summer 2013 Mac Bundle:
Parallels Desktop 8 for Mac – The #1 choice of customers for running Windows on your Mac
Snagit for Mac – Record screen videos and enhance your images with the ultimate screen capture tool
Typinator – Typinator "types" frequently used text for you
WinZip Mac Edition 2.0 – Maximize your productivity and minimize your file sizes
xPlan – Easily create, track and manage your projects right from your Mac
Jump Desktop – Connect to any computer in the world
Boom for Mac – System-wide volume booster and equalizer that will give your Mac the sonic boom
Leap – Easily find, organize, and browse your most important documents
ColorStrokes – The most popular app for selective color photography
And as an added bonus, if you're one of the first 10,000 to purchase this bundle, you'll get a digital photography course for beginners for free that will teach you how to effectively use a DSLR camera. Normally everything in this bundle would cost you $482, but for a limited time you can get the Summer 2013 Mac Bundle for only $49.99. And that time has just about run out, because this deal is almost over. You can grab the Summer 2013 Mac Bundle here. Get it while you can!