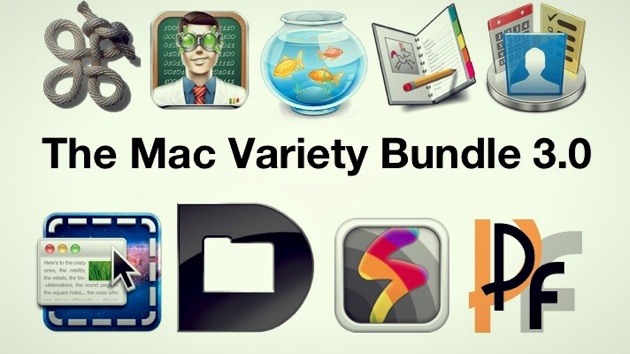 The Mac Variety Bundle 3.0 includes 9 great apps that will help you stay organized, play with your photos, be more efficient and so much more. These 9 apps would normally cost you $445, but for a limited time we're bringing them to you for only $42. Here are the apps in the bundle:
Contactizer Pro – Manage, share and organize personal and business information.
Keycue – Displays all menu shortcut commands.
Disk Drill Pro – Data protection and recovery solution.
AppShelf – Keep track of your software registrations and serial numbers.
Default Folder X – Enhances Open and Save dialogs with bountiful options.
702 Premium Fonts – Unique premium fonts for Mac & Windows.
Circus Ponies Notebook – Organize photos, email, documents and more.
Color Splash Pro – Transform your photos with splashes of color.
Cinch – Simple, mouse-driven window management.
You can grab the Mac Variety Bundle here.