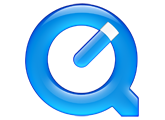 Late today, Apple released an update to QuickTime 7. The update includes a laundry list of bug fixes.
Not to be confused with Snow Leopard's QuickTime X, QT7 runs on both OS X 10.5 Leopard and 10.6 Snow Leopard,  and offers support for older media formats and advanced exporting options.
The update is available from Apple's website or via Software Update.