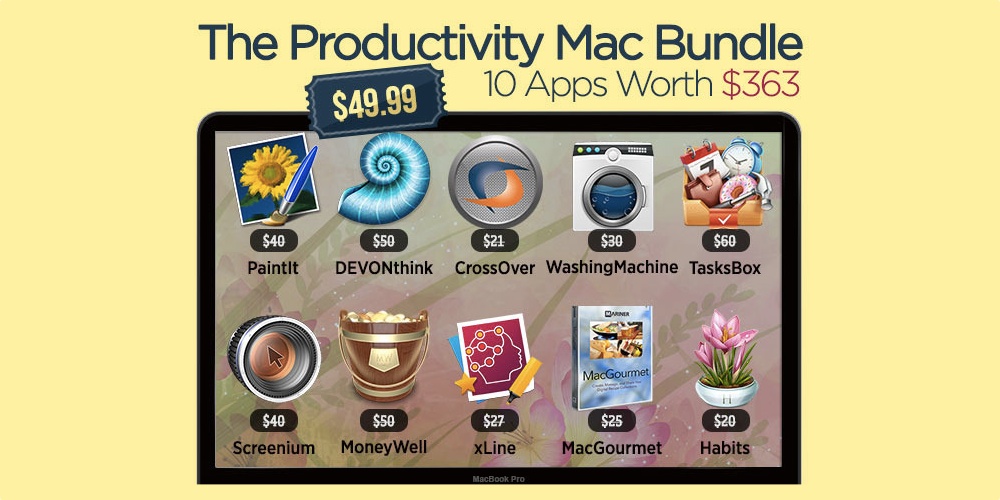 The Mac Productivity Bundle has 10 apps that will help you to make the most out of your day. It's got a little something of everything and will quickly have you wondering how you ever lived without it. Here are the 10 apps included in the bundle:
Paint It! – Fun photo painting software that lets you transform your favorite photo memories into unique, hand-painted works of art.
DEVONthink Personal – DEVONthink keeps all your valuable data organized in one easy-to-backup database, and presents it to you in a variety of ways optimized to your work style. Multiple views help you quickly navigate your data.
CrossOver For Mac – CrossOver for Mac runs Windows software on Macs without purchasing a Windows license, without rebooting your computer, and without having to use a virtual machine.
Intego Washing Machine – An elegant and easy Mac cleaner that gets rid of the junk making your Mac slow, like duplicate files and old programs you never use.
MoneyWell – A revolutionary personal finance manager that will change the way you control your spending. Simply create a list of events to tell MoneyWell how you spend your money and it builds your budget automatically.
Mac Gourmet – Easily create, edit, organize, and share your recipes. Create a shopping list, make notes, search for something for dinner, add to your collection without typing, and even import from other recipe products – all while backing up to the cloud automatically.
TasksBox – Easily manage anything from daily tasks, shopping lists, recipes, projects or a birthday party so you can spend more time on what you love.
Screenium – Record exactly what you see and hear on your screen and make it a screencast, edit within the app, add narration, and share via YouTube.
Habits -­ A life-changing app that provides an awesome framework for people to create new habits and a great way to stick to resolutions. Create a new habit, track a resolution, share progress on Facebook, sync to the cloud, and more.
xLine – Perfect for visually organizing thoughts and ideas. Create mind maps, structure a plan of action, and carry out strategies all on a clean, intuitively-designed app.
Normally these apps would cost you $363, but for a limited time you can grab them for just $49.99. Get the Mac Productivity Bundle here.