Tired of listening to music on your iPhone? You can use Chromecast to play it directly on your TV and its speakers. That's right, the Google streaming device isn't just used for casting photos and videos. It's capable of much more.
In this article, we're going to show you how you can stream music through Chromecast using multiple apps. You'll also learn what to do in case you can't get it to work.
Stream Music to Chromecast Using a Third-Party App
Third-party apps don't have native Chromecast support, but they often include extra features that make them better than official ones such as Spotify and Google Play Music on Chromecast. There are many third-party apps you can use for this purpose, but the one we recommend using is DoCast.
Note that for the setup process, you first have to use Google Home to play music on Chromecast.
1.

How to Stream Music to Chromecast with DoCast App

DoCast is the best third-party app you can use to stream music through Chromecast. The reason why we prefer it over other apps is because it's free to use and doesn't show any ads. Plus, it has some bonus features such as screen mirroring and casting offline media content to your TV.
Most third-party apps require you to get a paid subscription in order to get audio, but DoCast has no such requirement. The free version allows you to enable audio, auto-rotation, and change the quality of the mirrored display on the TV.
The only thing you need to keep in mind is that the free version limits you to 15 minutes of screen mirroring per session.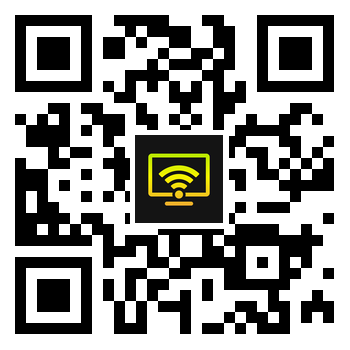 DoCast is a new app, but has already garnered an extremely positive response on the App Store and a perfect 5.0/5 rating. This is what one user on the App Store has to say about the app:
"I just discovered the DoCast screen mirroring app and it's absolutely fantastic! Setting it up was super fast. It works perfectly easy across different devices and the connection is super stable."
– A user on the App Store
Here's a step-by-step guide on how to use DoCast for streaming music to Chromecast:
Step 1: Download DoCast from the App Store.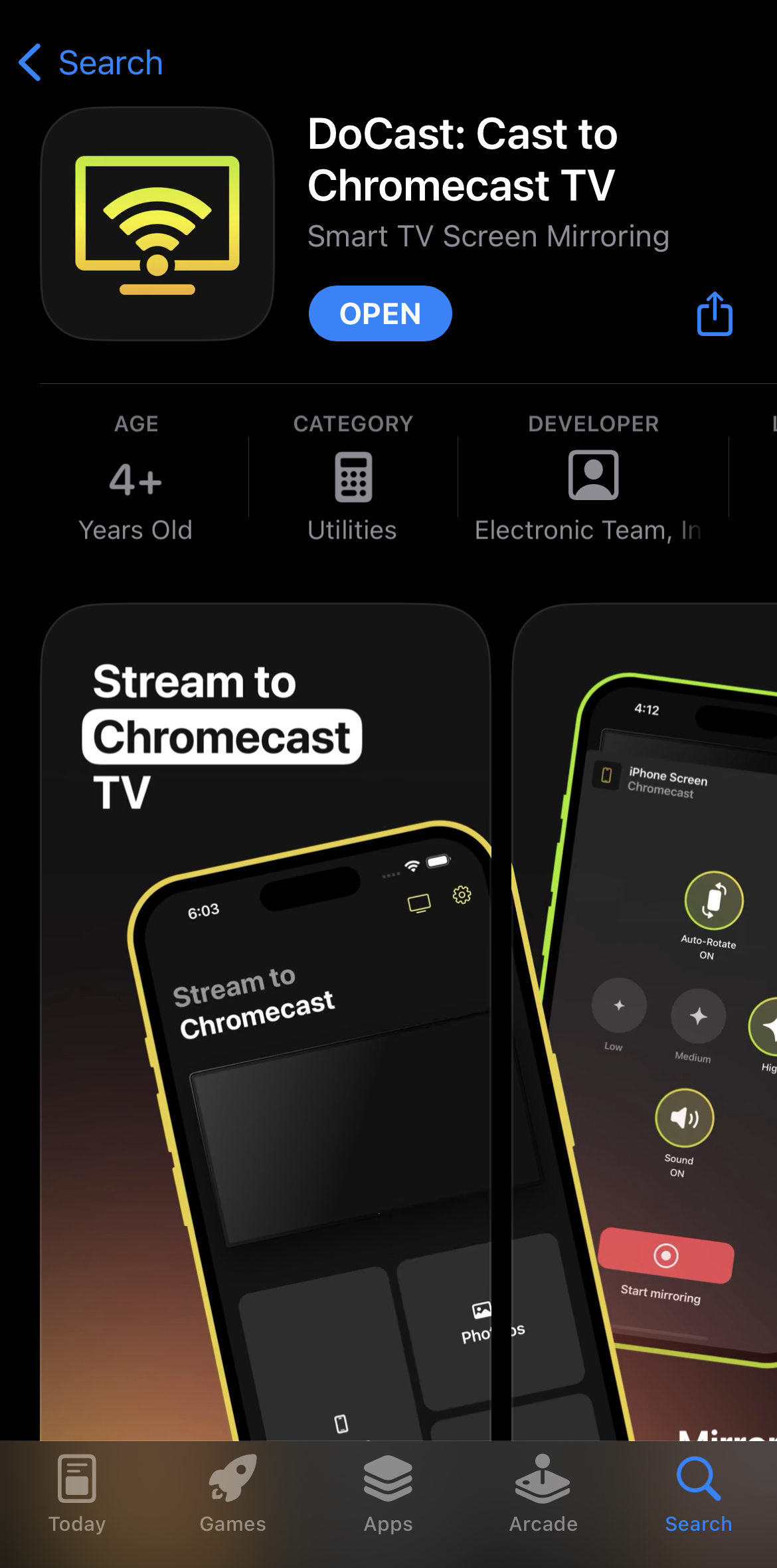 Step 2: Let the app look for Chromecast devices in your vicinity.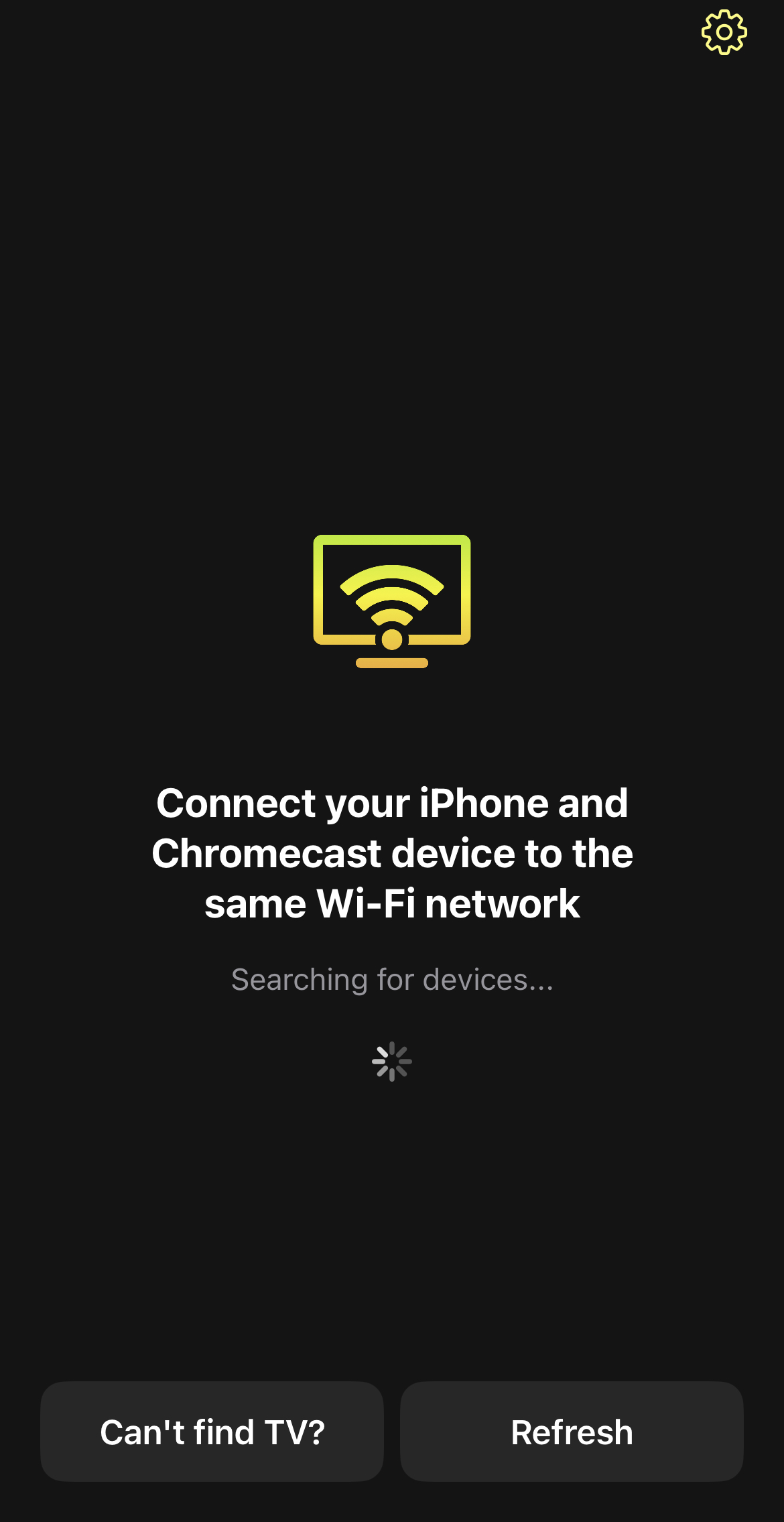 Step 3: Tap your Chromecast device once it appears on the screen.
Step 4: Tap Music in the DoCast app.
Step 5: Pick a song you want to play and tap on it. It'll start to play directly on your TV. You can control the volume and change the songs using your iPhone.
2.

Cast Spotify Music to Chromecast

Spotify is perhaps one of the most widely used and recognized apps in the world of music streaming. It has native support for Chromecast streaming and you can easily stream your music to your TV by tapping the casting icon.
Select your Chromecast device from the list that pops up and you'll start hearing your music through the TV in a couple of seconds. You can also play your entire playlist and control the volume through your iPhone.
While it's a great app for playing music on your TV, it can be a bit slow at times. As mentioned above, you won't be able to do anything else (such as screen mirroring) with the Spotify app as it's solely made for streaming music.
Spotify has a rating of 4.8/5 on the App Store.
3.

Stream Pandora to Chromecast

Pandora is another subscription-based music streaming service that supports Google casting. It was originally launched as an "Internet radio" app and allowed people to find more personalized channels based on the users' preferences.
Just like Spotify, Pandora's free version is supported by advertisements. The premium version lets you download your music for offline listening.
To play music on Google Home and Chromecast, first play any song you want and then tap the casting icon (usually placed in the bottom-right corner). Select your device and you're ready to start listening to music on your TV!
Note that Pandora is only available in the US. It has a rating of 4.8/5 on the App Store.
4.

Amazon Prime Music to Chromecast

All Amazon Prime members get access to Amazon Prime Music. The app contains millions of songs and a large catalog of ad-free podcasts. You can connect it to your Chromecast TV simply by tapping the casting icon you see at the bottom when you play a song.
If it's your first time playing music through Chromecast with Amazon Prime Music, then it may ask you for permission to connect to devices on your local network. Simply tap Allow and then you'll be able to select your Chromecast device from the list that appears.
You can stream your favorite music, podcasts, and playlists to Chromecast with the Amazon Prime Music app. The app is rated 4.6/5 on the App Store.
Troubleshooting
Can't get your casting or music streaming app to connect to Chromecast? It can be frustrating, but there are multiple solutions you can try. Let's take a look at some of them:
📌

Connect to the same Wi-Fi

– the most common problem for most Chromecast issues is that it's not connected to the same Wi-Fi as your iPhone. You have to make sure that you're on the same network as your TV or Chromecast. If you don't have access to the Wi-Fi you originally connected your Chromecast to during the setup process, then we'd recommend setting it up again and pairing it with the Internet your iPhone is currently connected to.
📌

Don't use a VPN

– if you're currently connected to a VPN server, none of the apps on your iPhone will be able to detect your Chromecast device. Disconnect from the VPN and try looking for your device again.
📌

Restart Chromecast

– try unplugging the Chromecast device if it doesn't work. Plug it back in after a few seconds and then see if it shows up when you look for it in a music streaming app. If you have a TV with built-in Chromecast, then go to the list of apps and force stop or quit it.
📌

Restart your iPhone

– if restarting your Chromecast doesn't work, then try restarting the device you're using to cast (iPhone or iPad).
📌

Keep your apps updated

– if you can't see your Chromecast device in an app, make sure you've updated it. Go to the App Store and tap the Update button if you see it.
Conclusion
Finding the best Chromecast iPhone app for streaming music may seem like a difficult task, but we've done the heavy lifting for you. There are tons of apps with native support, but we highly recommend using DoCast, a third-party app.
Not only will it let you play music with Chromecast, but you'll also be able to mirror your iPhone's screen and cast media content stored in your device.
While music streaming apps with native Chromecast support such as Spotify are great, they don't have any other casting features, so you can't use them for other things, such as watching music videos.
FAQ