In this guide, we explore several options for screen mirroring iPhone Chromecast apps and how you can unlock the capabilities of your Chromecast using an iPhone. An iPhone doesn't offer native support for Chromecast, so you will only be able to use this device to watch a variety of different content with the right third-party app. Whether you want to show off a presentation, some photos, or a video you've got stored on your phone, these apps will allow you to do so.
Is There a Native Option to Mirror iPhone Screen on Chromecast?
There is no native way to mirror your screen to Chromecast. Apple's focus is on AirPlay, and you can therefore only mirror your iPhone screen on AirPlay-compatible devices, not Chromecast.
It used to be the case that Google Home would allow you to do so, but now this is only available to Android users. This means that if you want to view an iPhone screen mirror on Chromecast devices, you need to use a third-party app.
How to Screen Mirror iPhone to Chromecast Using Various Screen Mirroring Apps
Google Home is not an option for iPhone screen mirroring to Chromecast but there are a few other apps that you can use, to enable your iPhone to connect to the Chromecast device and smoothly stream videos. A few of these third-party apps are below. Keep in mind that all of the apps are free to download but some require payment to unlock certain features or to get rid of a watermark.
1.

Replica

Replica is a great option for sharing a variety of different content including things like photographs and videos on your phone. It does have some limitations, and it is possible that the app might block certain content. DRM-protected content won't stream via the app so it doesn't work for things like Netflix, but it is great for many forms of screen mirroring such as showing off a Keynote presentation.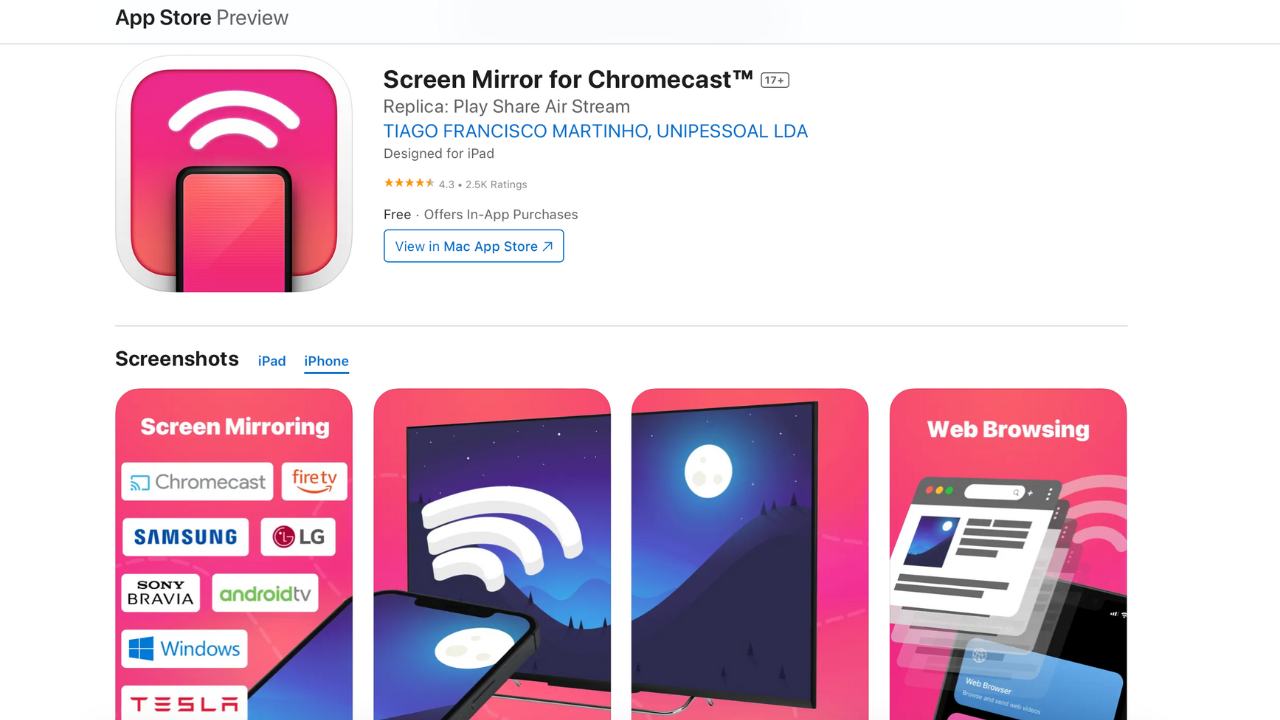 We found Replica to be one of the most reliable apps, it rarely loses connection and can always find the Chromecast or other devices on the first try.
In my opinion, the Replica interface is a little bit clunky which can feel difficult to use, but the reliable functionality makes up for it.
Pros:
Easily cast presentations, photos, and videos saved on your device
Show video content from the web
Cons:
Premium is more expensive than some of the other options
How to screen mirror using Replica:
Step 1: Download the app and allow Replica to find and connect to devices on your network.
Step 2: Replica will search for devices and find your Chromecast under whatever name you have given it.
Step 3: Select the Chromecast and when prompted click Start Broadcast as this will begin streaming everything on your phone, including notifications.
2.

Screen Mirroring | Smart TV

Screen Mirroring | Smart TV is another option for those who want a reliable app that can stream onto your TV. It is another option to mirror the whole screen so whether you are looking at photos and videos, playing a game, or sending messages, it will all show up on the TV.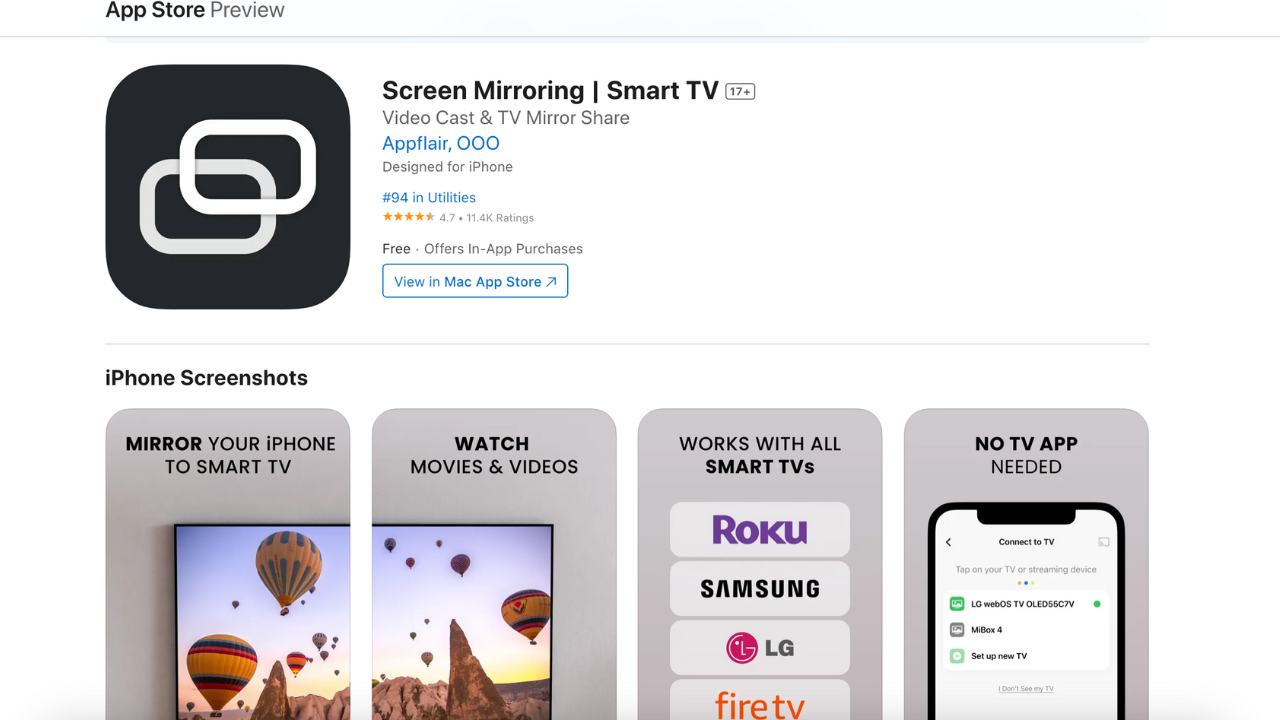 This is the most limited of the apps in terms of free functionality, and you need to pay to unlock the full-screen mirroring features by getting a membership.
In my opinion, this app is a little more pricey and the fact that it doesn't make it easy to unsubscribe can be frustrating.
Pros:
Allows you to mirror the whole screen quickly and reliably
Cons:
Very limited functionality on free mode
Not simple to unsubscribe
How to screen mirror using Screen Mirroring | Smart TV:
Step 1: Download the app and allow access to your network, ensure you are connected to the same network as your Chromecast.
Step 2: The app will automatically scan for devices including your Chromecast and any smart TVs you have and show you a list of devices.
Step 3: Click on the device that you want to connect to (Chromecast) and the app will allow you to perform a test, showing a test image on the screen to check everything is working properly.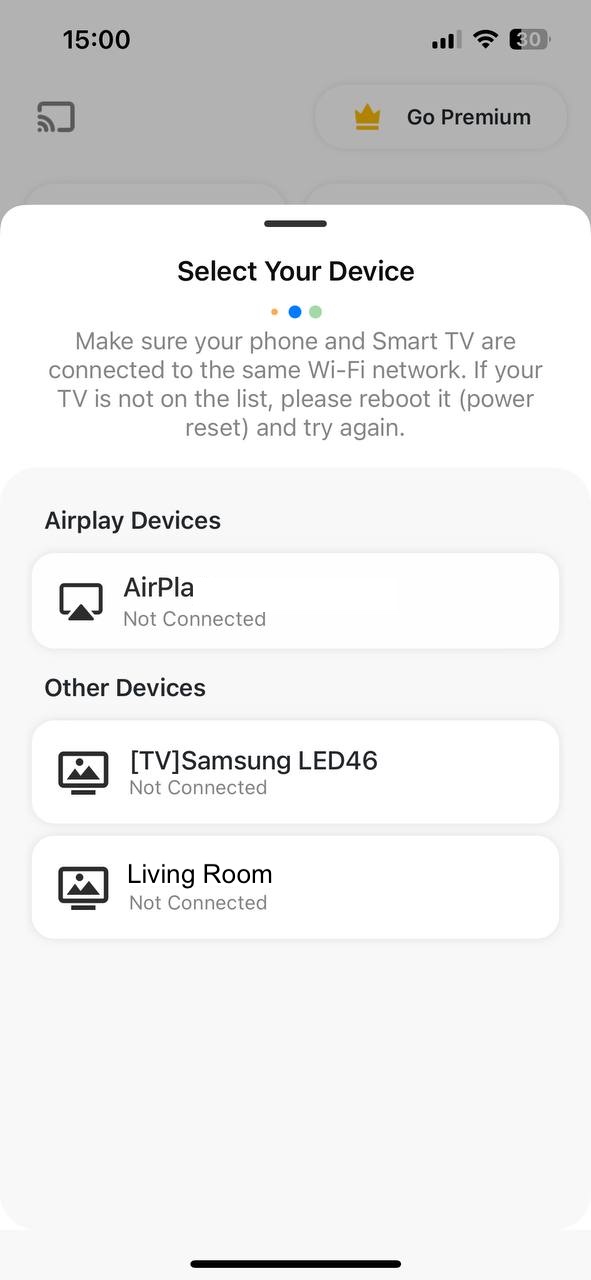 Step 4: Confirm that all is working and the app will prompt you to join and pay for a membership in order to start mirroring.
3.

Screen Mirroring Z – Miracast

Screen Mirroring Z – Miracast is a similar app, but it operates in a slightly different way to the others we've mentioned in this article. It has an inbuilt browser and specific options to select whether you want to stream video, photographs, or other media. This also makes it tougher to stream things like Keynote presentations or show messages on the big screen.
Screen Mirroring Z has its own browser for connecting to watch online videos, and this doesn't always work 100% smoothly, plus it is a bit frustrating not being able to do it from your existing browser. That said, it works reliably which is the most important thing.
In my opinion, it would be better if it worked with an external browser, and sometimes the app doesn't cast in HD which is frustrating.
Pros:
Some features like sharing photos and the inbuilt web browser are free to use
Cons:
Doesn't always stream in HD
Lots of bugs and not much support
Screen mirroring is a paid feature
To connect Screen Mirroring Z – Miracast and stream videos:
Step 1: Download the app and click Allow when prompted, as the app will look to connect to your local network.
Step 2: The app will automatically scan for devices and you can choose one to connect to. The name of your Chromecast should pop up on the screen for you to select.
Step 3: You are then shown a screen with options including Photo, Video, and Web Browser allowing you to cast from these sources. If you want to unlock full-screen mirroring you need to pay for it.
Bonus: How to Get the Most Out of Casting With TV Cast Chromecast
This is another app that makes it super simple to stream local videos or movies through a browser. Instead of showing everything that is on your screen, this app shows the specific media you want, such as a video you have found online via casting rather than full-screen mirroring.
It's an option to watch specific videos rather than mirror iPhone screen to Chromecast and see the whole screen. Be aware that Flash video and DRM-protected videos like Amazon Prime, Netflix, Hulu, DIRECTV, Xfinity, and HBO now are not going to work on this app.
TV Cast Chromecast has a premium edition and this is needed to get the most out of the app. With this, you can access media from cloud storage, bookmark certain footage, and enable subtitles as well as many other playback features. Check you get on well with the free version before considering upgrading, though.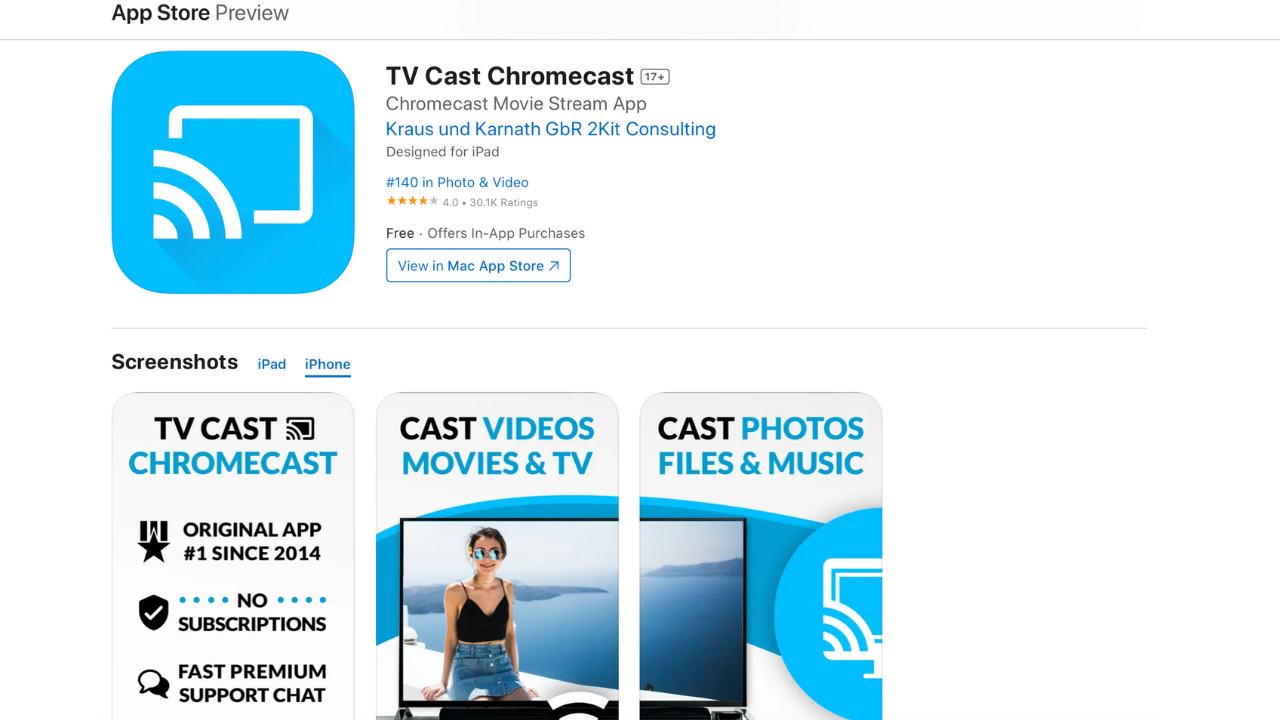 How to cast to TV using your Chromecast:
Step 1: Download and open the app, and when prompted allow it to join the same wireless network that your phone is on, which will allow videos to stream.
Step 2: Use the Cast icon in the top right-hand side of the screen, tap this, and wait for a list of devices you can connect to, including your Chromecast.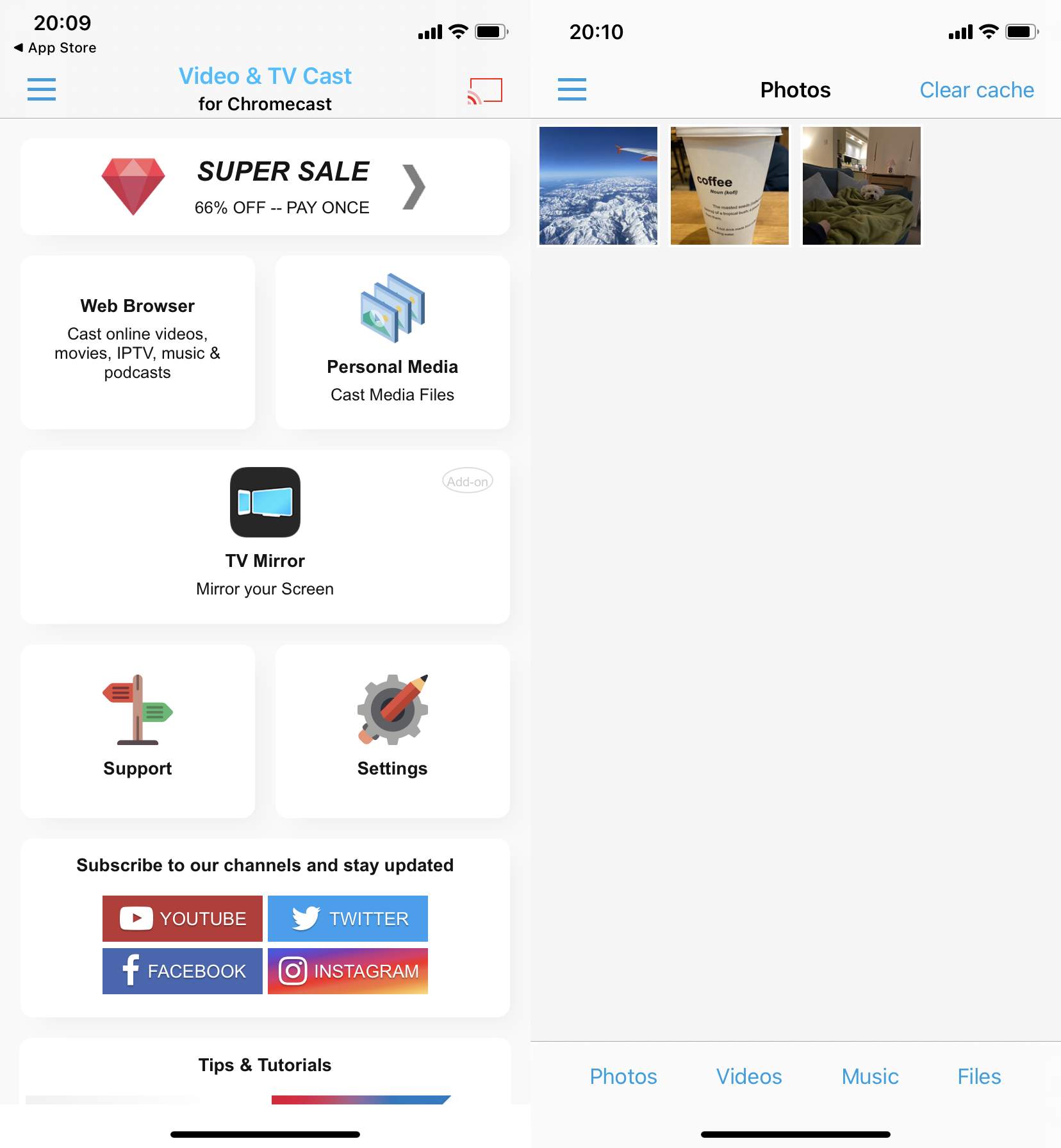 Step 3: Navigate to the Web Browser section to find videos online, or use the Photos and Videos section to select individual media items from your phone to display on the screen.
Conclusion
You need the app to mirror reliably, and allow you to connect quickly and reliably. Consider what kind of media you want to mirror and whether any of it is DRM protected. All of the options on this list are viable choices for streaming media and opening up a world of possibilities on your Chromecast, but Replica's features mean it comes out on top.
It is the easiest mirroring app to start using as well as the best option for screen mirroring non-DRM-protected content. Luckily, apps like Netflix have casting features built in. Most people are looking for a screen mirroring app to show things like photographs or presentations on their devices and Replica gives the ideal app for that.
FAQ
While iPhone screen mirroring to Chromecast is possible with a third-party app, the inbuilt AirPlay function doesn't connect to Chromecast devices. Third-party apps such as those on this list are needed to allow you to use the functions properly.
Apps such as Replica allow you to log in and use the basic functionality for free. You can show videos, access web videos via your iPhone, and mirror your screen using Chromecast with a third-party app.
There are many options for iPhone screen mirroring apps. Replica stands out as one of the very best, it allows you to mirror iPhone screen, stream media with ease and reliably connect to your Chromecast or other smart devices.