What does it mean to clear iPhone cache and should you do it? Many users aren't familiar with caches and cookies, but managing them correctly can dramatically improve an iPhone's performance. In fact, knowing how to clear cache on your iPhone might be the key to getting a rogue app working again or loading a familiar website faster.
However, there are a couple of things you should know before you clear the iOS cache or erase cookies on your iPhone… And it's all here. Read on!
What is the Cache on iPhone?
Your iPhone's cache is responsible for storing temporary data from apps and websites. This allows said apps and websites to launch faster or run more smoothly because they don't have to load everything from scratch.
Cookies, on the other hand, are records of your browsing history and preferences, login credentials, settings, and more. This allows users to keep their settings after closing the browser and/or stay logged into certain websites, but it gives advertisers more information about you.
Should I Clear Cache Data?
There are multiple reasons to clear cache data that affect everything from storage space to user privacy. Let's break them down:
| | |
| --- | --- |
| Reason | Description |
| 📦 Free up space | Unless you delete the cache on your iPhone, the data it stores accumulates over time (especially on iPhones with a lot of apps). Cache data may take up space that could otherwise be used for apps or media files. Your iPhone may clear browser cache data automatically if it needs more storage and it also overwrites old data once the cache is full – but manually clearing it is a great way to quickly get back more storage space. |
| 🚀 Improve website loading and functionality | Cache data from websites may become corrupted due to poor internet connectivity, lack of storage, browser incompatibilities, and more. This may cause websites to perform poorly or fail to load at all. |
| 📱 Troubleshoot app issues | If you are experiencing issues with a certain app, it's possible that its cache data has been corrupted. This may be caused by bugs, conflicting software updates, installation issues, and more. |
| 🛡️ Enhance user privacy | Aside from cache data, consider clearing cookies on your iPhone – cookies not only track your browser history, it also logs your online behavior, sensitive information like login details, and more. When you remove cookies from your iPhone, you remove your consent to have your online activity tracked. This data may also be corrupted or outdated, which may cause slower loading times, broken links, and other on-site issues. |
So if you're experiencing issues with storage, website loading and functionality, malfunctioning apps, or you're concerned about your privacy, clearing the cache on your iPhone might be a good move.
When you clear cache and cookies on your iPhone, there will be a few inconveniences – like the need to log in again or dealing with slower load times when you first open a website or app.
How to Clear Browser Cache on iPhone
As we mentioned in the last section, clearing your browser cache is helpful not only for performance, but it could actually fix "broken" websites on your iPhone. Browser caches also tend to take up more storage space because many of those files may consist of high-resolution images.
This is great because you won't have to load those high-resolution images every time you open the website (as it simply loads the cache data), but that data quickly adds up. It may also be storing large files from websites that you don't (and don't plan to) visit anymore.
The process of clearing browser caches and cookies on your iPhone differs slightly depending on which browser you use. Here are step-by-step instructions to clear your browser cache on iPhone for Safari and Google Chrome:
Safari
To clear Safari cache on your iPhone:
Step 1. Open the Settings app > Safari.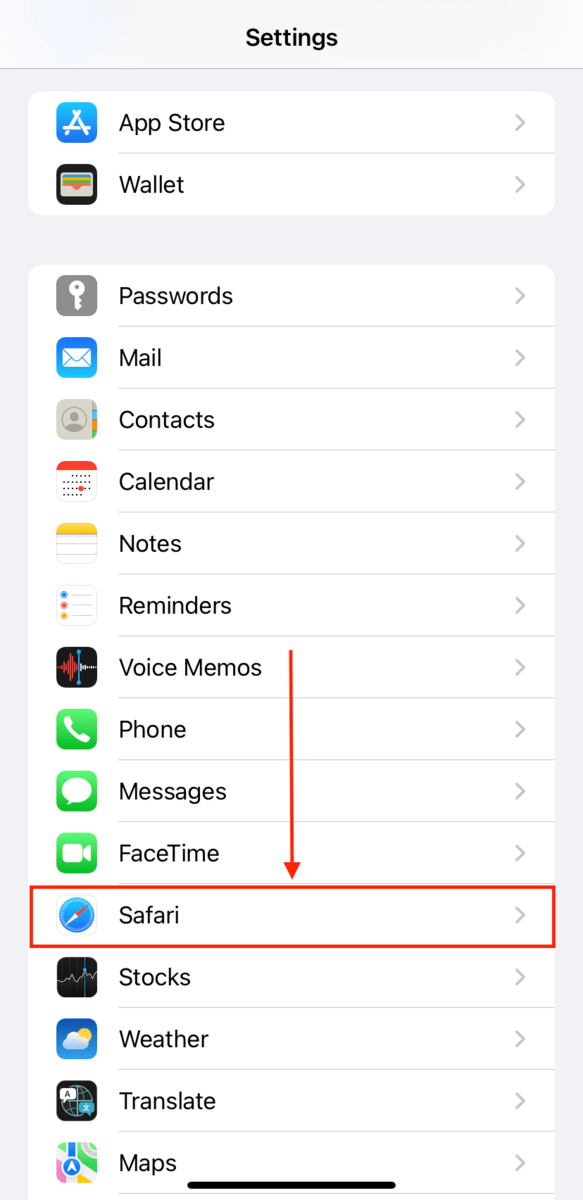 Step 2. Scroll down until you find the PRIVACY & SECURITY section, then tap Clear History and Website Data.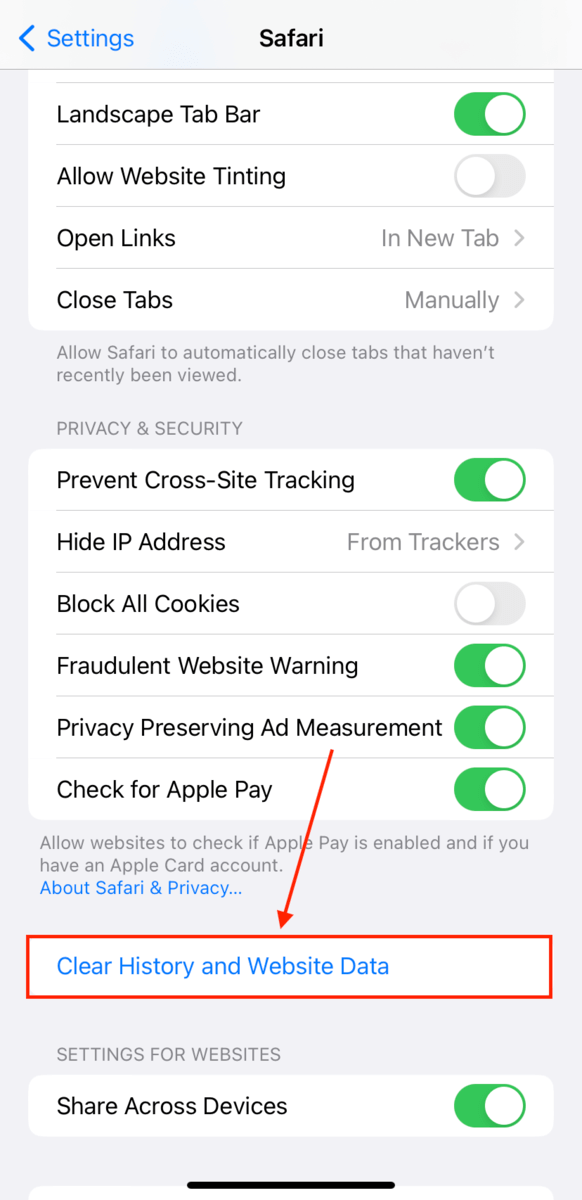 Step 3. Confirm the deletion by clicking Clear History and Data.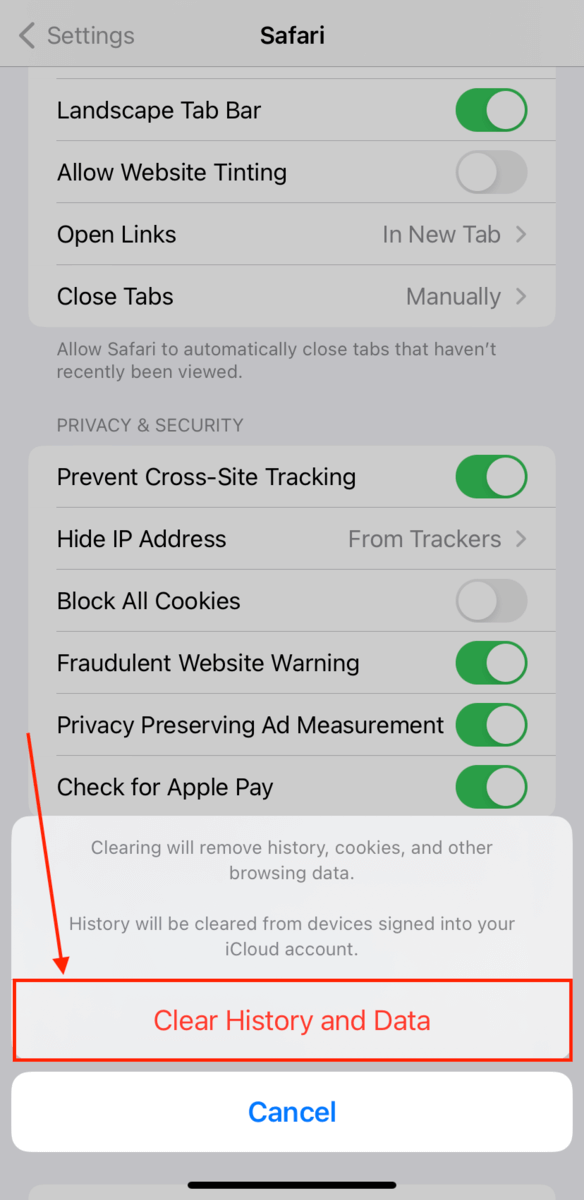 Google Chrome
To clear cache data on your iPhone's Google Chrome browser:
Step 1. Open the Chrome app and tap the 3 dots at the bottom-right corner of the screen.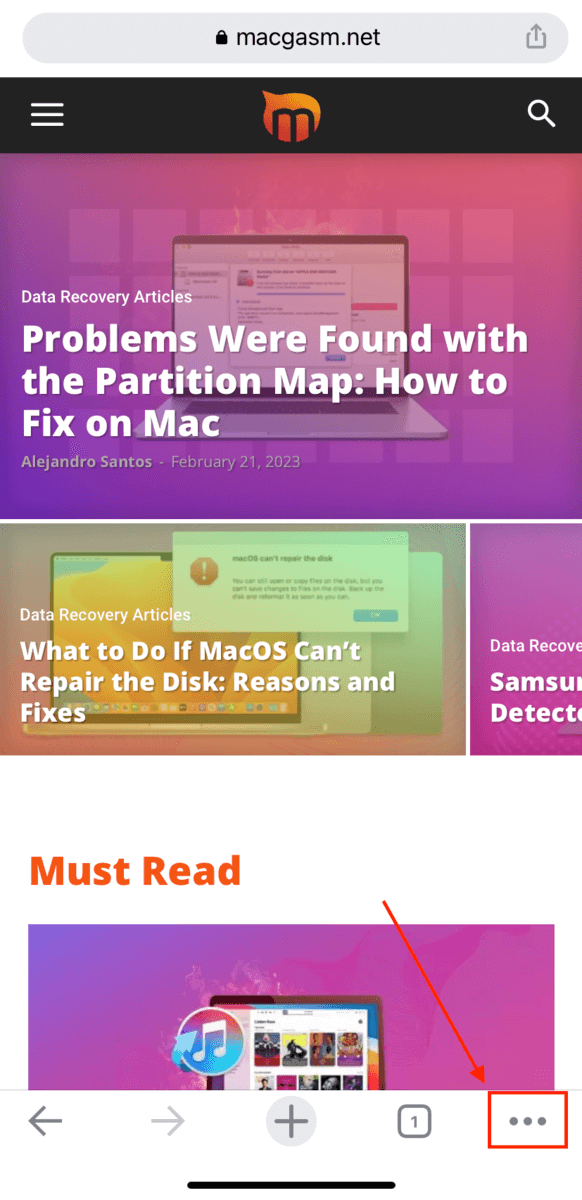 Step 2. Tap History.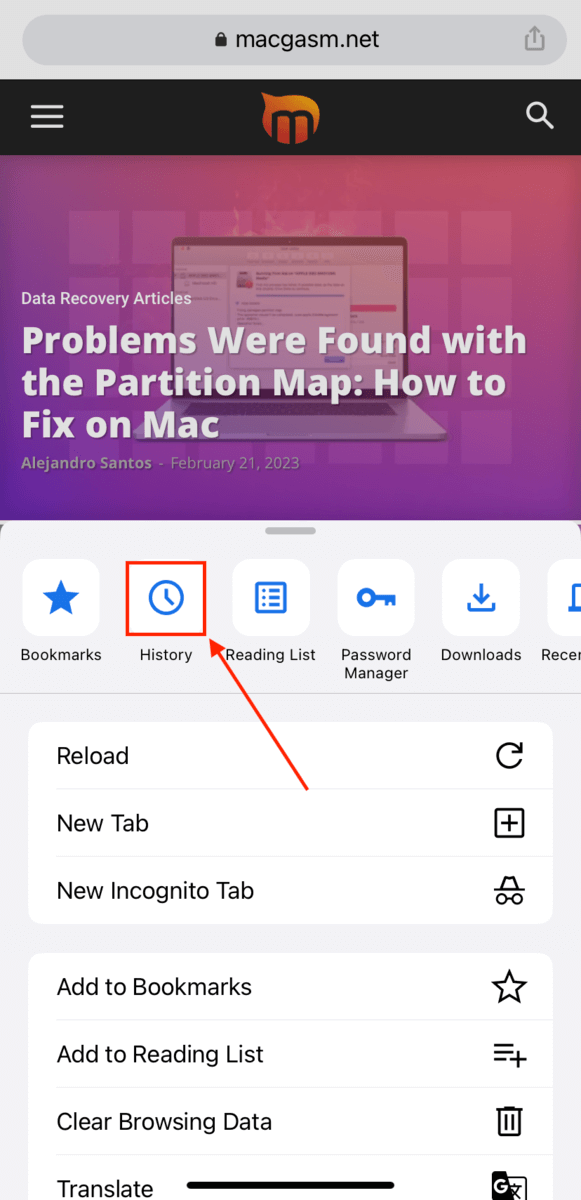 Step 3. Tap Clear Browsing Data…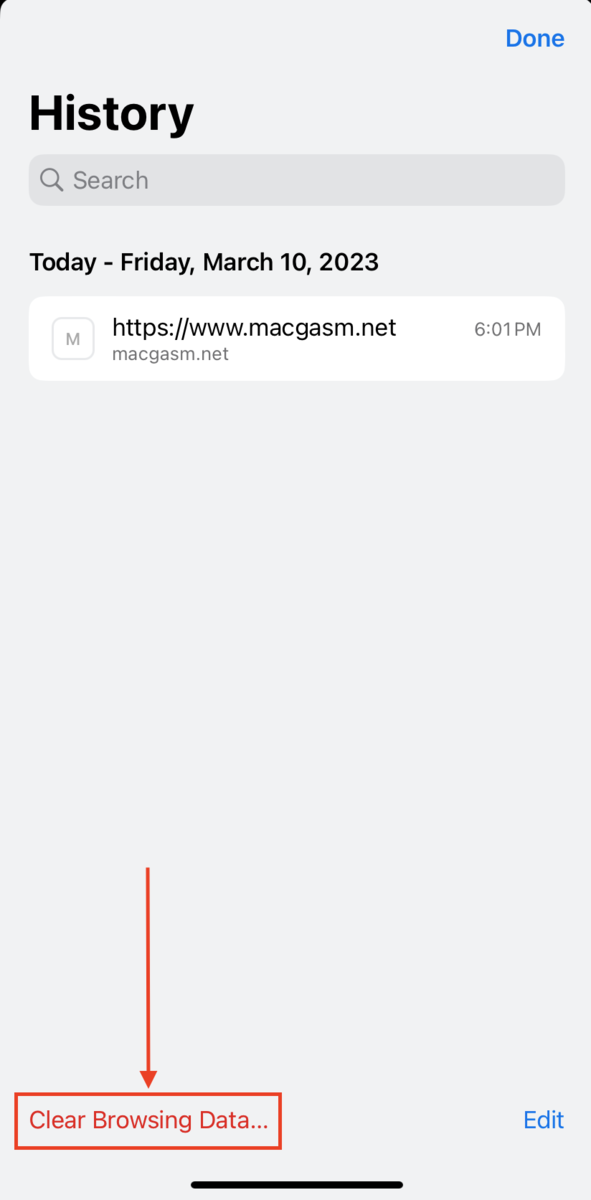 Step 4. Tick the boxes next to Cookies, Site Data, and Cached Images and Files, then tap Clear Browsing Data (this setting will clear cookies on your iPhone along with cache data; if you only want to delete your cache, select only the third option "Cached Images and Files" instead).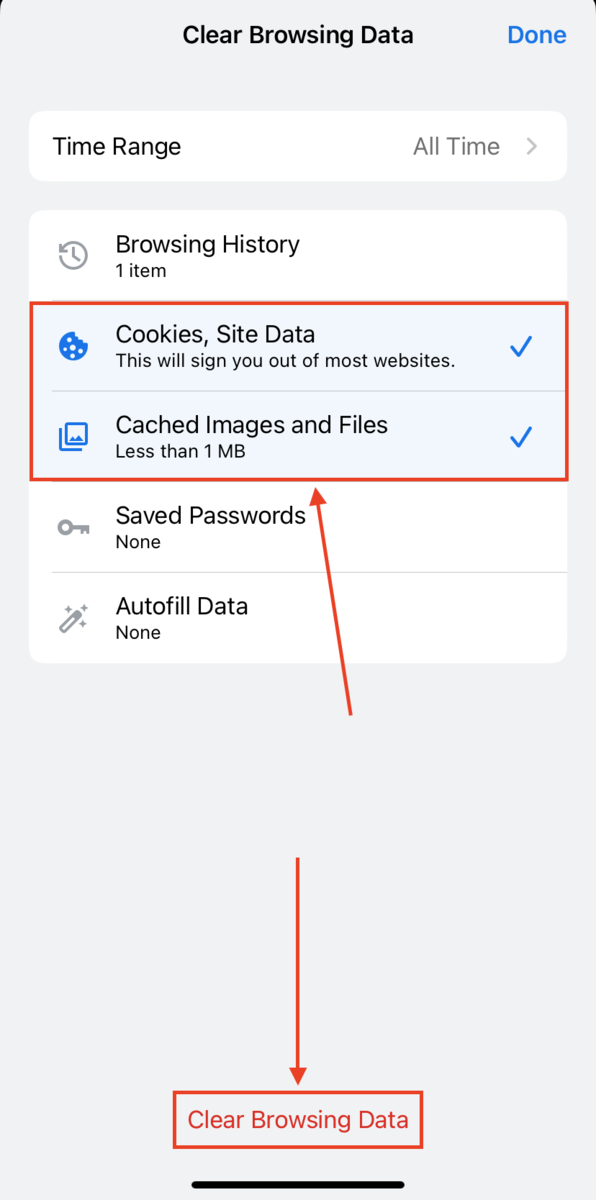 Step 5. Click Clear Browsing Data again to confirm the deletion.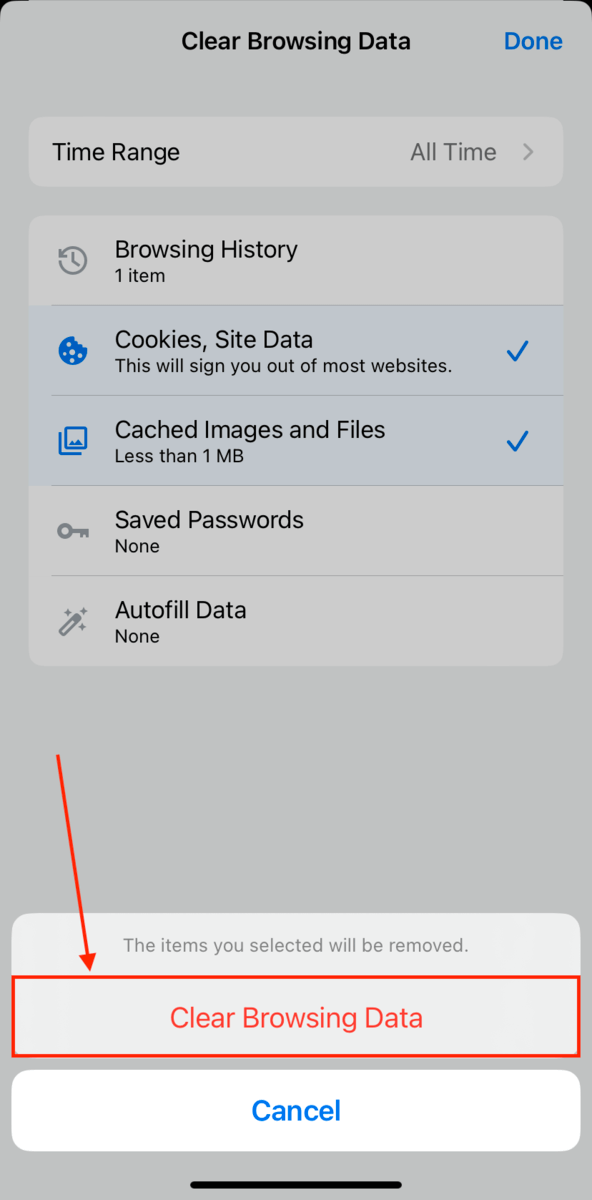 How to Block Collecting of Cookies on iPhone
Individual cookie files typically take up less space than browser cache files, as they only store information like login credentials or online shopping cart items. However, left alone, these files add up over time and may even get corrupted. This affects not only the performance of a website, but it may cause broken links and/or login errors.
Just like clearing browser cache on your iPhone, blocking cookie collection depends on your browser. Below are step-by-step instructions to block cookies on Safari and Google Chrome.
You may also opt to use another browser entirely that is designed to give its users more privacy by disabling browser history and cookies by default – such as
DuckDuckGo
.
Safari
To block cookies on Safari, open the Settings app > Safari. Scroll down to the PRIVACY & SECURITY section and toggle ON Block All Cookies.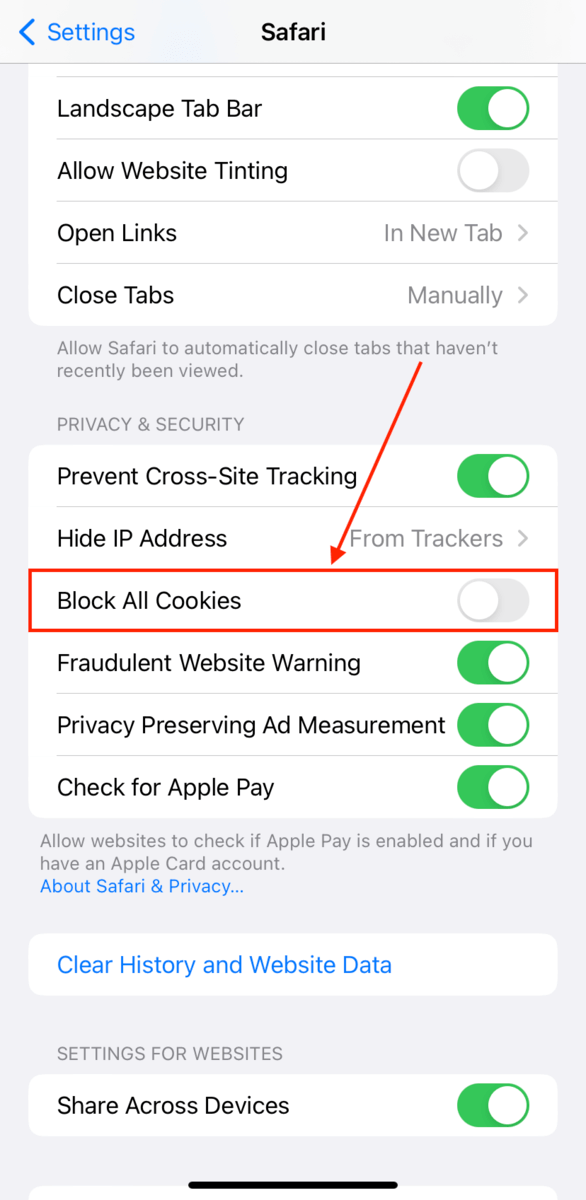 Google Chrome
To block cookies on Google Chrome, open the Settings app > Chrome and toggle OFF Allow Cross-Website Tracking.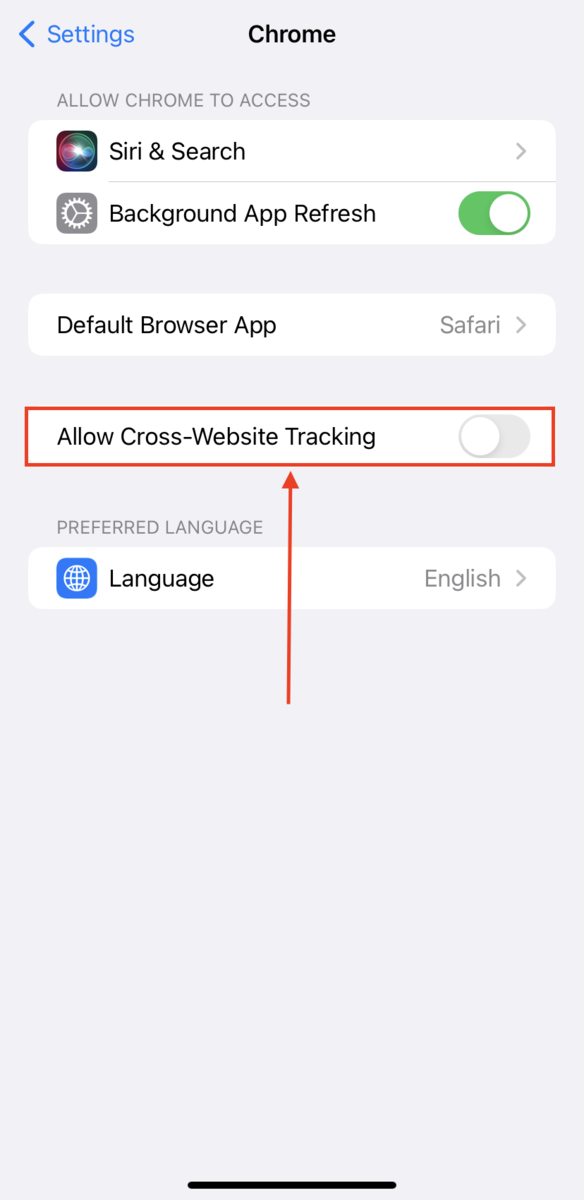 This is only for third-party cookies. On iPhone, Chrome's own cookies are enabled by default and cannot be disabled by users.
How to Clear Cache of Other iPhone Apps
As we briefly mentioned, clearing an app's cache can help you troubleshoot app errors on your iPhone. There is no way to collectively clear the caches of all your installed apps, so you'll have to go through them one by one.
To clear the cache of an iPhone app, open Settings and tap on the app you want to clear (you might have to scroll down to find it). Then, toggle ON Clear app cache on next launch. This method will clear the app cache without deleting the app.
However, this option is only available until iOS 12 – for newer iOS versions, your iPhone should automatically clear cache data when it needs space. If you want to manually reclaim more storage space, you will have to delete and reinstall the app (which will clear its cache).
Some apps allow you to clear cache from inside the app itself, like
TikTok
or
Twitter
. This may be worth a shot for users with iOS 13 and above that don't want to delete their apps.
Conclusion
In summary, you can clear the cookies and delete cache on your iPhone to boost your device's performance and even troubleshoot certain errors. It's also a good habit to develop to maintain your iPhone's daily performance. However, make sure that you know your credentials or have them saved elsewhere!
FAQ