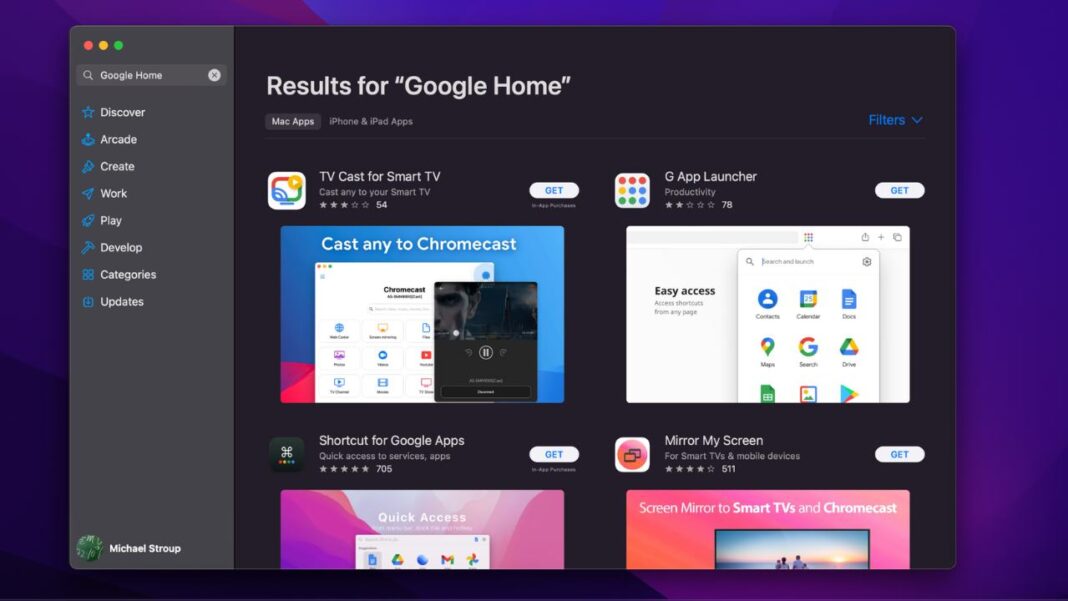 Google and Apple have a tense relationship with an "anything you can do, we can do better" attitude toward devices and applications. Regardless of any sour feelings, the two tech giants frequently produce the best Chromecast apps iOS users use. That intersection gives users additional options to choose from to power our digital worlds.
One of Google's most successful platforms, Chromecast, has physical devices that broadcast content to our TVs from smartphones, tablets, and computers. But many may ask, what is the best Chromecast app for iPhone? Let's explore how to choose the best Chromecast iOS app available in Apple's App Store to manage, cast, and mirror content on devices of all kinds!
The Best Chromecast Apps for iPhone
There are many Chromecast apps available for download through Apple's App Store. Although users have many options, not every app performs as intended, leaving users frustrated, unable to cast or mirror on their Chromecasts, and stuck spending more time researching apps. Don't get stuck in that cycle, and check out the best Chromecast apps for iPhone.
Google Home lets you connect Google Nest, Google Wi-Fi, Google Home, and Chromecast devices in a single app. You can bring those connections together with Chromecast and use your Google Home to start playing your favorite videos or streaming services. Ask Google Home to cast shows from rooms away, pause when you climb into bed, and stop casting when you're ready to fall asleep!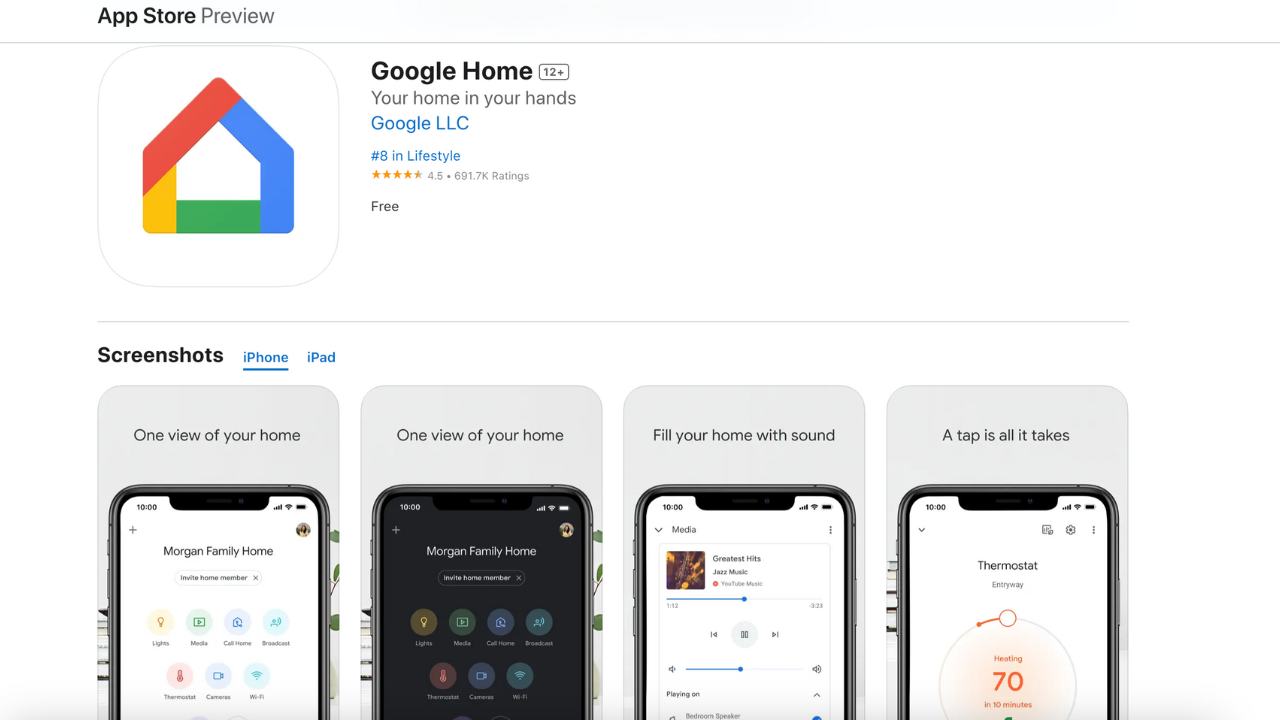 Pros:
Controls a wide range of IoT-enabled devices from various brands
Create routines to automatically control lights, thermostats, and security systems
Use voice commands to control pause, play, and stop functions for streaming apps
Cons:
Need to be specific when asking Google Home to cast to specific devices
Google Home dropped support for older Nest devices
Google Home-connected devices can get expensive
💰 Pricing:
The app is free to download
Google Home-connected devices range from $20 for plugs to over $300 for security systems
Google Home's iPhone app is user-friendly and brings all our devices together in one place, including Chromecast. We are lucky enough to have a smart thermostat and lights, and Google Home makes it easy to control everything without getting up from the couch. However, expanding the smart home to other devices will likely cost an arm and a leg.
⭐️ Our Rating: 9/10
⭐️ App Store: 4.5/5
Feel free to browse and cast from the whole Internet thanks to TV Cast Chromecast. The TV Cast Chromecast app iOS allows you to search the web from Mac, iPad, and iPhone and cast videos directly to your Chromecast devices, even if there is no dedicated Google Chromecast app.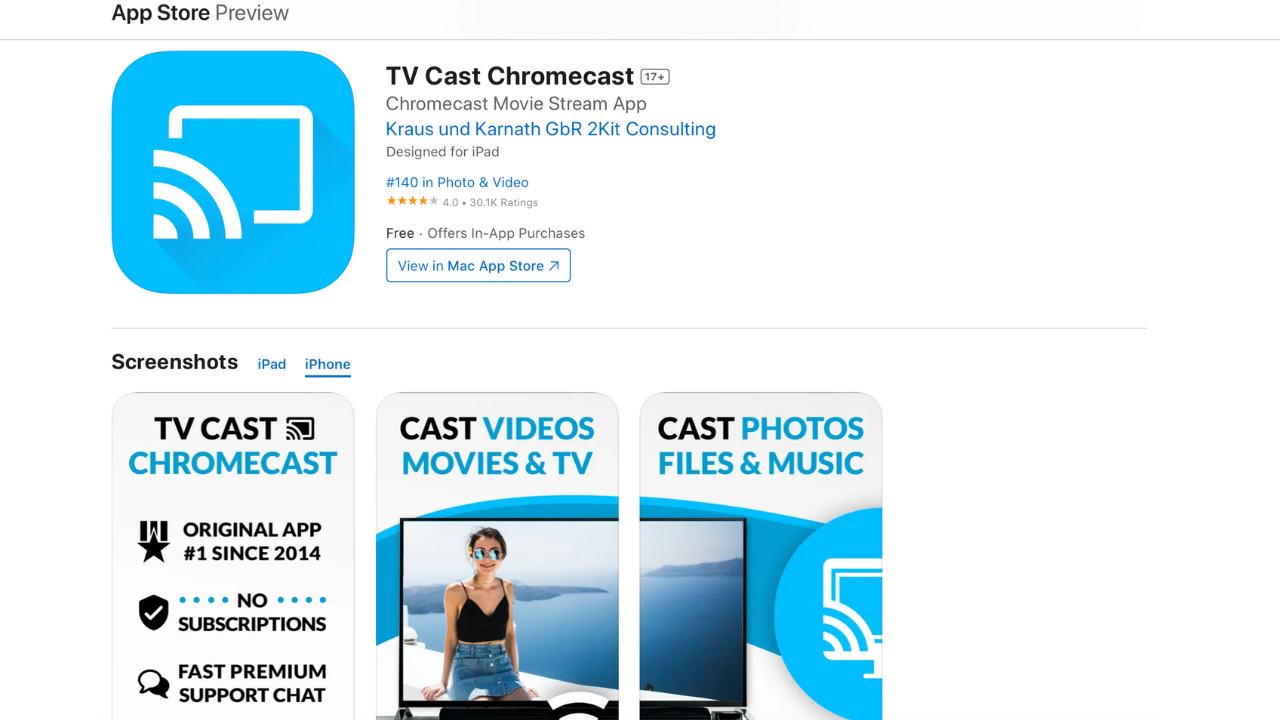 Pros:
Some free features
macOS download available
Watch videos from any site
Cons:
Only works with Chromecast 1, 2, or Ultra
No screen mirror options
No support for older models like iPhone 6 or 7
💰 Pricing:
Limited free version
$2.99 for select features
$6.99 premium unlock
We have to give credit where credit is due; the fact we can search the web and cast videos from the in-app browser is a game-changer. The ability to cast personal files, such as pictures and music, also comes in handy, even if there is only support for some devices. Although, the free version has rather distracting ads and constant reminders to upgrade, creating a pushy experience.
⭐️ Our Rating: 6/10
⭐️ App Store: 4/5
Screen mirroring is a must-have for many looking to mimic their iOS devices on their Chromecast. Screen Mirroring on Chromecast is one of the best Chromecast apps Apple has to offer, thanks to the ability to cast videos, photos, presentations, and, most importantly, sports content.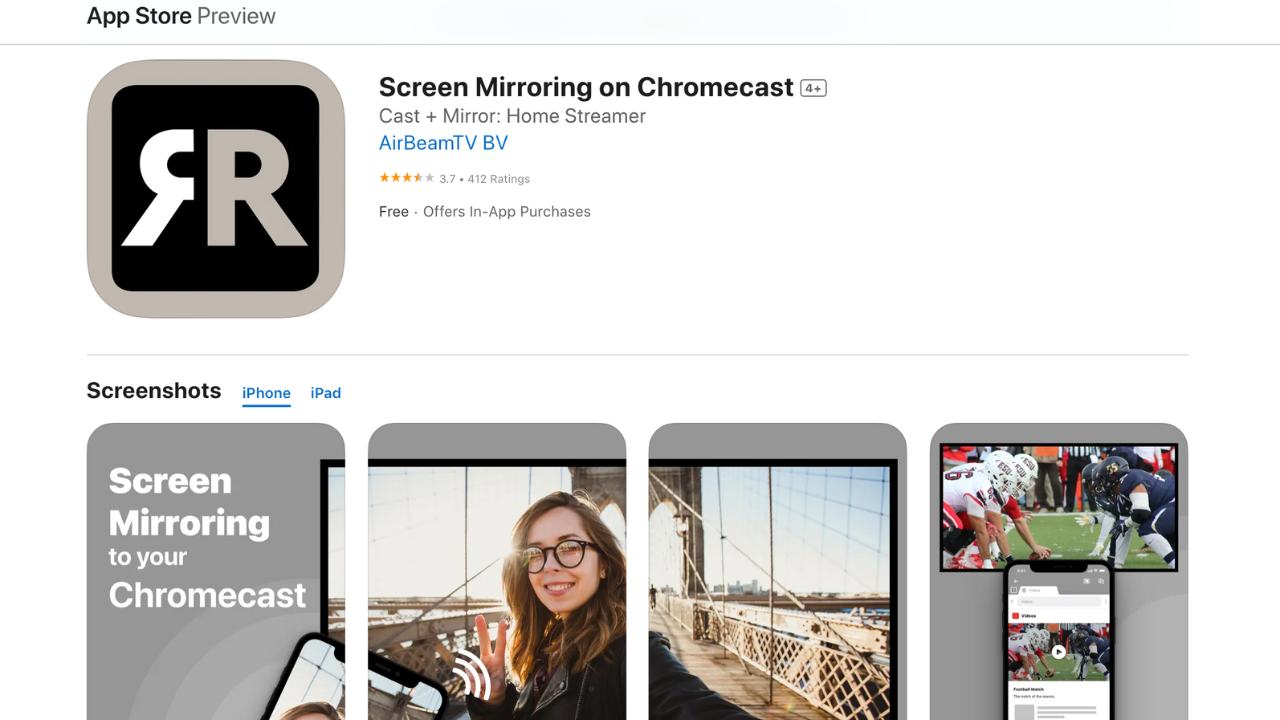 Pros:
Supports streaming sports content
Can mirror any non-DRM protected app
Easy-to-use app
Cons:
Significant delay during screen mirroring
Free version limits casting & HD video
Requires you to have notifications enabled
💰 Pricing:
Monthly subscription: $2.49
Yearly subscription: $14.99
Unlimited in-app: $24.99
Whether you're a student giving presentations or just looking for an easy way to cast those funny videos that keep you up all night, Screen Mirroring on Chromecast makes it easy to cast content from your Apple device. However, the free version limits quality and casting, and we're not sure the $24.99 unlimited price is worth it; best to stick with monthly until you know it's right for you.
⭐️ Our Rating: 6/10
⭐️ App Store: 3.7/5
What looks like a flashy app is secretly a favorite Google iPhone Chromecast app available in the App Store. Set your own homepage, search videos from around the web, create customized playlists and cast high-quality content from your iPhone or iPad.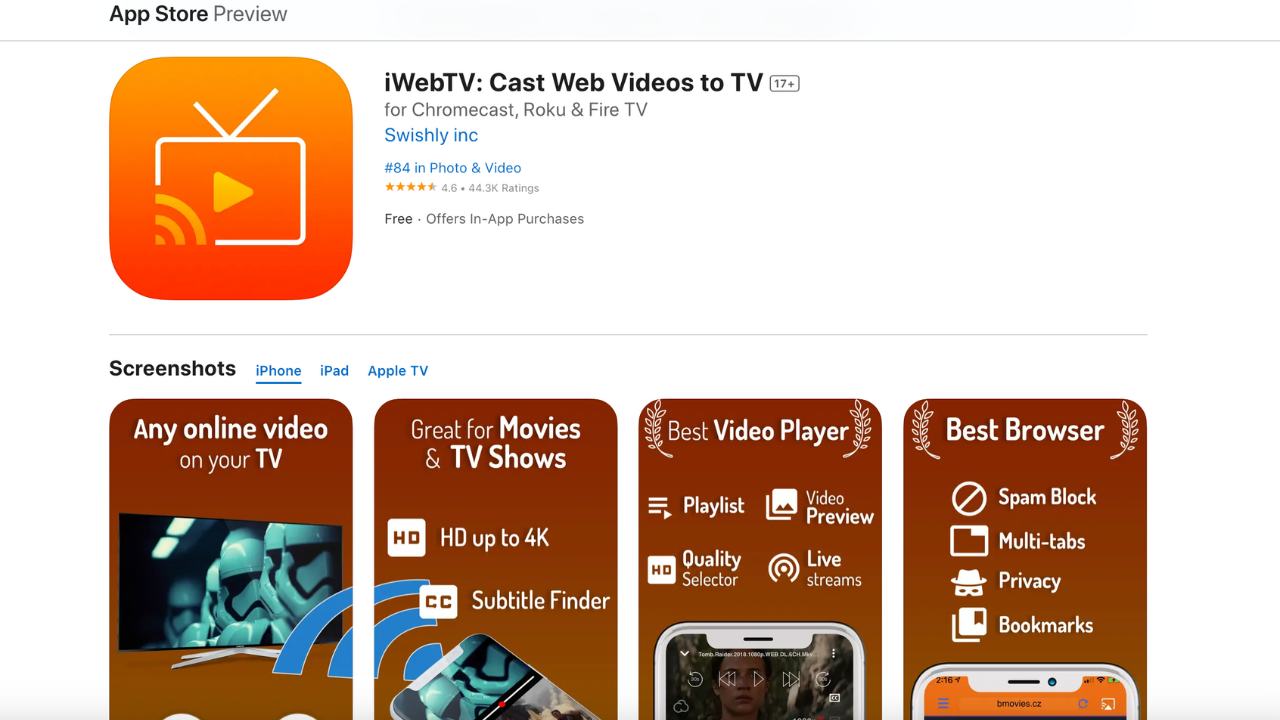 Pros:
Video controls available from the lock screen
4K streaming capabilities to capable Chromecast devices
Playlist & app customizability options
Cons:
No macOS app is available
Casting to Chromecast isn't free
Extra charge for desktop mode
💰 Pricing:
Chromecast streaming costs $0.99 per month or $9.99 per year
iWebTV Pro is $6.99
Desktop mode is $3.99
Other features range from $0.49 to $5.99
iWebTV is as stable as they come and plays virtually any video you come across. Despite these great features, the pricing structure is confusing, and the required monthly or yearly charge to cast to our Chromecast device is infuriating. It might rate well with other users, but we're not overly impressed.
⭐️ Our Rating: 5/10
⭐️ App Store: 4.6/5
Screen Mirror – Smart View Cast can mirror content from your iPhone to Chromecast with a single tap. You can cast movies, TV, photos, music, and even games through Screen Mirror – Smart View Cast, all with high quality and virtually zero lag.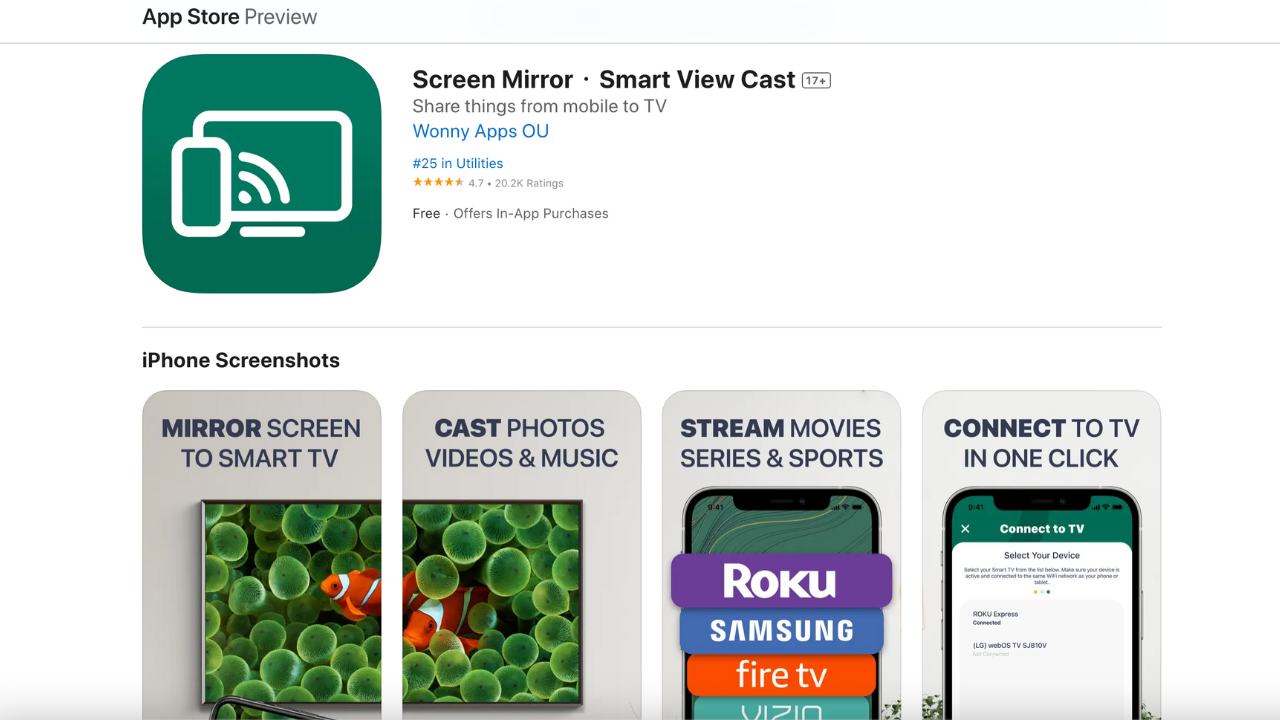 Pros:
Works with virtually any smart TV solution
High-quality streaming from iPhone to Chromecast
Some free features
Cons:
Only available for iPhone, with no iPad or Mac support
Costs to use after the free trial period
Must upgrade to get unlimited casting/mirroring
💰 Pricing:
Limited free version
Yearly subscription: $19.99
Lifetime subscription: $39.99
Casting content from our iPhone to the Chromecast with Screen Mirror – Smart View Cast was ultra-stable, and the content was high quality. Plus, the lifetime subscription option is worth the $40 charge, especially since there is no lag and we can mirror our device directly. Although we wish there was iPad and Mac support, we'll live with smartphone access for now.
⭐️ Our Rating: 9/10
⭐️ App Store: 4.7/5
Another solid mirroring app is Replica, or Screen Mirror for Chromecast, which sends video, photos, or other media from your Mac, iPhone, or iPad to your Chromecast device. You can mirror social media feeds, run Keynote presentations, or share messaging apps, all from the same app.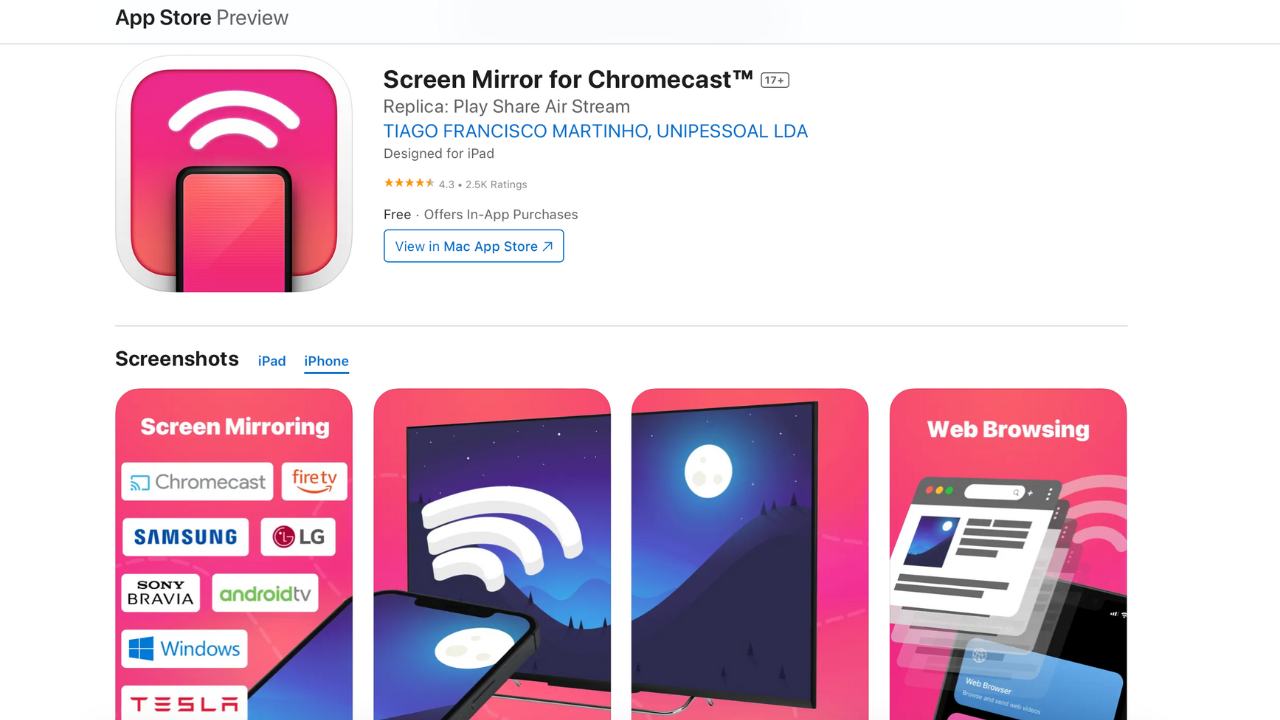 Pros:
Ability to cast social media feeds to Chromecast
Mirror any non-DRM-protected app
Free trial option
Cons:
A lifetime subscription is expensive
Requires Mac with M1 chip or higher
Not called Replica in the App Store
💰 Pricing:
Free trial available
Share screen: $1.99
Yearly subscription: $29.99
Lifetime subscription: $79.99
We really enjoy the capability to mirror social media and messaging feeds on our Chromecast devices. However, the pricing for Replica is a bit rich for our blood, especially when there are alternatives available for much less that perform the same functions just as well. Although Replica provides a stable experience, opt for a more affordable option.
⭐️ Our Rating: 7/10
⭐️ App Store: 4.3/5
If you're looking for a comprehensive Chromecast iPhone app that plays a wide range of file extension types, you'll want to check out Web Video Cast. Web Video Cast allows you to cast media from around the web to your Chromecast through an in-app web browser.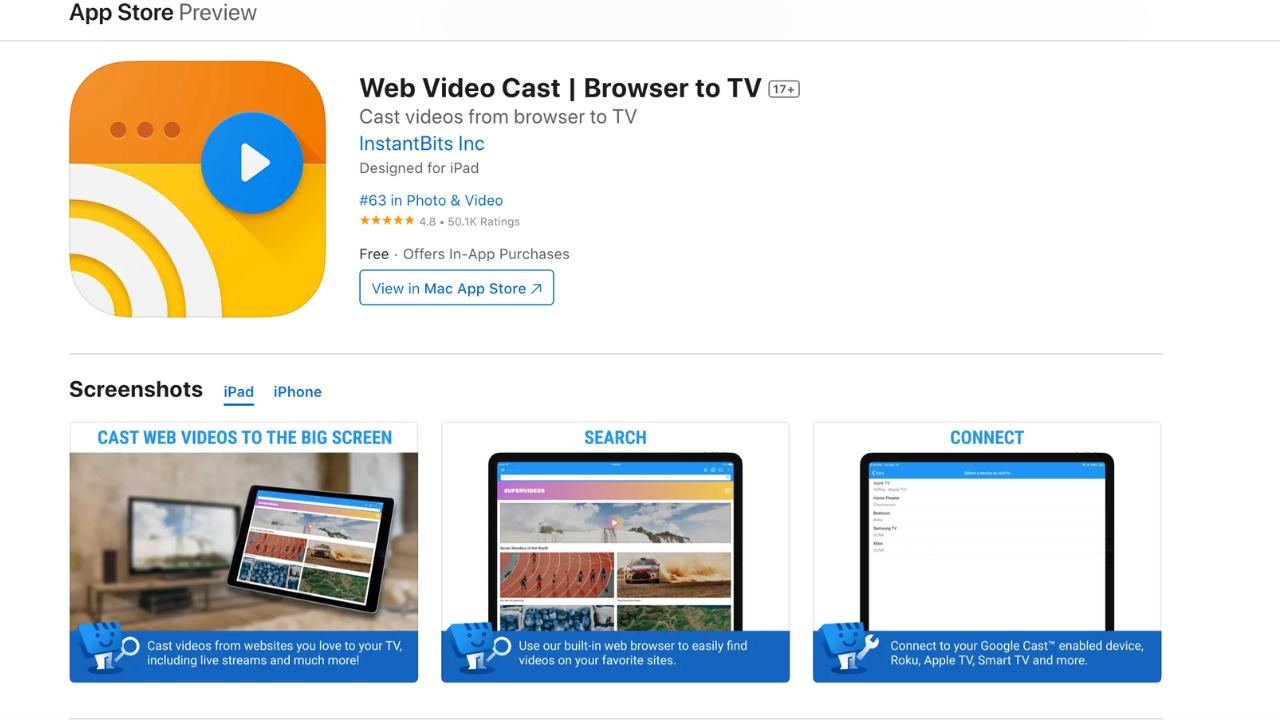 Pros:
Supports HLS live streams and other media file types
Affordable one-time premium purchase
Playlist & personal files support
Cons:
Doesn't support Flash or FLV videos
Doesn't allow tab casting
Susceptible to buffer and load issues when demand is high
💰 Pricing:
Free limited version
$3.99 premium one-time purchase
Few other Chromecast apps allow the casting of media file types like W3U or M3U, but Web Video Cast can and much more. We love how affordable the premium version is, especially as it removes ads and allows you to customize the homepage. It's a Google Chromecast app iPhone users must have!
⭐️ Our Rating: 9/10
⭐️ App Store: 4.8/5
How to Choose the Best Chromecast iOS App
When it comes to choosing the best Google Chromecast iOS apps, it's important to weigh each app's capabilities against the features you need. You'll also want to consider pricing, as you may find your favorite iPhone Chromecast app costs extra for premium features. Lastly, you'll need to make sure you have a device that's capable of handling the download. Some apps aren't available on every device!
Final Thoughts on iOS Apps for Chromecast
Screen mirroring and Chromecast casting create a seamless experience between mobile devices and the big screen. From running presentations to finding that perfect sports stream, these apps are some must-haves from the App Store. But, if we had to choose, the best of the best are Web Video Cast, Screen Mirror – Smart View Cast, and Google Home.
Users have many choices regarding Chromecast casting apps for iOS devices, but only a select few meet the needs many users desire. Be sure to check out all the features each app has to offer, the price for unlimited casting and premium features, and device compatibility.
FAQs About Chromecast Apple App
Although we've covered a lot of info, there still may be some lingering questions. Here are a couple of commonly asked questions and their answers.