Stylebook is an iPhone database of your wardrobe. This wonderful app is designed not only to be your virtual closet in your pocket, but also to help you mix and match your clothes and accessories to create fashionable outfits. You can add pictures of all your clothes, shoes and accessories to the app, organise them in different categories, use fashion pics as inspiration to create your outfits and there's even a calendar to keep track of when you wore each item.
How does it work?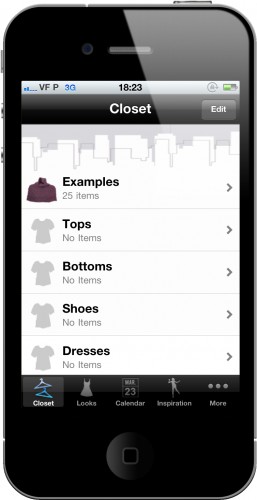 When you first open the app, there's a screen that briefly explains what you can do with Stylebook. Then you have the main screen where you can choose, from the buttons on the bottom, between Closet, Looks, Calendar, and More.
From the Closet, you can upload pics of your clothes and organize them in the different categories. You can add custom categories and edit the existing ones.
Looks is where you organise your clothes into outfits. Each outfit also goes into its own category (work, evening, formal, etc.). In addition to adding clothes/shoes/accessories to each outfit, you can also add an inspiration pic (explained below).
In the Calendar, you can add what you wore each day so you can make sure you're not wearing the same outfits too often and you can also use it to plan your future wardrobes or what you're going to wear to an upcoming special event.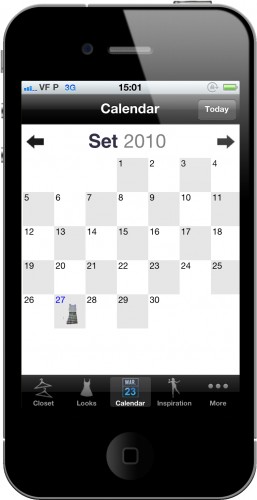 There's also an Inspiration tab where you can add pics (from fashion magazines, friends, etc) for you to get inspiration for your own outfits.
In the More tab, there are several tips explaining how to use the app and, most notably, how to better photograph your clothes and remove the background.
What's Macgasmic?
When you create looks, you can pinch to make items bigger or smaller which is very helpful if you photographed your clothes from different distances. You can also layer them to get a better idea of how your outfit is going to look.
The included automatic background remover isn't perfect, but Stylebook gives you plenty of tips on how to photograph your clothes, what color backgrounds to use to make everything smoother and there's even a manual edit mode to fix what the background remover couldn't.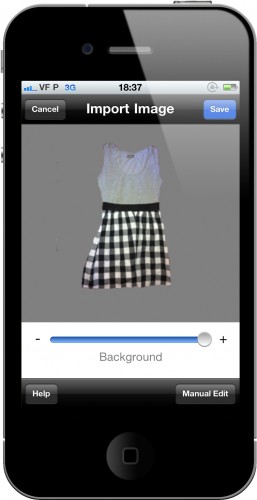 What needs work?
Currently, you have to edit out the background of each pic as soon as you upload it. There's no option to save it so that you can edit it later. It would be better if you could photograph a bunch of clothes at once and edit them all later. This limitation is also a problem if you make a mistake while removing the background. That is to say, there's no going back after saving the pic.
Another thing that needs work is adding clothes to outfits: you can only select one item at a time which can be time consuming if you have a look with lots of layers and accessories.
As a girl who always packs too much, I would also love a packing list feature. That way I could try to optimise my packing by trying to pack items that could be used in different outfits.
It might seem like it's too much work to photograph and upload all your clothes. If you do manage that, Stylebook can be an amazing tool. You can use it while shopping to see how something would look with your clothes back home. You can use it to plan your outfits for the week to avoid those "I have nothing to wear" mornings. If you're lucky enough to have more clothes than you can keep track of, it's very useful to help you find what you're looking for.
Giveaway
With this review we're also doing a giveaway. If you want a chance to win a promocode for Stylebook (US only) just follow these three steps:
Follow @macgasm on Twitter.
Tweet this message "Win a copy of Stylebook from Macgasm. Details and review here: http://bit.ly/bWxzuz".
Post a comment here with a link to your tweet.
That's it! I'll randomly pick a winner Friday, October 1st. Good luck!
Winner, winner, chicken dinner
Congrats to LucaDB!  We'll be in touch over Twitter.
Photo credit: kandyjaxx