Movie Vault is an iPad library of full length movies from the last 100 years that you can stream at any time over 3G and WiFi for free. With a growing collection of 1200 movies and TV shows, it's a great resource for fans of old films or anyone who wants to get started on the genre. At $4.99 in the App Store, it's worth the purchase even if you're only interested in a couple of films. Night of the Living Dead anyone?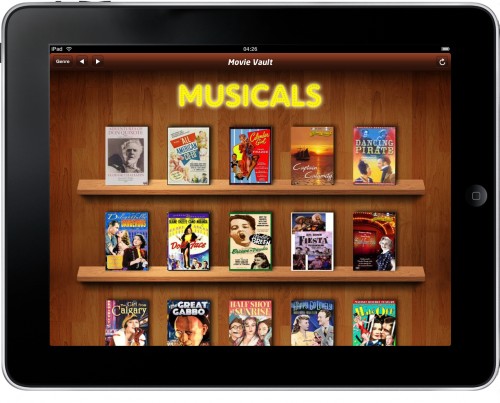 What's Macgasmic?
When you open Movie Vault, you're presented with beautiful wooden shelves where the movies are displayed. When you click on one you get a pane with all the details about the movie including descriptions, actors, director, etc. All this information is fully-searchable so that each movie is just one quick search away.
To switch genre you can swipe the shelves left or right. There's also a button on the top left corner to choose the genre you want. You can pick from Horrror, Drama, Musicals, Westerns, Comedy, and several more. Here you also have have a search button in case you're looking for something more specific. To be honest, I felt the search button was somewhat hidden. I think it should be more obvious that this is where it is located.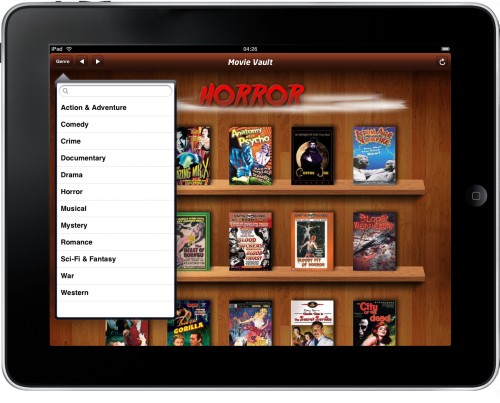 In addition to the over 1200 movies currently available in Movie Vault, more movies are added all the time. Even better than that is that you don't even need an update to get them. They will automatically appear in the app when they're added to its database. On the top right corner there's also a reload button in case you want to check if anything new has just been added.
What else I would like
Currently you can only display the movies by genre. I would like an option to display all the available movies and to be able to organize them by date, name, etc. to make everything easier to find. Also at this point there's no way to mark or save the movies you want to see, so if there are a few of them you're interested in, you have to search again when you're ready to watch them. Another thing that would be nice is live searching, so that movies matching my criteria will appear as soon as I start typing. This might seem like a tiny detail, but what can I say? iOS has got me spoiled.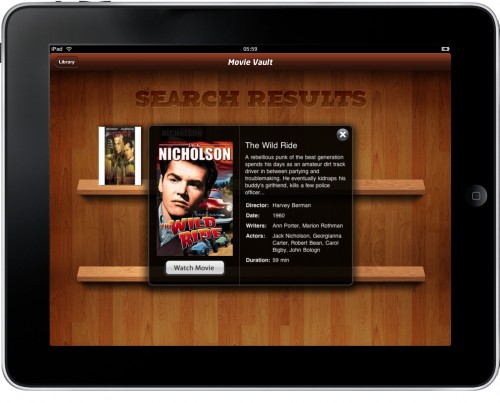 For the most part Movie Vault works extremely well. It's very smooth and it looks amazing. The movies start playing almost instantaneously, as long as you have a fast connection, and the quality is ok considering most of these movies never came out on DVD. I've had the random crash, but I was told a fix is on the way.
Most of the features I'm wishing for are already planned, so I'm looking forward to future updates since this app promises to only get better and better.
Giveaway
With this review we're also doing a giveaway. If you want a chance to win a promocode for Movie Vault for iPad (US only), just follow these three steps:
Follow @macgasm on Twitter.
Tweet this message "Win a copy of Movie Vault for iPad. Details and review here: http://bit.ly/bWxzuz".
Post a comment here with a link to your tweet.
That's it! I'll randomly pick a winner Friday, September 10th. Good luck!
Update: The Winner!
Congrats to Jeff Please!  He has randomly been selected to win Movie Vault!  Hopefully he likes it as much as we do.
Photo credit: striatic