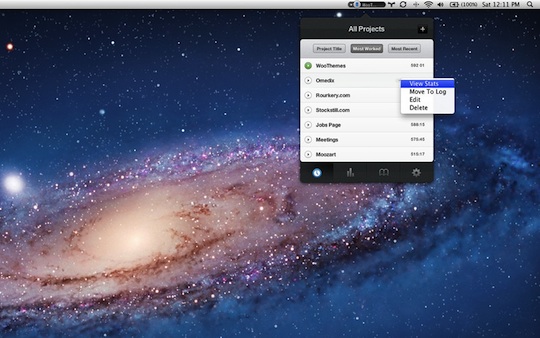 There are a number of reasons you'd want to keep track of your time spent on a project or an article, although all of them seem to be for financial gain. We love financial gain, so we thought it might be appropriate to both fill you in on what Timecop does, as well as give away a copy of it so we can help people make some more money.
Timecop is a nifty little application that sits in your menubar and lets you track your time on multiple tasks as well as projects, making invoicing a lot simpler. Sure, applications like Billings does this as well (along with a lot of other stuff), but Timecop is only $4.99 on the Mac App Store, which is a lot cheaper than many of the alternatives.
Pretty simple stuff, but it's also the stuff that helps you invoice just a little more accurately. Heck, you don't even need to use it for invoicing. You could use it for tracking the time you spend on a school project, time you spend writing an article, or any other activity that you're curious about. I was going to track the time I spend on Macgasm on a weekly basis, but man, I'm not sure if the app can even count that high.
Anyway, now what you've been waiting for…
We're giving away Timecop, and since PunchTab worked so well for our last giveaway, we're going to use it again. Enter below to win.
This giveaway will end on Monday, October 31, 2011, at 12:00 pm EST. We'll post the winners shortly after.
Good luck.