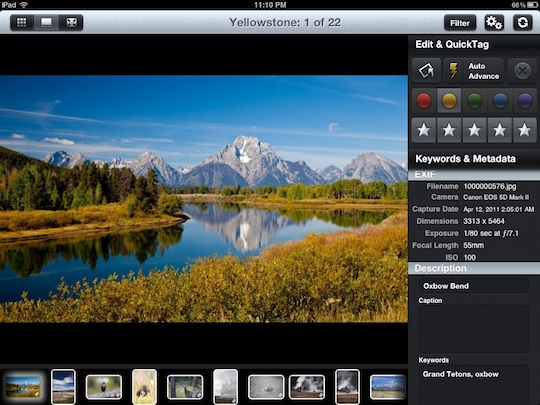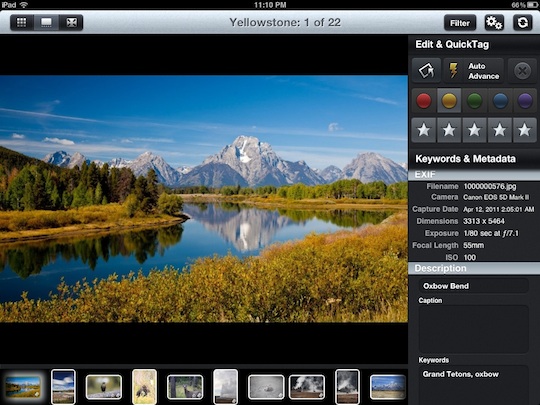 Even before I knew Photosmith would allow me to sync my iPad photo catalogue to Lightroom, I wanted a very simple thing: the ability to rate my images from the iPad. I wanted to be able to review images with a client, without a laptop, without a paper proof sheet, and just have them look through their photoshoot saying "that one, that one and that one." Photosmith, of course, allows us to do this, and so much more.
Adobe Lightroom users will feel right at home in the Photosmith interface. It features 3 basic views: Grid, loupe (with thumbnails at the bottom), and fullscreen. You can sort and categorize all of your imported library images (Photosmith does not have access to your iTunes synced images folders) into collections, and then further rate them through the 5 star system or colours. While "Flagging" — picks & rejects — is available, it is currently unable to sync to Lightroom, so I essentially ignored it beyond using it as a means to narrow down my images on the iPad. Of course you can zoom in 100 percent (which looks much better than the native photo app) and swipe to browse the images in your import library.
Syncing
The process to sync is dead simple. First, aside from owning the Photosmith app, you'll need to have downloaded and installed the plugin for Lightroom. Then, with Photosmith turned on, and your iPad attached to your computer by USB and your iPad connected to your wireless network (!!), you can hit the "sync" button at the top right of the Photosmith screen, and in Lightroom, check out "plugin extra's" under the File Menu.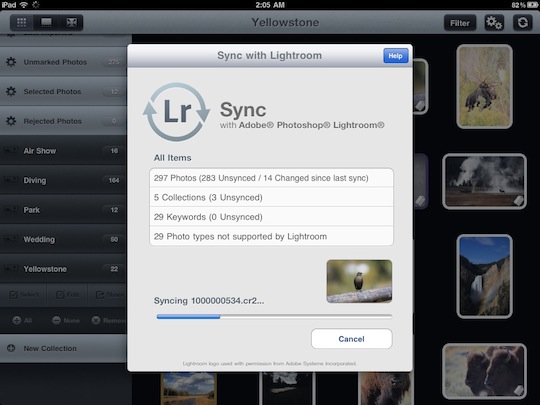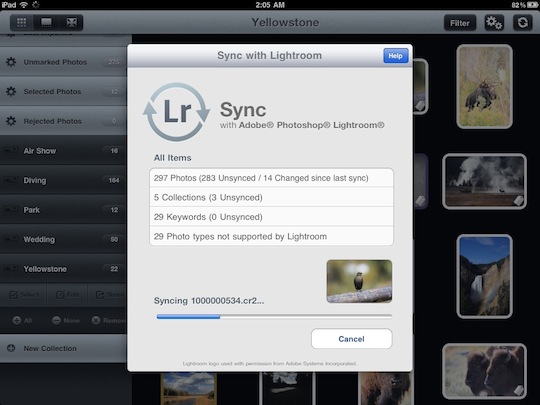 This app is a blessing for Lightroom users who like to travel light and streamline their workflow while on the road. You don't need to wait until you get back home or to your office to import and see your final images. You can have your selects ready minutes after your shoot — you can even view them with your client on site.
What's Macgasmic
Photosmith allows me to proof and rate images after a shoot and to sync those ratings to Lightroom so I can get straight to work on the key images that much faster. If I wanted, I could upload a gallery of images via USB to put in front of a client for review later (note to developers: now that I have it so good, I want to be able to IMPORT collections from Lightroom to Photosmith — though sadly I doubt iOS lets us do that). No complaits there, and the only issues I did find have little or nothing to do with the developers of this app — heck, they're even teasing at potentially integrating develop tools in the future (YES PLEASE!).
What's Not
The most commercially available method of transfering images to your iPad is Apple's own Camera Connection kit, which supports SD & USB. While I have a USB cable for my camera, I prefer to transfer images through a card reader: of course my main camera bodies use CF cards so I have to go looking for other 3rd party peripherals that are sometimes tougher to get.
Another initial complaint I had with the native iPad photo app is that I could never tell what the titles of my photos were, which was a further hinderance in previewing proofs with a client. If you can't uniquely identify a photograph that your client chose, it's kind of useless. Thankfully Photosmith not only gives you access to the filename, but much of the core EXIF data for your peeping needs. You're also able to enter Keyword data, Location and IPTC data on the spot. Although currently you can only do this one image at a time, the developers assured me that they are already working on updates that will allow you to save your own import information to make this process even smoother.
Final Thoughts
The app itself is reasonable for what it is, but possibly expensive by App store standards. At the time of this review, it is $17.99 — a bargain compared to most software photographers are used to buying. If you own an iPad and use Lightroom, there is no good reason not to own this app.
Luckily for our faithful Macgasm readers, we've secured a couple copies of Photosmith to give away! Read below for the rules on how to get your own copy for free:
The Giveaway
Entry is simple,
First, tweet this post by clicking on the Twitter button at the beginning or end of this post.
Second, in the comments below, provide us a link to your tweet.
Third, because you love us, participate more in our comments. We love having discussions with you guys! Let's make our comments the best on the internet.
You must follow us on Twitter. How can we contact you for your address if you're not following us!
We'll have to take you at your word for #3, but the first two and last rule will be double checked before we draw the winner. The winner will be selected at random.
The winner will be selected at 6PM PST, Tuesday, April 26th, 2011.