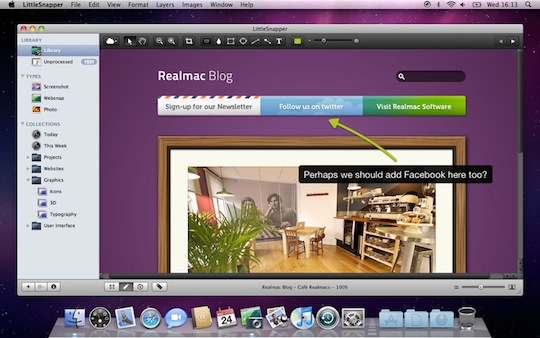 Monday is probably the worst day of the week for most people. That depressing feeling of having to get out of bed in the morning and leave for work gets even the happiest people down. So, with the help of the team over at the fantastic Realmac Software, we are offering you fine readers a chance to win one of eight copies of LittleSnapper for Mac to brighten up your Monday.
LittleSnapper allows you to quickly snapshot anything on your screen and then organize it however you like, by categorizing, rating and annotating images. Users can then share images directly to Ember, Flickr and SFTP from right inside LittleSnapper. The application looks and works fantastically and is an indispensable tool for many writers, bloggers and design types across the world.
Find out how you can win one of eight copies of LittleSnapper — which is worth $29.99 and requires Mac OS X 10.6.6 or later — after the jump.
The Giveaway
Entry is simple,
First, tweet this post by clicking on the Twitter button at the beginning or end of this post.
Second, in the comments below, provide us a link to your tweet.
Third, because you love us, participate more in our comments. We love having discussions with you guys! Let's make our comments the best on the internet.
You must follow us on Twitter.  How can we contact you for your address if you're not following us!
We'll have to take you at your word for #3, but the first two and last rule will be double checked before we draw the winner. The winner will be selected at random.
This giveaway will close Monday, May 9th, 2011, at 6PM PDT (9PM EST)