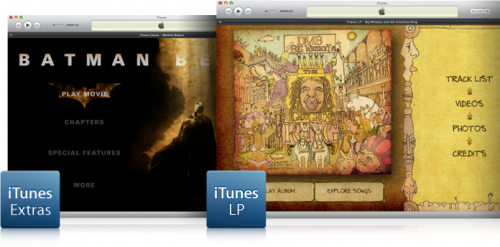 iTunes LPs and iTunes Extras don't work on the new Apple TV. It's a little bit surprising that we never noticed it around the office, considering the amount of time we have spent playing with the new Apple TV.
How annoying.
The iTunes features won't be absent for very long if you believe the latest series of "Ask Steve" emails that have been circulating the internet this morning. iTunes Extras and LPs are "coming" to an Apple TV near you in the future, according to Steve Jobs himself. We're starting to suspect that we might see a software update to the Apple TV pretty soon, possibly along side the iOS 4.2 release.
The iTunes LP format is Apple's answer to dwindling music sales these days. The format attempts to bring back the excitement of exploring the artwork that accompanied the physical musical formats (CDs, Vinyl, etc) of our childhood. The iTunes Extras are similar in goal, but a little different, instead of replacing album artwork, they're Apples answer to DVD Menus, and extra video content such as commentaries, and other video extras.
Both haven't been as successful as many have hoped, but the labels are slowly bringing us content in these formats. Hopefully all music and video starts shipping with Extras and LP versions.
To celebrate the formats coming back to the Apple TV we've got another iTunes Extra giveaway.
Giveaway: Hey, You Guys!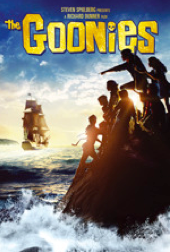 The Goonies has been released as an iTunes Extra, and we're going to give it away. If there was on particular movie that captured my imagination as a child, it was the Goonies. It's by far one of the first movies that sticks out from my childhood (alongside Star Wars).
Warner Bros. has released the film as an iTunes Extra on iTunes. This Extras version includes deleted scenes, a Cyndi Lauper video as well as the 1985 featurette The Making of The Goonies. The iTunes Extra also includes interviews with Steven Spielberg and Richard Donner.
How do you win?
Tweet this (link takes you to twitter): "Macgasm.net is giving away The Goonies iTunes Extra: http://su.pr/1JH8rf"
Leave a comment here, on the site, with a link to your tweet.
You must have a US iTunes account
We'll pick a winner on Friday, November 5th at Noon EST.
Good Luck, and a big thanks to Warner Bros. for letting us giveaway an iTunes Extra!
Article Via The Mac Observer