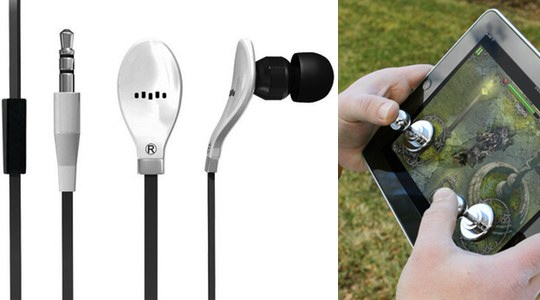 On Friday I spent most of my afternoon dealing with a house inspection. The good news, the house I set out to purchase this week is in tip-top shape. The bad news, Apple coverage on Friday sucked around here.
So, to make it up to you, we're doing a giveaway today. This weekend giveaway includes a Joystick-it for your iPad as well as a new pair of headphones from iLeaf. Both items will go to one lucky winner. These two devices should make your iPad gaming sessions just a little bit more enjoyable.
The Giveaway
Entry is simple,
First, tweet this post by clicking on the Twitter button at the beginning or end of this post.
Second, in the comments below, provide us a link to your tweet.
Third, because you love us, participate more in our comments. We love having discussions with you guys! Let's make our comments the best on the internet.
You must follow us on Twitter.  How can we contact you for your address if you're not following us!
We'll have to take you at your word for #3, but the first two, and last rule will be double checked before we draw the winner. The winner will be selected at random.
This giveaway will close Sunday, March 6th, 2011, at 11:59PM EST.