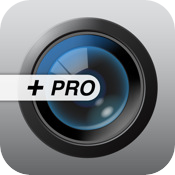 With the news that the iPhone is the most popular camera on the planet today, we thought it would be appropriate to give away a camera application to 5 people.
Camera Plus Pro is an iPhone photography application that lets you not only tag your photos, but also counteract your shaky hands, set timers on photos, and capture photos in burst mode. You also have access to fun filters.
It doesn't end there though—the application also lets you capture videos and apply fun filters to your videos. Camera Plus Pro also lets you share your photos with Facebook, Twitter, Flickr, and Picasa, as well as YouTube.
Long story short, it's a better camera application than the default camera app. Heck, you can even dump your entire photo library to an FTP server.  That doesn't happen with many other applications.
The Giveaway
Entry is simple,
First, tweet this post by clicking on the Twitter button at the beginning or end of this post.
Second, in the comments below, provide us a link to your tweet.
Third, because you love us, participate more in our comments. We love having discussions with you guys! Let's make our comments the best on the internet.
You must follow us on Twitter.  How can we contact you for your address if you're not following us!
We'll have to take you at your word for #3, but the first two, and last rule will be double checked before we draw the winner. The winner will be selected at random.
This giveaway will close Monday, March 28th, 2011, at 6:ooPM PST.