If you spend a lot of time reading PDFs on your iPad, you know that iBooks leaves something to be desired. Heck, it's an outright pain to get them onto your device. Unless I'm missing something, iBooks just doesn't cut it for me (If I am, let me know in the comments).
I want an application that can go out and grab my PDFs from Dropbox, iDisk, or even the Web. This is where Folio comes in handy, you can access all three of those sources without having to plug your iPad or iPhone into iTunes. Apple's rumoured to be working on over the air syncing, and when that day comes I might change my mind, but until then, Folio's become my primary PDF reader on my iPad.  The application is 4.99 on the App Store and worth every single penny, especially if you spend a lot of time reading PDFs

What's Macgasmic
To start it's a universal app. That means that you buy the application once, and you can use it on both your iPhone and iPad. You don't have to buy an application for both medium, which is great.
The UI is gorgeous, and lets you scroll from left to right through your entire PDF library. You click on the PDF cover and you're immediately taken into the PDF in either a one page view or two page view depending on if you're in landscape or portrait mode on your iPad. it's really handy, and the extra screen real-estate of the iPad shines in Folio.
PDFs are interactive, you can obviously swipe from page to page, but you can also click on links to jump to other pages in the documents, or on weblinks which will open up an internal web browser so you can check out a link, then jump back into your PDF. It's huge if you're into PDF magazines like BeatWeek.
You can also bookmark your pages, change the brightness of your device, and toy with a display mode that includes different default colour schemes for your PDFs.
The really great thing about this app is the Dropbox support. I house all of the Macgasm files that I share with our writing team in Dropbox, so being able to access those PDFs directly from within Folio really set this application apart for me. I was immediately able to input my Dropbox info, download my PDFs, and run out the door to a meeting with potential advertisers, no sync required.
The Folio team is working on including syncing features between the iPhone and iPad app in the upcoming version, so keep your eyes peeled for that.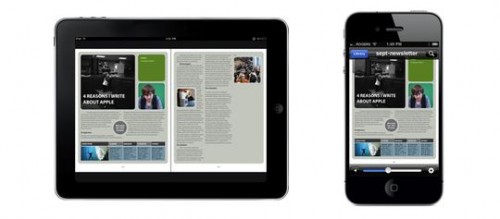 What needs work
The UI, while looking good, could be more functional by letting you switch to a view that lets you see more PDFs at once, permanently. This view is present on the iPhone, but it's missing in the iPad version. The iPad version does let you click on a magnifying glass to see a listing of all your PDFs temporarily, so the functionality isn't missing entirely, but being able to adopt the view permanently would be a nice little touch.
Importing from Dropbox literally takes a copy of the PDF on the server and downloads it to your device. If there's a change to the file on Dropbox's servers, it won't automatically get pushed to your device. Instead, you have to delete your current version, and then re-download the new one. It'd be nice if Folio would keep synced with the changes automatically.  They've apparently received a lot of requests for this feature, and I've been assured that they're working on it, and that it'll make an appearance in a future version.
The Giveaway
With this review we're also doing a giveaway. If you want a chance to win a promocode for Folio for iPad (US only) just follow these three steps:
1. Follow @macgasm on Twitter
2. Tweet this message "Win a copy of Folio for iPad and iPhone. Details and review here: http://su.pr/22HdWa".
3. Post a comment here with a link to your tweet.
That's it! I'll randomly pick a winner Friday, August 27rd.
The Winner
Congrats to @dapperright on twitter for winning! we'll be in contact over email with him to provide him with his coupon code.