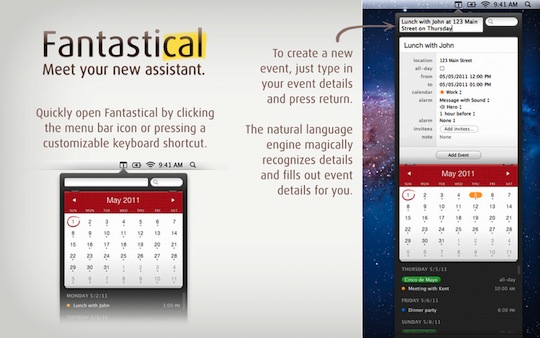 Keeping track of your appointments and daily activities are hard enough as it is without a calendar. Inputting these events could be a lot easier, and in fact, it is easier with Fantastical.
Fantastical, reviewed by Susan back in September, has recently been updated to version 1.1, bringing with it iCloud syncing capabilities, as well as the ability to edit notes from directly within the application. Fantastical also now has CalDav support so you can work in Fantastical without having to run iCal simultaneously to sync your calendar information to you iPhone or iPad.
The application is $19.99 on the Mac App Store, and worthy every penny. But, we've teamed up with Fantastical to bring you a giveaway.
We're tossing around the idea of integrating Punchtab with our website, and what better way to test it out than using it for this giveaway.