Droplr is a popular menu bar utility for the Mac that makes it super easy to share text, images and URLs. It's a very convenient tool particularly for sharing things on Twitter and they just came out with a beautiful new iPhone app.
What's Macgasmic?
Usually I don't particularly care for developers using custom UIs just for the sake of being custom. But Droplr for iPhone is so incredibly gorgeous that it's completely worth it. And to match the beautiful UI the app's sounds are an absolute delight and make Droplr a joy to use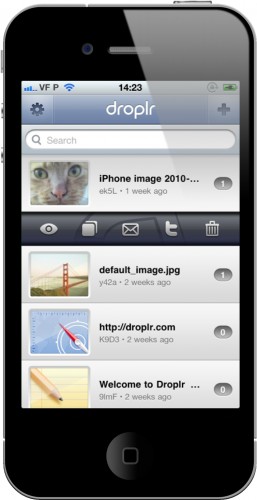 Droplr lets you access all the uploads from your Mac and also upload files directly from your iPhone. To upload something you simply select the "+" buttton on the top navigation bar and you can select an image from your library, shorten a link from the clipboard or compose a new note. It's all very easy and quick. When you click on  "drop" a new menu will appear on the bottom with these options: quicklook, copy link, email, send to Twitter and delete. You can also "pull to refresh" to update the app with your new uploads if you happen to add something from your Mac.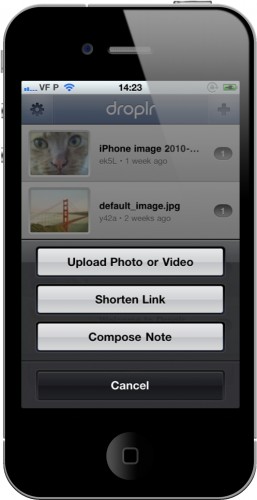 What's not so good?
When you want to post a "drop" to Twitter you're asked to select your client of choice. While there is a huge selection of clients to choose from if you happen to use a lesser known one you're out of luck since there's no other way to post to Twitter. It probably won't be a problem for most people but I thought it was still worth mentioning.
I would also like some more organization (by folders, by type) instead of having all my "drops" in one big list. The current system is fine if you don't have a lot of them but if you do and want to find something specific it might be a bit too much work.
Giveaway
With this review we're also giving away 5 promo codes of Droplr for iPhone (US only). If you want a chance to win just follow these three steps:
Follow @macgasm on Twitter.
Tweet this message "Win one of five copies of Droplr for iPhone from Macgasm. Details and review here: http://bit.ly/ahyZuw".
Post a comment here with a link to your tweet.
That's it! I'll randomly pick the winners on Friday, October 22th. Good luck!