I've tried keeping a journal several times. One big problem I had was that I could never keep it organized and clean. I would cross out stuff, rip pages, put the wrong date (Yes, I'm that clueless), and forget to add stuff only to remember later when I could no longer find a place for it. My journals always ended up looking so messy that I became too frustrated to continue.
Last year, I started using my iPhone to write about my European trip. I even wrote a Macgasm post on it. It fixed my issues with traditional paper journals, but it was still a bit cramped for writing more than short notes. Then came the iPad.
To start
Chronicle for iPad is a beautiful and elegant journaling app. It allows you to easily write down your thoughts and ideas in an interface that makes it simple to keep your writing organized. There's a built-in search feature that lets you quickly look for a particular keyword or phrase and you can browse for entries by month in addition to the list on the left panel.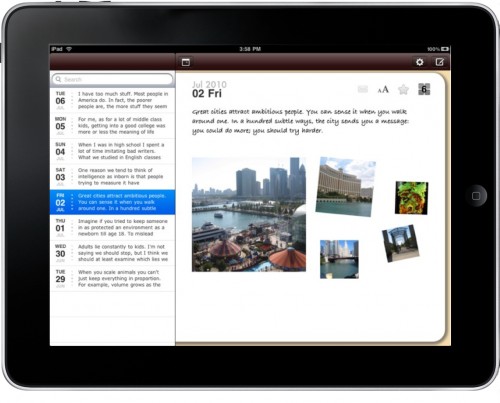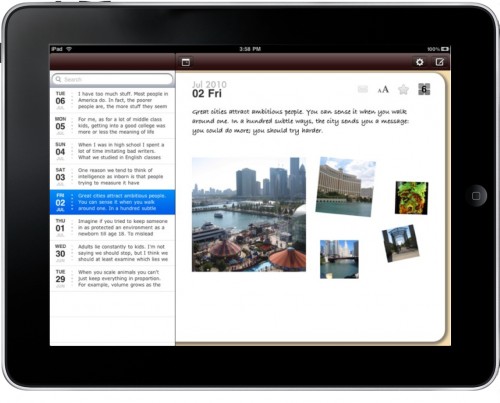 One of the things I really appreciate in Chronicle is all the export features. While all the data in all your iOS apps is backed up whenever you connect your iDevice to iTunes, if you need to do a fresh restore, all that data is lost. With Chronicle, you can upload your journal to Google Docs, export them as a website or email your entries. Ideally, I'd also like the option to upload my content to Dropbox or MobileMe.
Chronicle also comes with a few nice options to customize your journal to your liking. You can choose between several fonts for your text, make it bigger or smaller and also pick a darker or lighter font. You can also change the background color, and annotate your entries with several cute icons to indicate your mood or to make an entry stand out.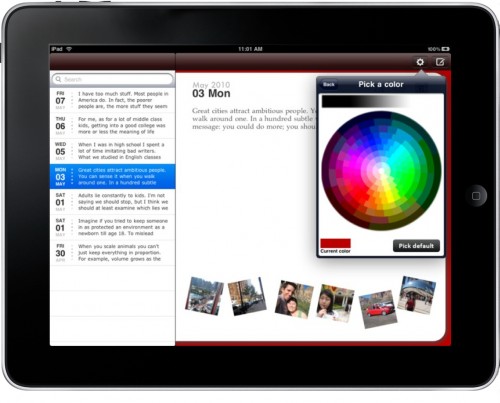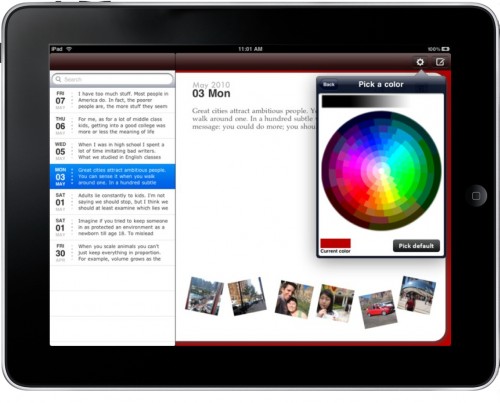 You can also add pictures from your library, it's very easy to do (although the icon could be more obvious) and you can resize, rotate and slide them wherever you want. The only thing I feel could be better is having the text wrap around the pictures.
What's missing?
There are two main things I would like to see in this app. The biggest one is some type of sync with the iPhone version. While I primarily use the iPad app, the ability to add quick notes on the iPhone while I'm waiting in line or simply because it's quicker than taking the iPad out of my purse, (specially since my iPhone is permanently glued to my hand) and have them automatically sync with the iPad would be ideal.
Another feature I would like is some sort of geo tagging. I love to write my thoughts and adventures while traveling, and an option to automatically add a location to my posts, next to the date, or even a map would be very welcome. If this feature is added the ability to search entries by location will be a must as well.
Overall Chronicle is a great app that I can see getting better and better. At $1.99 in the App Store it's a steal if you're into journaling or even if you just want something to write down random thoughts.
Giveaway
With this review we're also doing a giveaway. If you want a chance to win a promocode for Chronicle for iPad (US only) just follow these three steps:
1. Follow @macgasm on Twitter
2. Tweet this message "Win a copy of Chronicle for iPad from @slidetorock and @macgasm. Details and review here: http://bit.ly/beRcsB".
3. Post a comment here with a link to your tweet.
That's it! I'll randomly pick a winner Monday, August 23rd.
Update
Comments are closed, and we've picked the winner!  Congrats goes out to @newtonmota!  We'll be in contact over twitter  with your download information!
If you're disappointed that you didn't win, have no fear, we're now giving away Folio!  Go check it out.
Image credit: Digitalnative