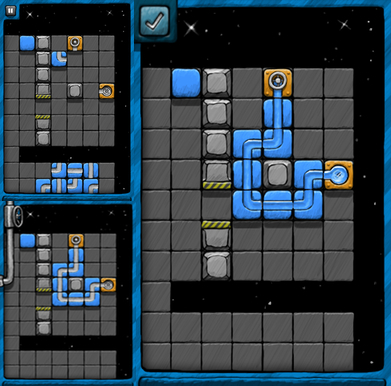 The Kieffer Bros. are by far and away my favourite "indie" game developers for the iPhone and iOS devices. Their games Lexic (renamed to Abca), Orba, and Enso have stuff around for a long time on my phone. They're excellent at creating puzzle games. It's surprising for even me; I'd never been a huge fan of puzzle games up until playing some of their releases.
You really should try some of these other ones out.
Their newest instalment, Aqueduct, is probably their best one to date. Available on the AppStore today, Aqueduct is literally a game about aqueducts. You have to create a sewer system so that the water flows from one point to another. Along the way you encounter obstacles that make going from point A. to point B a little more difficult. You start with a series of tubes that fit together, and you have to optimize the best way to place them together to reach your endpoint.
It's really straightforward, but it makes you think.  There were a number of levels that had me scratching my head trying to figure out the best way to complete the puzzle.
The image below demonstrates the steps that I took to complete a level. The top left image is how we started off the the puzzle.  The bottom left it how I arranged the tiles to complete my pipeline, and the biggest image is the completed puzzle.
A Giveaway
The Kieffer Bros. have given us four coupon codes to give away to our readers (US only). Here's the rules: first four people  to comment below wins.  It's that simple.  Comment  below, using a legitimate email address as your account, and we'll forward off a redeemable coupon code.  Again, make sure you have access to a US iTunes account, because if you don't, these coupon codes won't work.