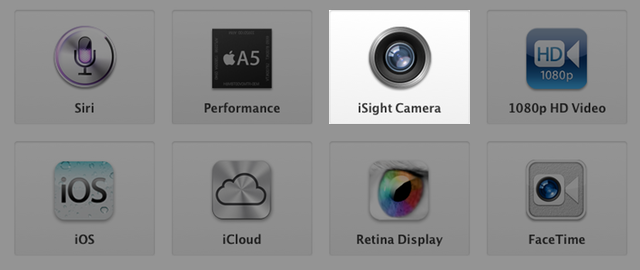 With the launch of the new iPad yesterday, Apple has officially revived the iSight brand.
Phil Schiller explains the rational:
[quote]On the back we have a camera, and when that camera gets of such quality and capability that you're proud to use it as your everyday camera for photographs, we call it an iSight camera. And the new iPad has a great iSight camera.[/quote]
Interestingly, that doesn't just mean the iPad's camera is an iSight, but the iPhone 4 and iPhone 4S's cameras have been retroactively been rebranded as iSight cameras on the Apple website.
Apple:
[quote]The iSight camera gives you 8 megapixels — that's 60 percent more pixels than the camera on iPhone 4. They're engineered with a higher, full-well capacity to collect even more light. With more megapixels and more light, you'll see a dramatic difference in the resolution and details of your images. So your photos look stunning everywhere you show them off — on your iPhone, your computer, or your HDTV. And they're rendered pixel for pixel in prints as large as 8×10.[/quote]
It would certainly be great if Apple would bring back a modern version of its once-popular stand-alone webcam called the iSight as well. MacBook and iMac users have cameras built-in, but Mac mini and Mac Pro users still don't have a good webcam solution without having to buy Apple's $1000 monitor. Maybe this revival of the name bodes well for a Thunderbolt camera! Then again, maybe Apple wants that $1000 for its display REALLY BAD.