Mac has plenty to offer to amateur and professional photographers alike, from its impressive hardware to a wide range of photo management and editing apps. It also offers several ways to recover lost photos, and we describe five of them in this article to help you avoid a potentially disastrous situation.
Common Reasons Responsible for Photo Loss on Mac
Photo loss is difficult to prevent because there are many different reasons why it happens:
| | |
| --- | --- |
| Reason | Description |
| ⚠️ Accidental deletion | By far the most common reason responsible for photo loss on Mac is accidental deletion, which often happens when users are organizing their photos and deleting duplications. Accidentally deleted photos can usually be recovered, but you need to hurry up and start the recovery process as soon as possible. |
| 🖼️ Photo editing | There are many photo editing apps for Mac, and some are more reliable than others. The biggest mistake Mac users often make is that they edit the original photos and not their copies. It then takes just a single crash of the photo editing app to corrupt the original image and make it unreadable. |
| 🔨 Physical damage | It's true that Mac boasts an exceptional build quality, featuring premium materials and innovative construction, but they still house a ton of sensitive components that can become damaged if they come in contact with water or hard floor. |
| 🏴‍☠️ Malware infection | For a long time, Mac users were convinced that malware doesn't concern them. However, the recent wave of ransomware infections, which was responsible for many cases of data, was alarming enough to convince most Mac users otherwise. |
All this can lead to photo loss, but the loss doesn't have to be permanent if you familiarize yourself with the below-described methods for recovering photos.
5 Ways to Perform Photo Recovery on Mac
We've collected five effective methods that you can use to retrieve deleted photos on your Mac. Each of these methods is suitable for certain photo loss scenarios, so we recommend you study all of them and pick the most appropriate one.
Method 1:

Photo Recovery Software

There are many Mac photo recovery software applications that you can use to undelete permanently deleted photos and images from all kinds of storage devices. Some of them make photo recovery for Mac easy with a polished graphical user interface and various useful features, such as the ability to preview deleted photos prior to their recovery.

Disk Drill is a user-friendly data recovery Mac tool that can restore images that are no longer available in the Photos app or Trash. Its one-click approach to data recovery makes it great for regular Mac users who don't understand how photo data recovery on Mac works.

Here's how to recover deleted photos with Disk Drill:

Step 1. Download and install Disk Drill for Mac.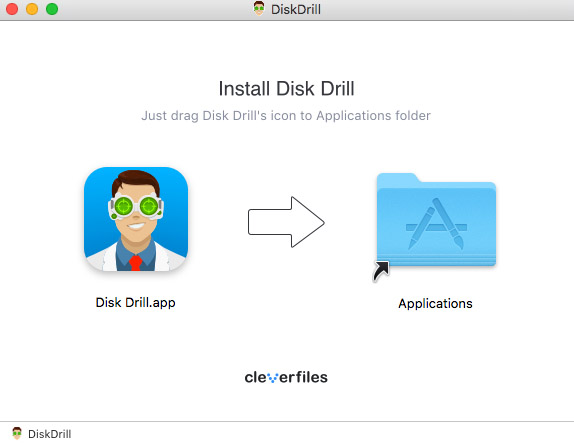 Step 2. Launch Disk Drill and click the Recover button next to the drive you want to recover.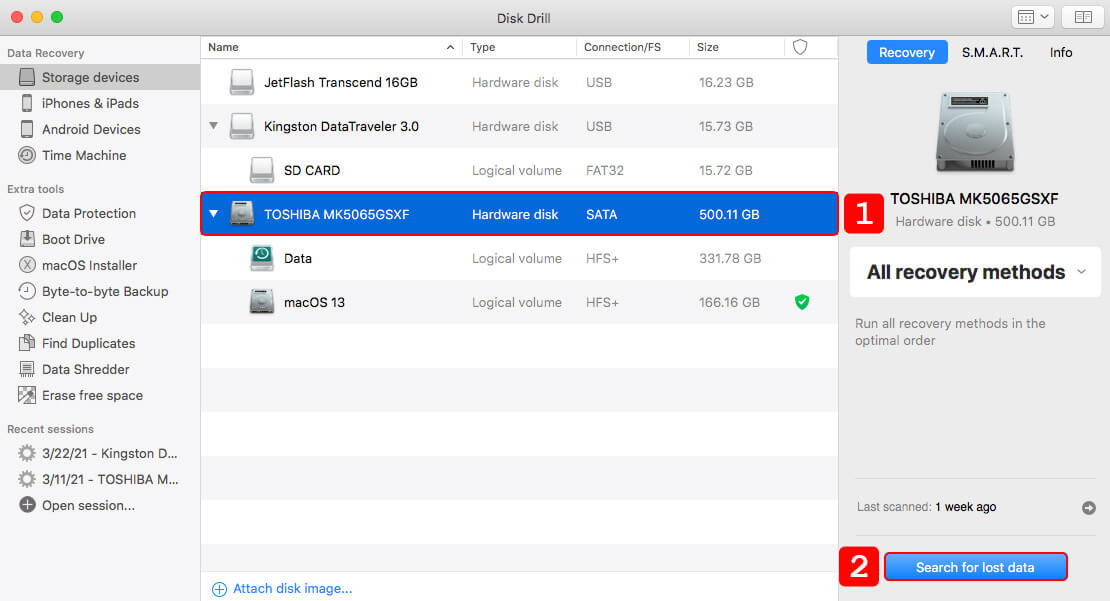 Step 3. Wait for the scan to finish and select all photos that you want to recover. You can preview photos before recovery by clicking the preview button.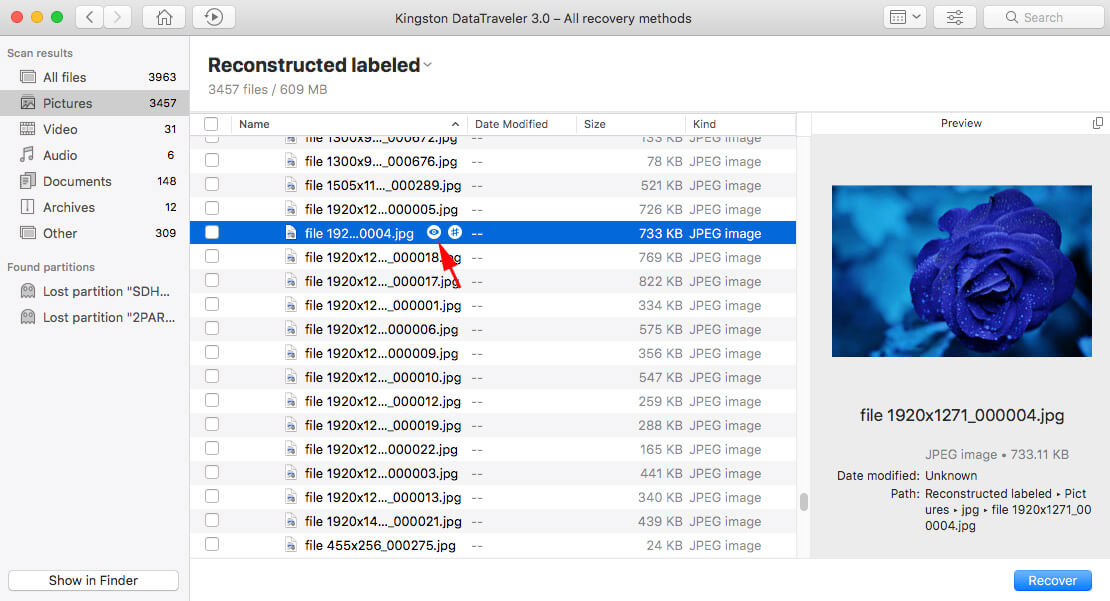 Step 4. Click the Recover button in the top-right corner and specify the recovery destination. Click Choose to begin the recovery process.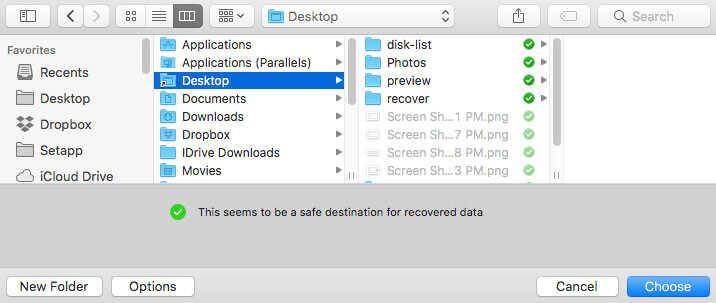 Method 2:

Trash

Photos deleted using Finder can be recovered from Trash, a special hidden folder located in your home directory. This is how to recover deleted photos from Trash:

Step 1. Go to Trash by clicking on its icon in the Dock.

Step 2. Select the photos you want to recover.
Step 3. Right-click on any of the selected photos and choose the Put Back option.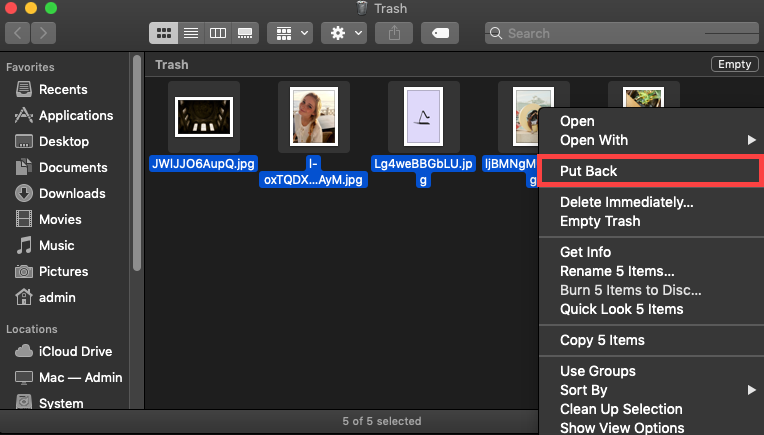 The deleted photos will be moved back to their original locations. Alternatively, you can drag and drop to any folder you want.
If you know the exact name of the deleted photo, you can quickly recover it from Trash using the following Terminal commands:
cd .Trash (Enter the Trash folder).
mv filename ../ (Move a specific file to your home folder. Replace filename with the name of the photo you want to recover.)
Method 3:

iCloud

iCloud is Apple's cloud backup service, and you can use it to store your photos and synchronize them across your Apple devices. When you delete a photo from iCloud, it disappears from all devices, but you can still find it in the Recently Deleted folder.

Step 1. Go to: https://www.icloud.com/

Step 2. Sign in with your username and password.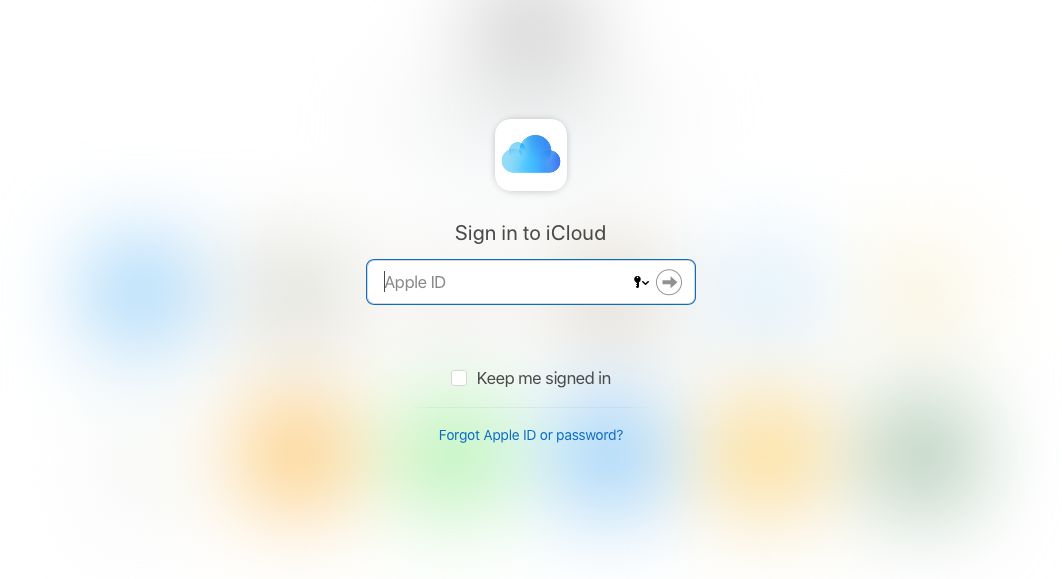 Step 3. Select Photos.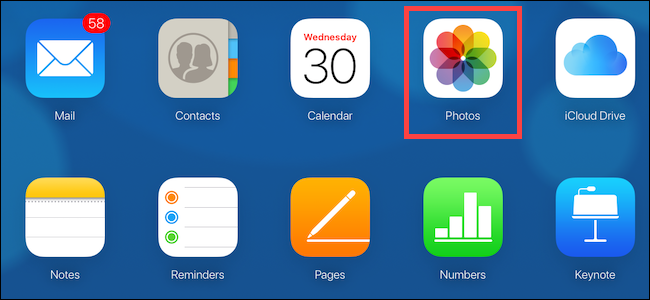 Step 4. Click on Albums at the top.
Step 5. Open the Recently Deleted album.
Step 6. Select the photos you want to restore and click Recover.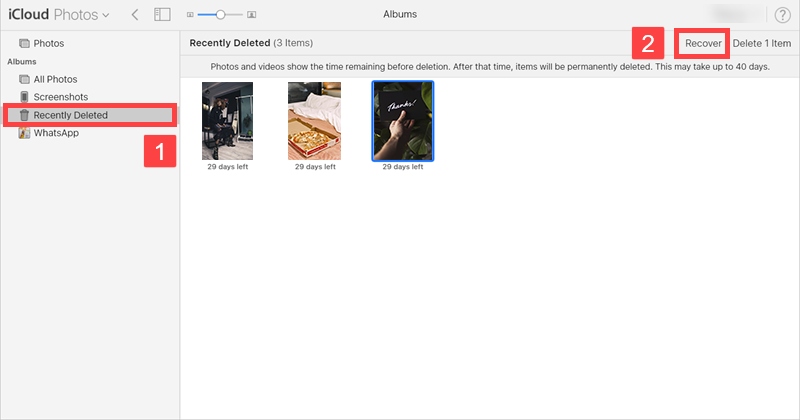 Just like with the Photos app, deleted photos don't remain in the Recently Deleted album forever. They automatically disappear after 40 days to free up your cloud storage space.
Method 4:

Local Backup

Your Mac comes with an excellent local backup app called Time Machine. Even if you don't remember it, it's possible that you've activated Time Machine in the past and configured it to back up your photos in the background. If that's the case, you can recover them without any problems.

Step 1. Open the Folder where your photos were stored using Finder.

Step 2. Click the Time Machine icon located in the Menu Bar and choose Enter Time Machine.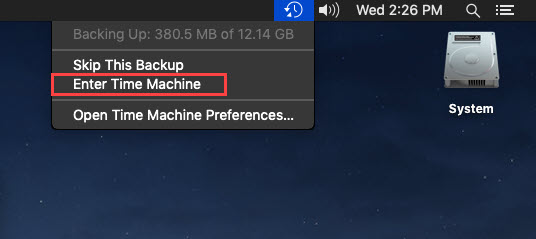 Step 3. Use the arrows on the right to go back in time until you see the deleted photos you want to recover. Click Restore to get them back.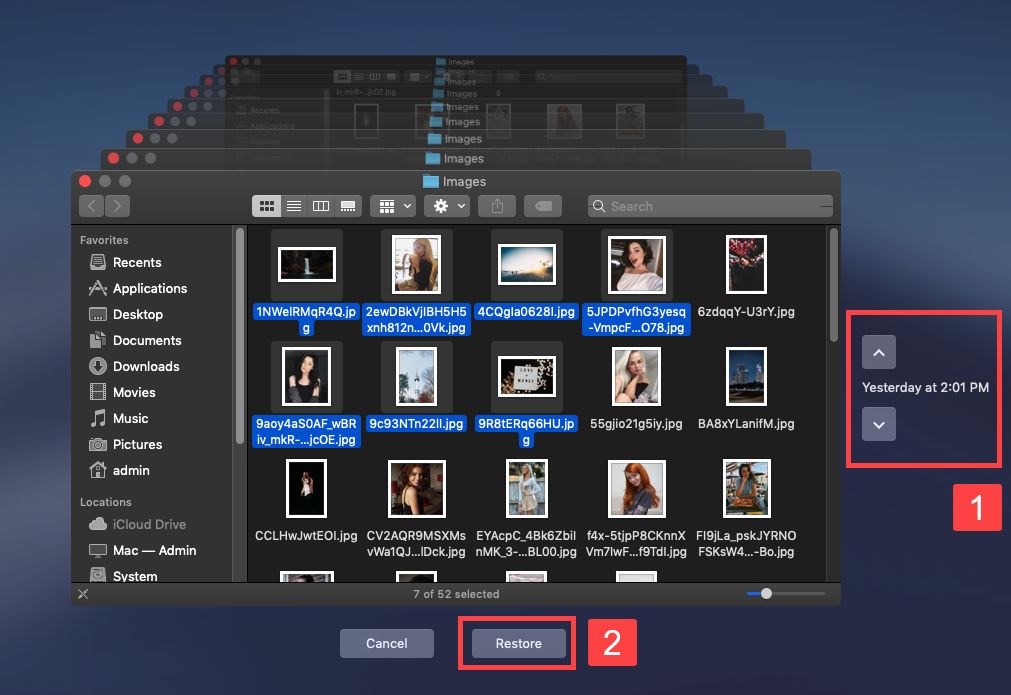 Of course, Time Machine isn't the only local backup app available for Mac, but it would be beyond the scope of this article to provide step-by-step instructions for all popular backup apps.
If you don't have a backup of your deleted photos, try to remember if you've shared them on social media or instant messaging applications. You may be able to download them to your computer, but the quality will likely be reduced.
Method 5:

Photos App

When it comes to organizing photos on Mac computers, the Photos app is the first choice of most users. When you delete a photo from this app, it goes into the Recently Deleted album, where it stays for 30 days. During this 30-day period, you can easily recover it with just a few clicks:

Step 1. Open the Photos app and select Recently Deleted from the column on the left.

Step 2. Select the photo you want to recover and click the Recover button in the top-right corner.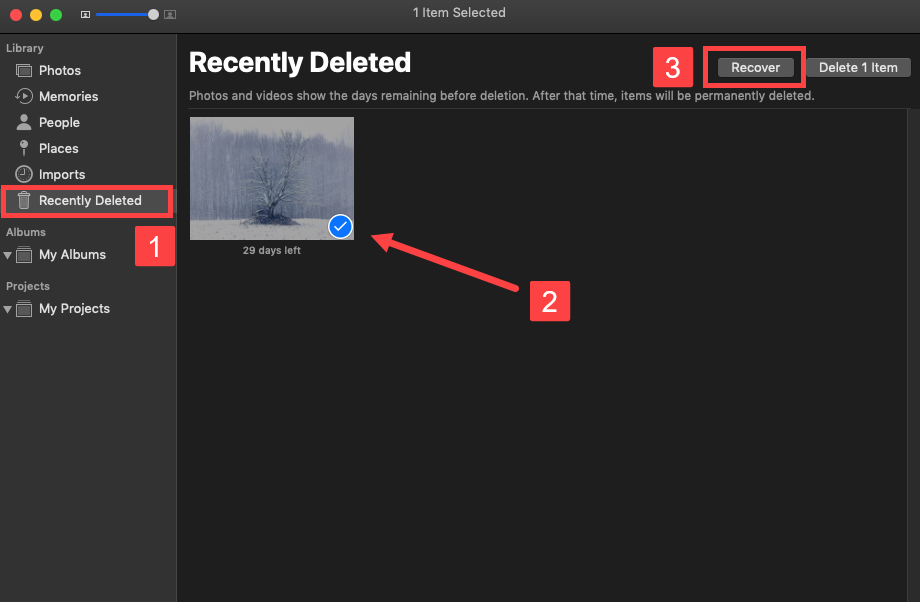 Before 2015, Mac computers came with iPhoto instead of the Photos app. If you want to perform photo recovery on Mac OS X 10.9 Mavericks or older, you need to open iPhoto and select Trash from the column on the left. Then, select the photos you want to recover and choose the Put Back option.
Conclusion
With these five deleted photo recovery methods for Mac, you should be able to get back your precious pictures in no time and prevent irreplaceable memories from turning into digital dust. Because most methods described in this article work only for a certain amount of time since the initial photo loss incident, you should begin deleted photos recovery as soon as possible.