The reality of losing data on your iPad can be extremely catastrophic and even worse if you do not have an existing backup plan. If you are currently trying to restore deleted files from your iPad, chances are that you may have already come across some possible solutions on the internet.
Executing a simple google search query on how to recover data on your iPad would reveal multiple results. However, there is no guarantee that all the solutions will help you recover your lost data.
This article explores some of the best iPad data recovery software to help you restore deleted files on your iPad.
Understanding the Reasons for Data Loss on your iPad
To give you a better perspective, it's important to first explore some possible causes for data loss on your iPad. Losing data ranges from a variety of occurrences with the most common reasons being unintentional. The following are some of the common data loss scenarios for iPad users:
⚠️

Accidental Deletion

. Deleting a file erroneously is not an uncommon practice. For many users, the possibility of losing data through accidental deletion doesn't come as a surprise. Attempting to delete some photos, videos, documents etc. could result in mistakenly including items that you do not intend to get rid of. When seeking to delete items off your iPad, always double-check to confirm which items you truly mean to delete.
⬆️

Software Upgrade

. While it's relatively rare to encounter data loss after upgrading your iPad device to the latest iOS version, some users have experienced this. It's good practice to try and backup all your data, or at least the relevant ones using iTunes, iCloud or any other preferred data backup tool to prevent losing your vital data.
📱

Jailbreak Failure

. If you are in the habit of tinkering with your iPad to gain free access to apps that have been restricted or reserved for a premium price through a jailbreak, the risk of your device going into DFU mode is high and could render the data on your device inaccessible. As a precaution, avoid jailbreaking your iPad.
🔨

Physical Damage

. Causing physical damage to your iPad can result in data loss. Whether it falls to the ground or drops into a pool of water, there's the possibility of your device not powering on again.
❌

System crash

. Devices including iPads may experience system crashes from time to time due to reasons such as insufficient storage, or when running an app that is no longer compatible with an existing iOS version. Always ensure to keep your device running at an optimal level.
🔑

Forgotten Credentials

. Many users in a bid to protect personal information, have enabled system locks or passwords. Due to the stress on our memories sometimes, we can suddenly forget our passwords synced to our device. This is especially common for people who use multiple passwords across different devices. For sophisticated devices like iPads, failure to remember your password will lock you out of your device forever, and could potentially erase all your data.
10 Best iPad Data Recovery Software
Even with the most advanced data protection measures, certain data loss scenarios could leave you in a state of shock whilst highlighting loopholes you failed to take notice of. After such an experience, the ideal solution would be to depend on a data recovery software to help you recover deleted files on your iPad.
Despite a plethora of data recovery software, you might come across, the following data recovery tools, each containing different recovery scenarios will help you recover deleted files with ease.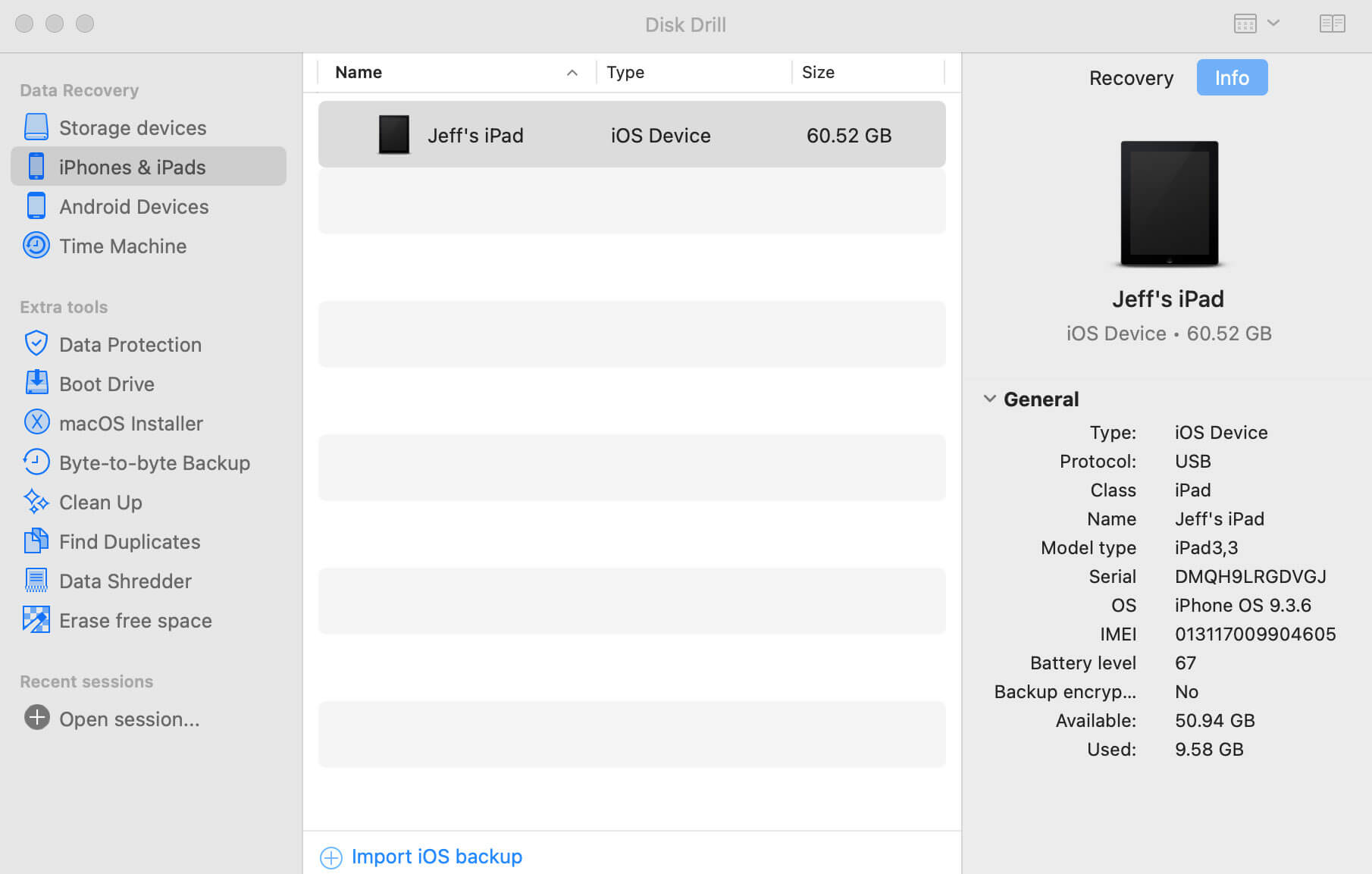 🎁 Apply a coupon "DDIPAD" during the checkout process, and you'll get Disk Drill PRO Lifetime (Mac edition) with a 35% discount.
As you take a glance through the many data recovery apps you come across on the internet, we recommend trying out Disk Drill on your first attempt to recover deleted files on iPad. Just as you would normally recover files on your Mac, Disk Drill makes it possible to restore your deleted photos, videos, notes etc. from your iPad.
Pricing
Overall, Disk Drill ranks favorably in the list of data recovery tools for iPad that we reviewed. Despite the price being on the high-end for users who want to do a bit more than just preview recovered files, it's worth every penny. The Disk Drill PRO version can be purchased at $89 and the Enterprise for $499.
Pros:
Fast, secure & accurate.
Ability to preview scanned files before choosing to recover.
User-friendly interface.
Supports multiple data types including call logs, messages, videos, photos, notes, emails and more.
Lifetime license.
Cons:
Users must upgrade to PRO to be able to complete data recovery.
Direct recovery to the iPad is not possible. Instead, users are required to choose an
alternative recovery location.
iPad data recovery module works starting with Mac OS 10.8.5.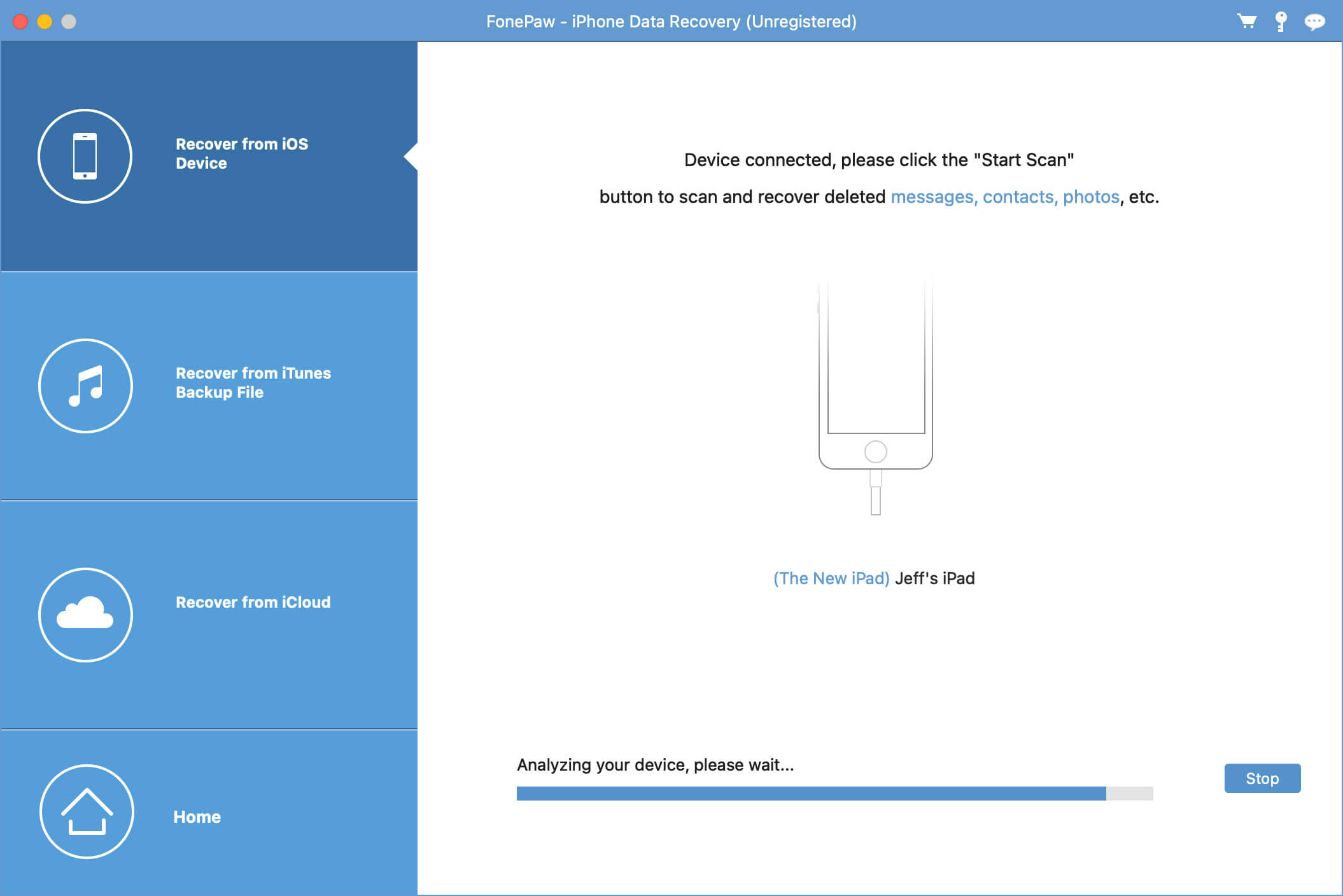 FonePaw Data recovery offers a variety of high-tech features to help you retrieve all kinds of data on your iPad device. Despite being widely considered for iPhone data recovery, it does a pretty good job recovering data on other iOS devices including the iPad. Similarly, FonePaw offers the ability to retrieve lost deleted files directly from the iPad as well as existing backups on iTunes and iCloud.
With support for more than 30 file types including videos, photos, text messages and call history, the data recovery process using FonePaw allows you to preview and select the files you intend to recover.
Pricing
FonePaw offers a plethora of licenses, each offering a peculiar service to assist with your data retrieval. For Windows users, a single-user license can be purchased for $59.95 whiles the Family license (supports 5 PCs) is available for $99.95. Mac users are required to purchase a single-user license for $69.95 and a family license for $119.95.
Pros:
Available on both Windows and Mac devices.
Multiple file types supported.
Preview files before recovery.
Recover files directly and from iTunes/iCloud backups.
Cons:
Support for devices running iOS 14 only.
Direct media recovery from the device only recovers thumbnails.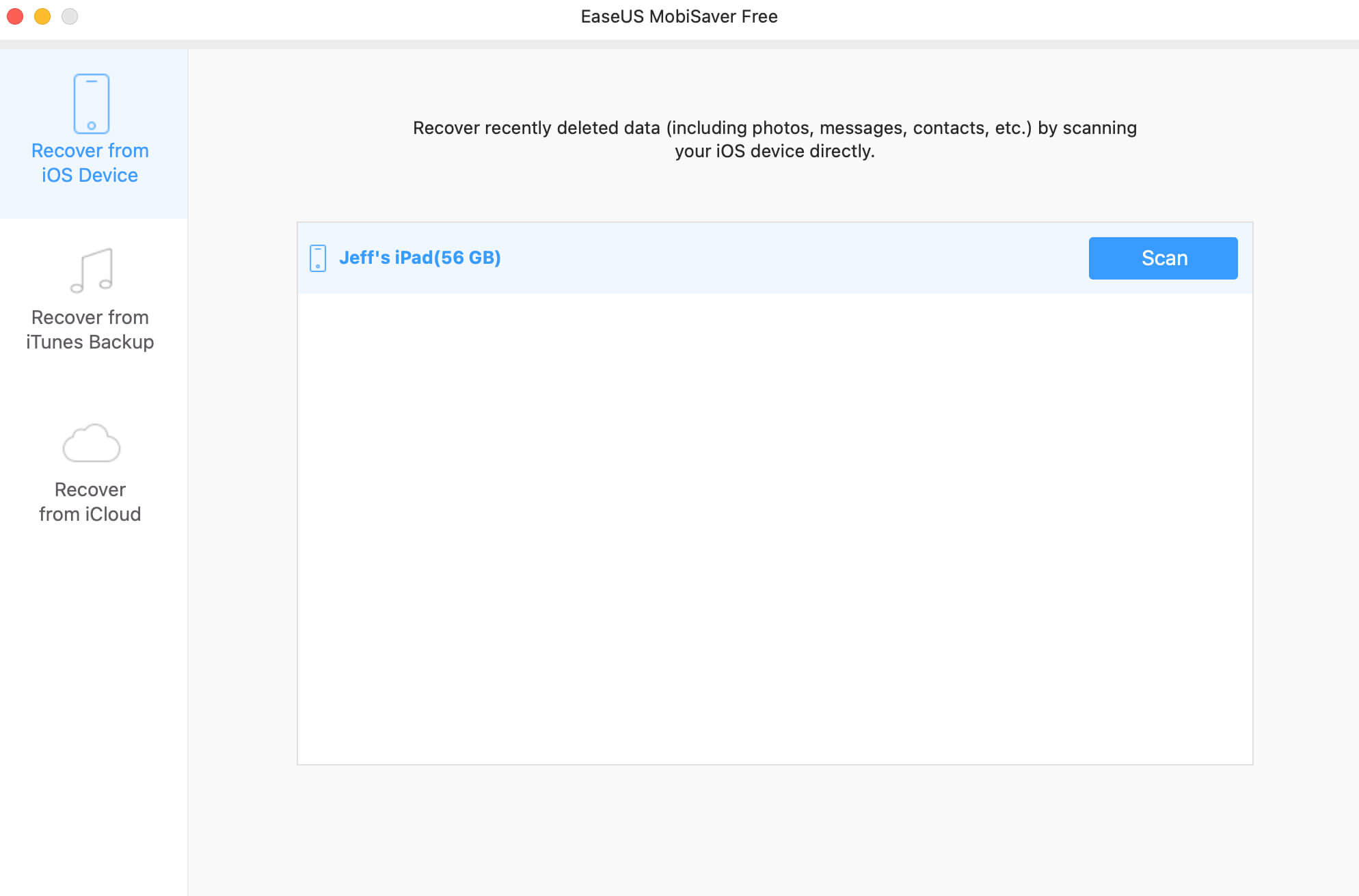 EaseUS MobiSaver earns a spot as one of the best data recovery tools for the iPad. While the app is designed to work on other iOS devices, it does a great job by combining some of the most advanced features to help you safely recover lost data on your iPad including text messages, contacts, call history, voice memos, notes, photos, videos, notes, WhatsApp, Safari history, and more.
Available for both Windows and Mac devices, EaseUS MobiSaver enables you to retrieve data directly from your iPad and also provides the option to recover data from iTunes or iCloud once a backup exists. Getting the most out of the software, however, requires an upgrade as the free version is most likely going to serve you ineffectively. For users who want to maximize the most desired outcomes, we recommend upgrading to the professional version.
Pricing
If you require something basic just for "first impressions", EaseUS MobiSaver can be downloaded for free but unlike the professional or paid version which offers you more than the ability to recover a single photo/video and maximum retrieval of 5 contacts, you need to pay extra to secure the professional version for $59.95 and $79.95 on the Windows and Mac platforms respectively.
Pros:
Supports multiple-file recovery.
Supports both new and older versions of Windows.
Recover data directly and from iTunes/iCloud backups.
Simple user interface.
Cons:
Extremely limited free recovery.
Limited tech support.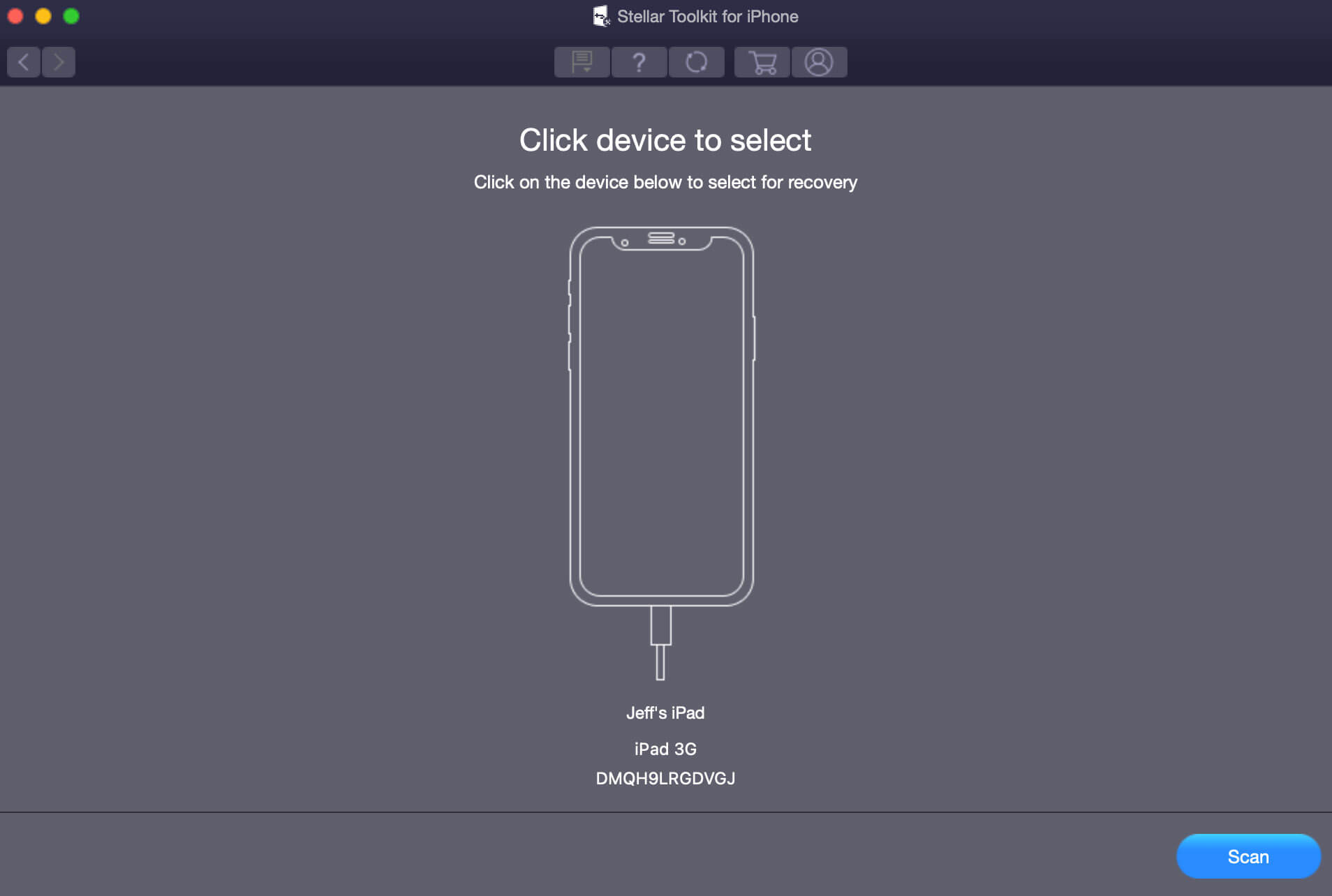 Contrary to popular belief, Stellar Data Recovery does more than just recover data on iPhones. It's pretty much developed to recover data on other iOS devices including the iPad. Therefore, if you are exploring different tools on the market to enable data retrieval on your iPad, you shouldn't move past Stellar Data Recovery.
The widely marketed DIY data recovery solution is capable of retrieving all kinds of files such as your contacts, photos, videos, call log and more. It can restore just about any file type on your iPad device.
Pricing
Stellar Data Recovery offers a variety of packages tailored to different users. The most basic package which is the standard version can be purchased for $39.99 whereas the toolkit and toolkit plus packages are available for purchase at $49.99 and $149.99 respectively.
As expected, each of these packages contains a set of unique features designed to achieve different objectives. Just like many other data recovery tools, data recovery is not achievable using the free version. If you want to do more than just preview files, we recommend purchasing one of the paid packages.
Pros:
The user interface is clean and fresh.
Multiple files and devices supported.
Flexible and easy to use.
Selective scan option.
Available for Windows and Mac users.
Supports iCloud and iTunes recovery.
Cons:
Data recovery is only possible using any of the paid versions.
Lifetime upgrade non-existent.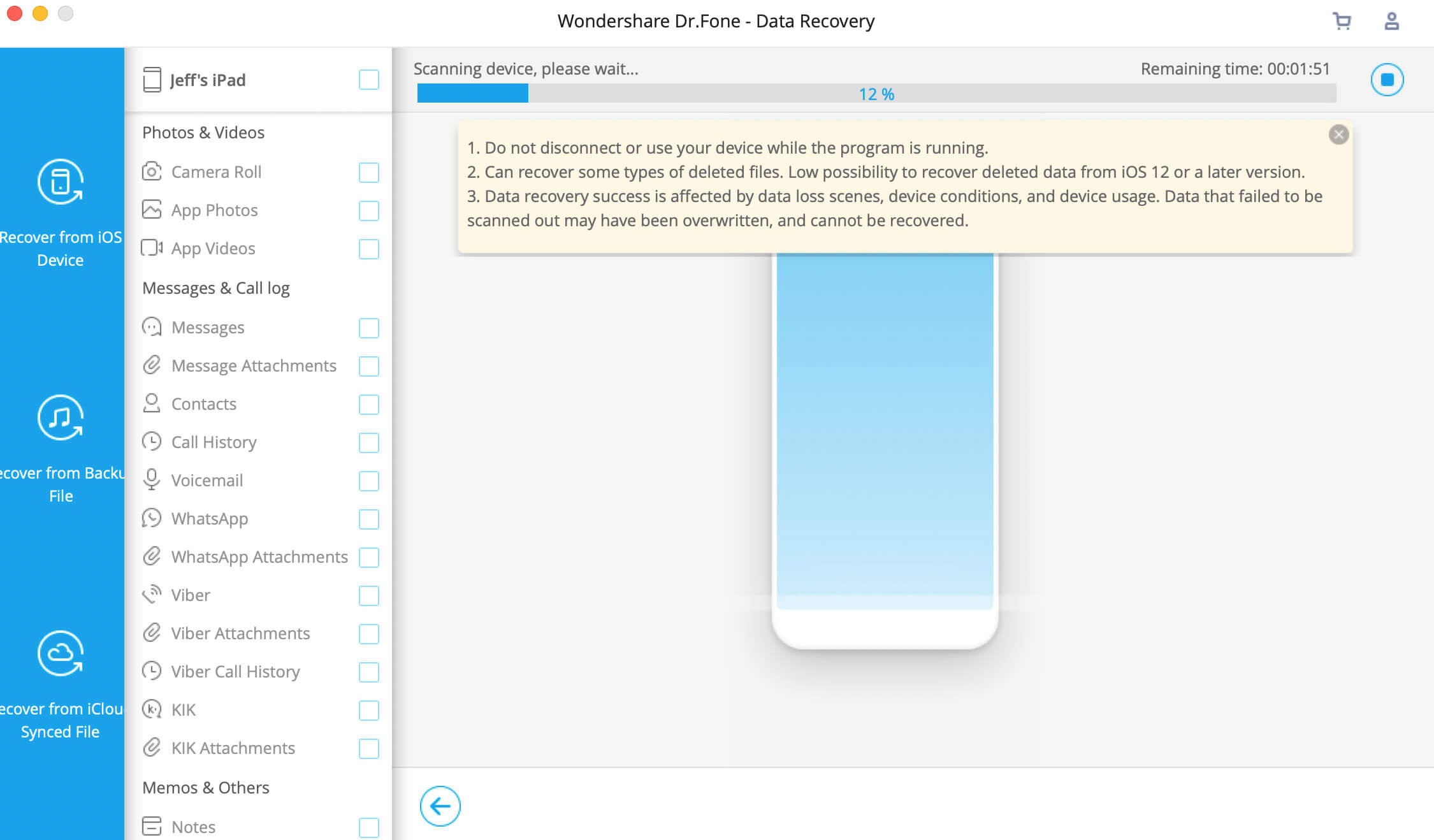 Dr.Fone from Wondershare is rated as one of the best data recovery apps for iOS devices including the iPad. Dr.Fone can recover just about any file type on your iPad. Whether it's a photo, video, notes, messages, contacts, you shouldn't have a hard time recovering any of those. Boasting a clean, crisp user interface, you can recover data from your iPad easily in just three steps: Connect > Scan > Recover.
Pricing
For users who are comfortable with a 1-year license, Dr.Fone can be purchased for $59.95. A lifetime license and a business license(annual) are available for $69.95 and $399 respectively.
Pros:
Supports recovery for multiple file types.
Easy to use.
Three recovery modes including iPad device, iTunes & iCloud Backup.
Cons:
No free data recovery.
Not all the features marketed are available.
Device licensing is limited.
Lags very often.
Technical support is dreadful.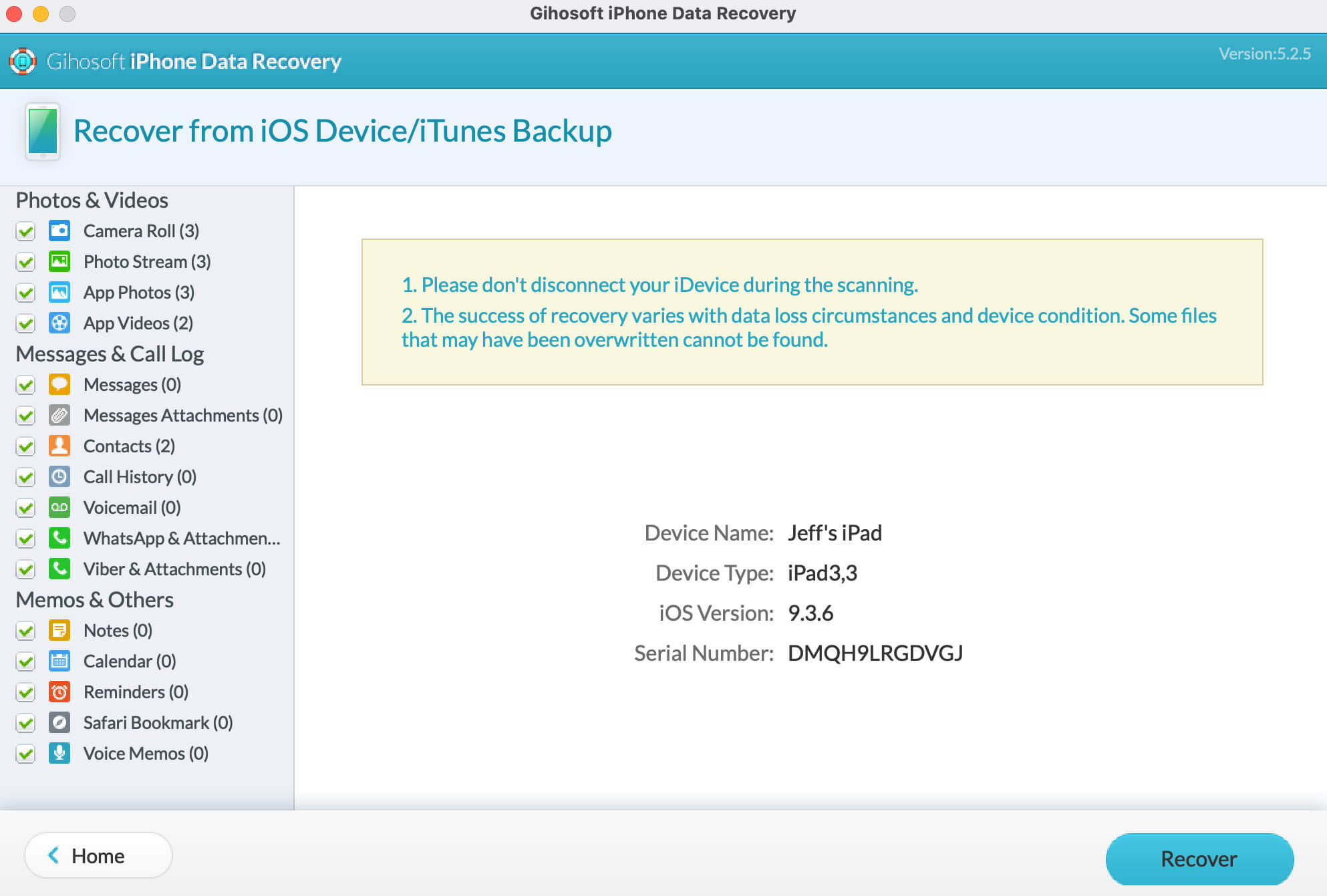 Gihisoft Data Recovery solution is included in the long list of data recovery solutions that are effective for restoring deleted files on other iOS devices including iPads. No matter how you lost your files whether, through accidental deletion or some sort, your files are in safe hands. Unlike many data recovery tools, you can retrieve a good amount of data for free using Gihisoft's iOS recovery tool.
Your text messages, contacts, call history, photos, videos and a lot more can be retrieved with very little cost to you. With the ability to recover more than 16 different file types from your iPad device or an existing backup on iCloud/iTunes, restoring deleted files should cease being a nightmare.
The application is relatively very easy to use and supports some of the most common iOS devices.
Pricing
The free version offers a lot more than the typical iPad data recovery software. Although you can't recover all of your data for free, the free version allows you to recover certain vital data for free — an offer that is hard to come by considering the category of data recovery tools it belongs to.
If you want to recover files that are not supported by the free version, upgrading to PRO should be the ideal consideration. For $59.95, you can get the PRO version and have access to a lot more features.
Pros:
Support for iCloud and iTunes recovery.
Ability to recover some files for free.
Free lifetime technical support (PRO users).
Support for all iPad devices.
Compatibility with Windows and Mac devices.
Preview files before recovery.
Cons:
Full data recovery requires an upgrade to the PRO version.
User-interface is not friendly.
File recovery is very limited.
Data recovery takes too long.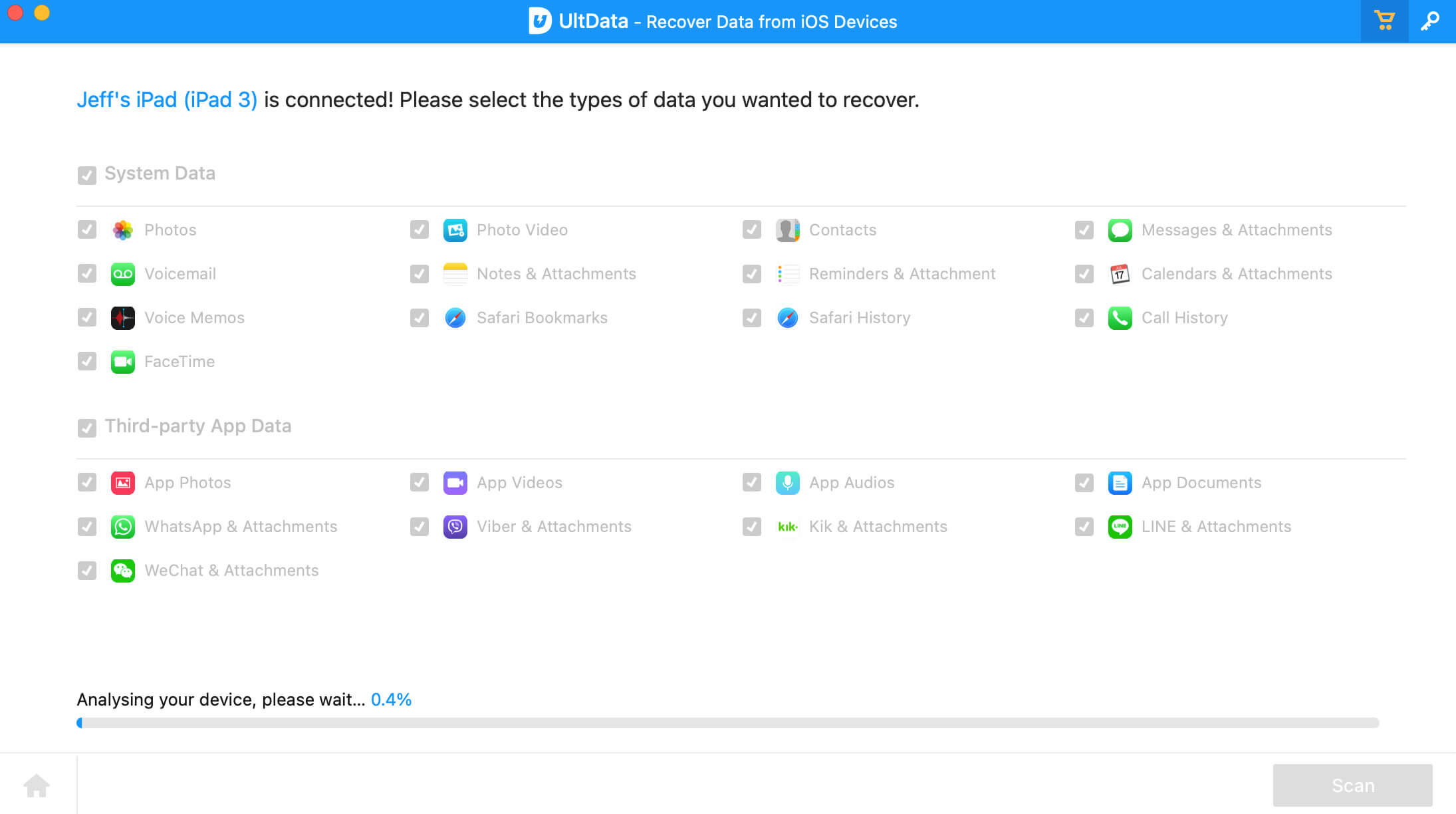 Tenorshare Ultdata is a powerful data recovery tool designed to help users recover deleted files from the iPad. Providing support for all iPad models, every single piece of information that you desire to retrieve can be extracted with ease. Tenorshare can recover up to 25 different file types on the iPad including videos, photos, text messages and WhatsApp messages.
Like many other recovery tools, Tenorshare features data recovery from iCloud and iTunes backup sources and is compatible with multiple Windows versions including the old Windows XP. Mac devices supported by Tenorshare must be running macOS 11 Big Sur and below.
Pricing
Tenorshare offers a range of packages priced competitively. All packages support 5 devices and 1 PC. Users who prefer just a monthly or annual license can purchase each for $45.95 (Annual price discounted from $149). The premium lifetime license is being offered for $59.95 so depending on which value you desire the most, we recommend carefully selecting the package that will offer the best outcomes for you.
Pros:
Multiple devices supported.
iCloud and iTunes backup recovery.
Preview files before recovery.
Multiple file types supported.
Cons:
No free data recovery.
Money-back guarantee is a hoax.
Poor technical support.
Average performance.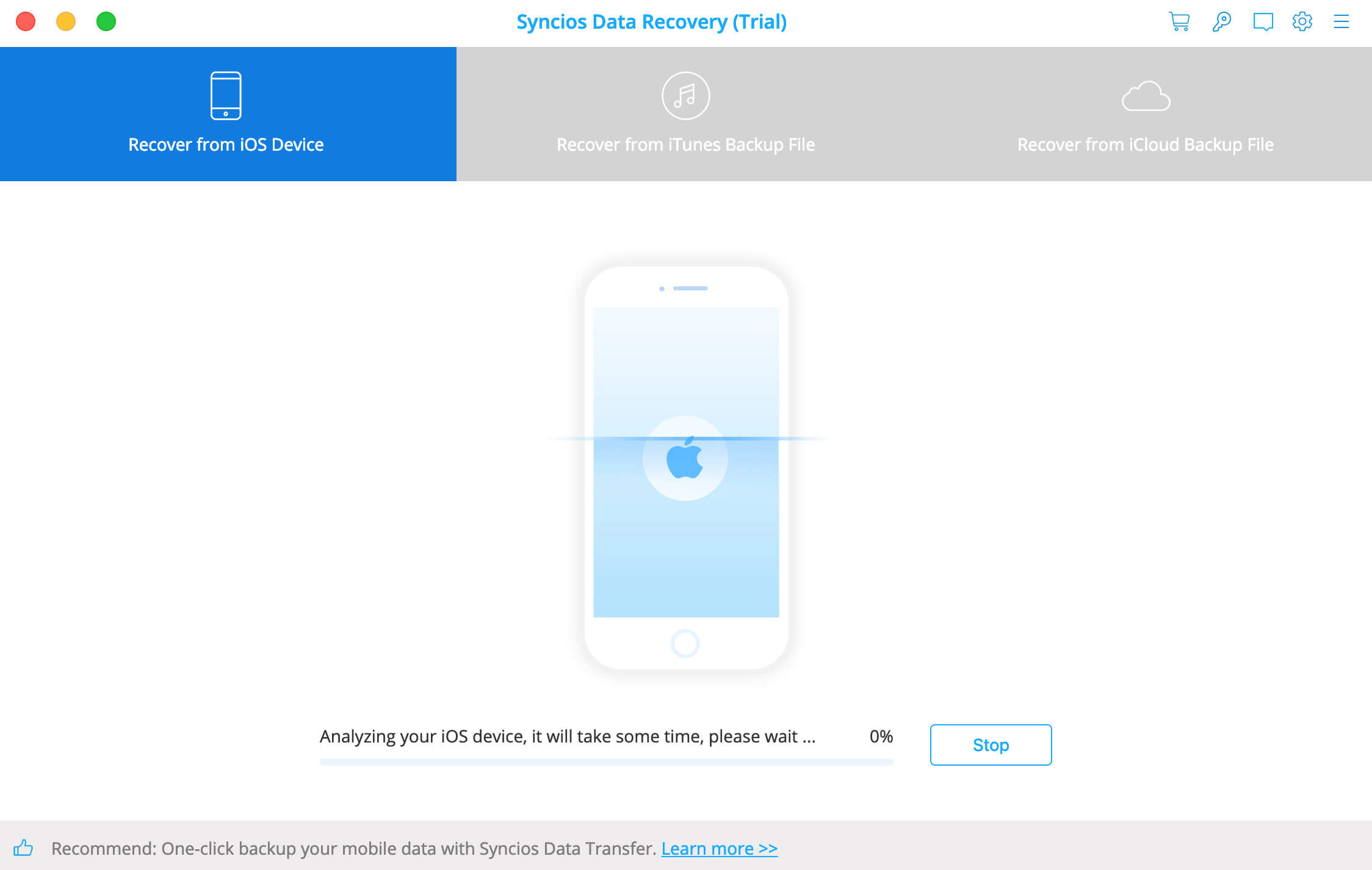 Syncios is a free easy-to-use data recovery tool designed to help users recover data from iOS devices including iPads. Data such as your contacts, photos, safari bookmarks etc. that are capable of being retrieved for absolutely free. Comparing the Syncios app to its peers, it appears a little out of touch with modernity as a quick glimpse reveals a not-so-appealing user interface. But that doesn't mean it fails to do the job which is to recover your deleted/lost data.
Besides, the data recovery tool promises to recover your data for free which means that you can save up a lot more and still have access to your data.
Pricing
Syncios data recovery for iPad is available for free download. Whether you are a Mac or Windows user, you can download the data recovery software for free.
Pros:
All iPad models supported.
Data recovery for iTunes.
Easy to use.
Cons:
Data recovery appears to take some time.
iCloud recovery not available.
Not compatible with the latest iOS software.
Not frequently updated.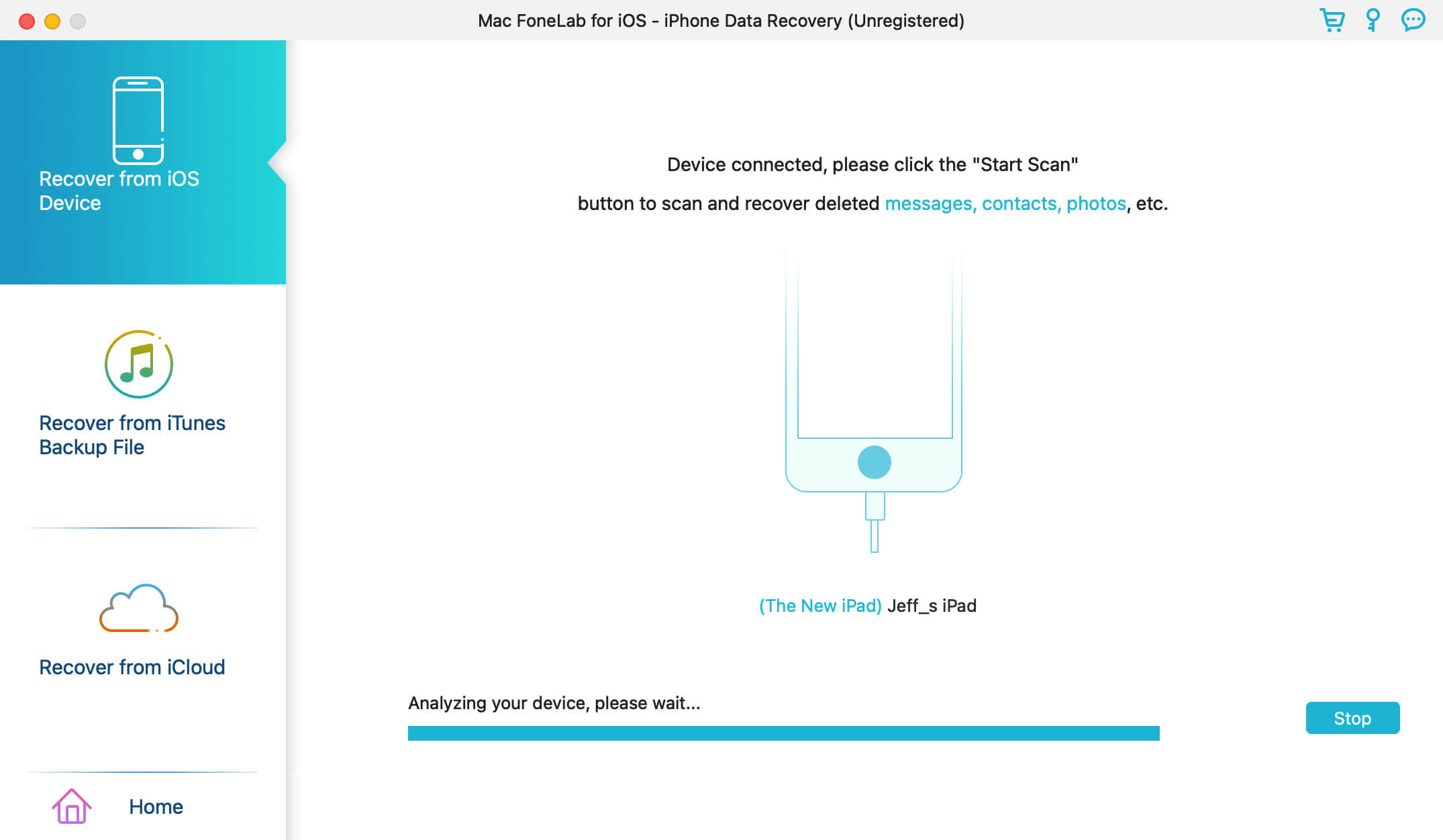 Fonelab helps to restore your data from the iPad no matter the circumstance. It is also compatible with all iPad devices and provides support for iOS 14 and below. Fonelab is relatively easy to use and has a clear-cut user interface that is easy to navigate.
You can use Fonelab data recovery tool to undelete your most important files including your contacts, text messages, photos and videos. Data recovery is also possible from third-party apps therefore if you need to recover data from some of your favorite apps including Whatsapp, Fonelab can do exactly that.
Fonelab is available for download on both Windows and Mac devices. Your computer system, however, requires at least 200 MB of available space and a minimum of 1 GB Ram to be able to run the data recovery software.
Pricing
Fonelab is available for free download except that you can't do more than preview files. Getting the most features out of Fonelab requires an upgrade to the paid version. The standard data recovery tool can be purchased for a limited offer of $55.96 (Single-user) & $132 (multi-user) on both Windows and Mac platforms.
Pros:
Supports the latest version of iOS.
Supports all iPad models.
Easy to use.
Data recovery from third-party apps.
Preview files before recovery.
Cons:
Data recovery requires a paid version.
Hardware compatibility issues contrary to what has been advertised.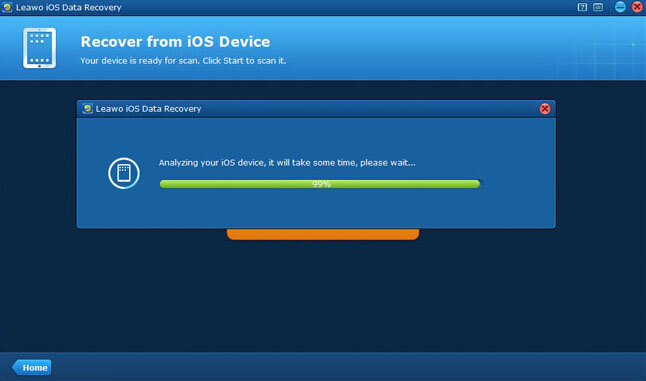 Leawo Data Recovery for iOS has been around for quite a while now, and it works effectively to restore data from your iPad. However, Leawo falls a bit short when compared to other data recovery tools for the iPad. Not only is there a limitation on the different types of files you can recover, but support for devices running recent versions of iOS is also non-existent.
Besides these constraints that users are likely to face when using Leawo, the data recovery tool boasts some of the best features for any top-tier recovery software and this includes the ability to preview and filter scanned results.
Pricing
Leawo offers a free trial for users who desire short-term benefits. If you are eager for a long-term outcome, you can purchase Leawo iOS data recovery for $59.95.
Pros:
Fast Scanning.
Compatible with all iPad models.
iTunes data recovery is available.
Cons:
Limited file-type recovery.
Incompatibility with the latest iOS versions.
No free recovery.
User interface lacks modernity.
How to Recover Deleted Files on iPad Using Disk Drill
Out of the many iPad file recovery solutions that have been reviewed, Disk Drill is easily our favorite because it works seamlessly to recover just about any file type on your iPad. In terms of usability, performance and compatibility which are key touchpoints we recommend for any iPad recovery software, Disk Drill scores higher than the average solution.
Many iPad data recovery solutions would easily pass for being excellently marketed products but would easily fail to deliver major selling points. Instead, Disk Drill delivers unparalleled user experience and offers a more comprehensive approach towards data recovery.
To recover iPad files with Disk Drill, follow these steps:
Download and install Disk Drill for iPad.
Launch the Disk Drill app.
Connect your iPad to your PC using Wi-Fi or USB. We recommend connecting via USB for a faster experience. Your iPad will appear under the iOS group on the disk and device list.
Select

Search for lost data

.
Wait until Disk Drill scans for files on your iPad.
Review scanned results and select the items you intend to retrieve by once again clicking

Recover

.
Conclusion
Selecting the right iPad data recovery tool can greatly affect the outcome of your data recovery efforts. You need to consider usability, compatibility, and performance as your major benchmarks. In some cases, you would be required to pay something extra if you desire the most efficient features.