What types of data do you keep on your Android device? If you're like most people, then you've probably listed documents, photos, videos, and audio files. And if you've been using your smartphone or tablet long enough, we're willing to bet that you have first-hand experience with Android data loss.
Fortunately for you, we also know what it's like to lose important Android data, which is why we've put together this selection of the top tools for performing Android data recovery on Mac. With their help, you should be able to recover your files in no time—no special skills required.
Quick Comparison of Android Data Recovery Software
For your convenience, we have prepared this quick comparison table, summarizing the key features of the top Android data recovery tools available for Mac users.
| | Free version  | Android support | Mac support | Price |
| --- | --- | --- | --- | --- |
| Disk Drill for Mac | + | Android 2.3+ | Mac OS X 10.15.7+ | $89 for a lifetime license |
| iMobie PhoneRescue | + | Android 4.0+ | Mac OS X 10.8-12 | From $59.99 a year |
| FoneLab Android Data Recovery | + | Android 4.0+ | Mac OS X 10.7+ | $55.95 for a lifetime license |
| Tenorshare UltData for Android | + | Android 5.0+ | Mac OS X 10.8+ | From $39.95 a year |
| Jihosoft Android Data Recovery | + | Android 2.3 – 9.0 | Mac OS X 10.7-10.13 | $79.95 for a lifetime license |
| Dr.Fone Android Data Recovery | + | Android 2.1+ | Mac OS X 10.11 – 10.14 | $59.95 for a lifetime license |
| iMyFone D-Back for Android | + | Android 2.0 + | Mac OS X 10.9+ | $39.95 a year |
To further assist you in making an informed choice, we invite you to read the rest of the article, where we discuss the pros and cons of each software solution. This detailed analysis will equip you with all the necessary information to select the most suitable tool for your Android data recovery needs on Mac.
Best Tools for Android Data Recovery on Mac
To successfully perform Android file recovery on your Mac, you need to use the best tools available and begin the recovery process as soon as possible. To save you time, we've rounded up the best Android recovery software applications and described the pros and cons of each.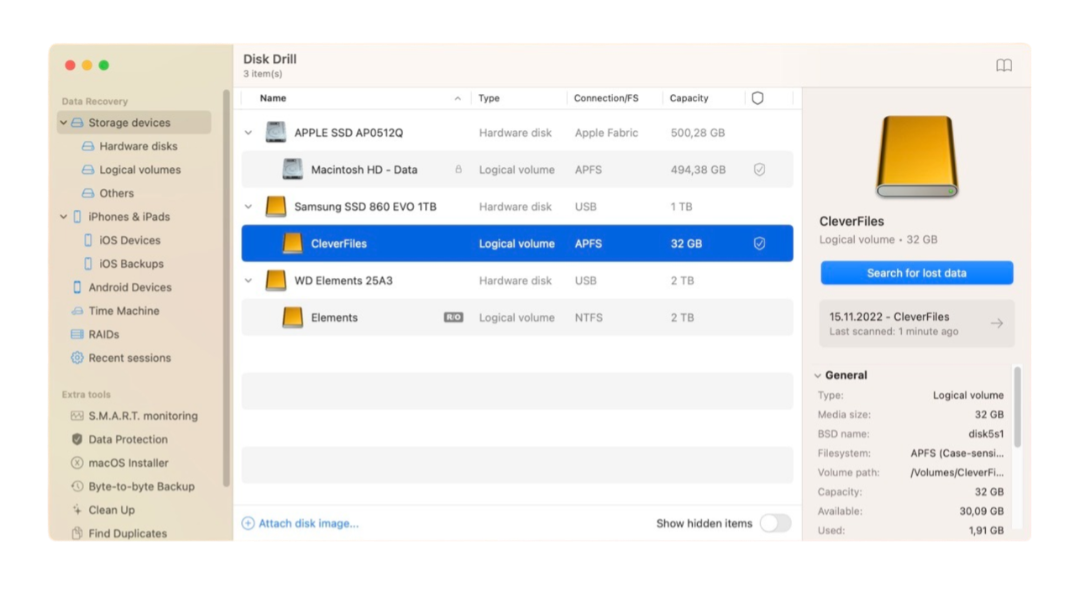 When it comes to Android recovery software for Mac, you would be hard-pressed to find a more capable program than Disk Drill. Not only does it offer a treasure chest of features, but it makes all features accessible even to complete beginners thanks to its intuitive design and one-click approach to data recovery.
The free version of Disk Drill for Mac can preview all recoverable files, including images, videos, audio files, documents, file archives, and more. You can recover lost data from the internal memory and your Android's SD card using the same reliable algorithms that make Disk Drill the number one hard drive recovery software.
All smartphones and tablets running Android 2.3+ are supported, and so are all recent and not-so-recent versions of macOS. Disk Drill is frequently updated, so you can be sure that it won't stop being useful once you upgrade your Android device and replace it with a newer one.
Pros:
Best-in-class data recovery performance
Runs on the latest version of macOS
Supports hundreds of file formats
Can preview recoverable files
Compatible with Android 2.3+
Cons:
The free version can only preview files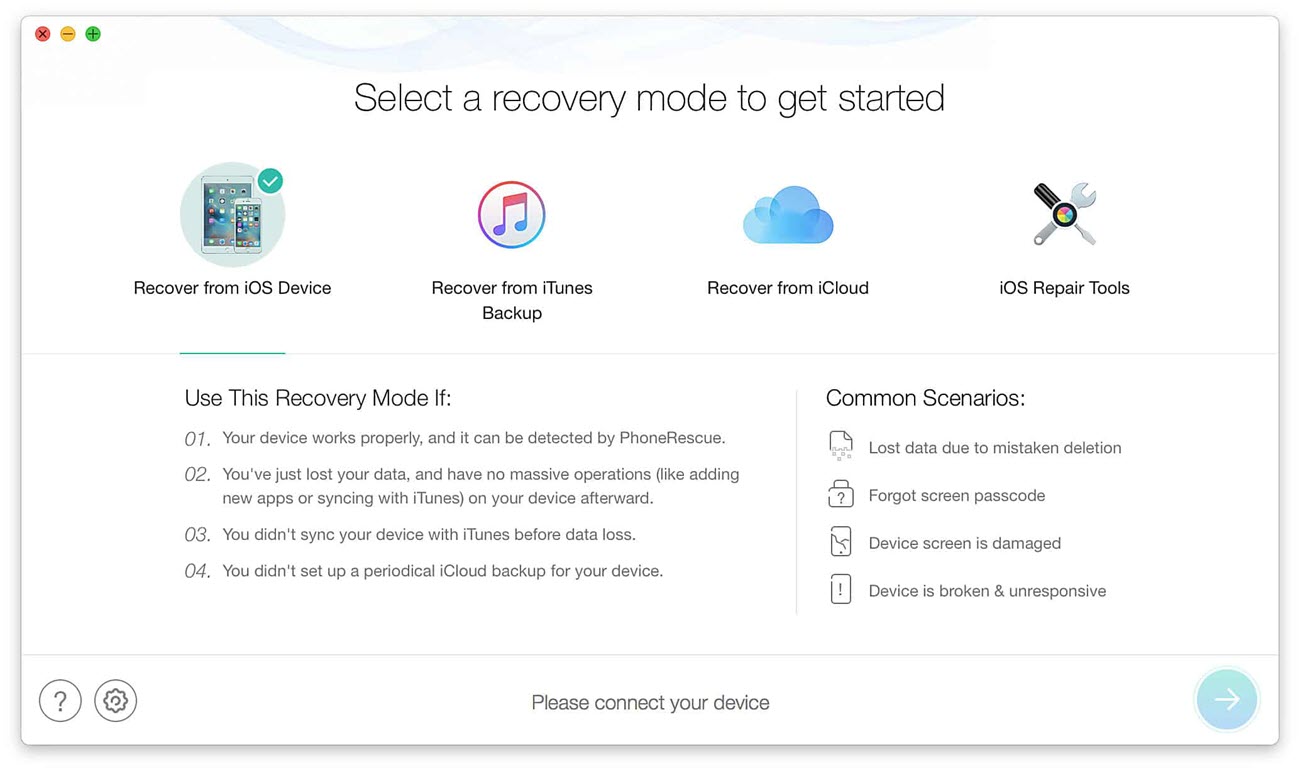 iMobie PhoneRescue is a straightforward Android phone recovery software that does exactly what it promises to do: rescue lost data from Android devices. According to iMobie, the software has already saved over 5,700,000 iOS and Android users from data disasters, and we have no reason to doubt this claim.
You can use iMobie PhoneRescue to perform Android data recovery without root and bring photos, music, videos, and even app data back to light. In addition to restoring access to lost files, iMobie PhoneRescue can restore access to a locked Android device whose password or pattern you no longer remember.
Pros:
Long money-back guarantee
Built-in troubleshooting toolbox
Modern user interface
Works without root
Cons:
Doesn't offer free recovery
Takes some time to complete a scan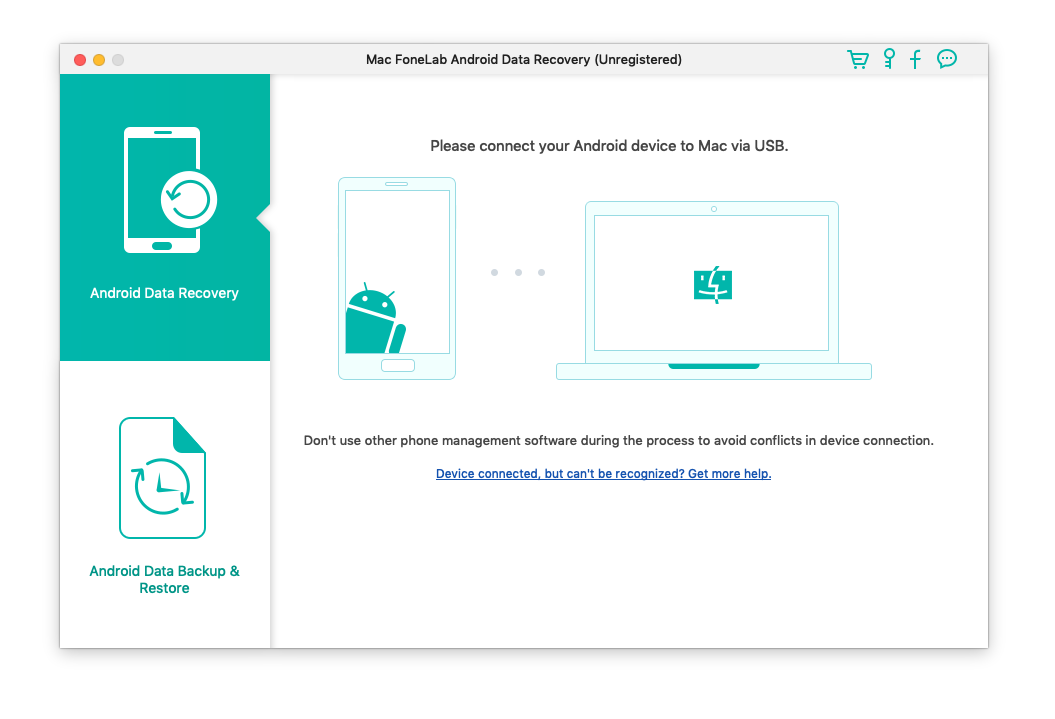 FoneLab Android Data Recovery is a comprehensive Android data recovery app with support for all devices running Android 4.0 and newer, including smartphones and tablets manufactured by Samsung, HTC, LG, Motorola, Sony, Google, and HUAWEI, just to name a few leading brands.
The software offers three distinct modes of operation. The first mode lets you recover Android data from device directly without backup files. The second mode allows you to recover Android data from SD card. And the third mode can be used to recover data from SIM card. Using these three modes, it's possible to address virtually all Android data loss scenarios from the same intuitive user interface.
Pros:
Support Android OS 4.0 and above
Previews Android data before recovery
Three modes of operation
Relatively affordable
Cons:
Expensive multi-user license
Can only preview recoverable files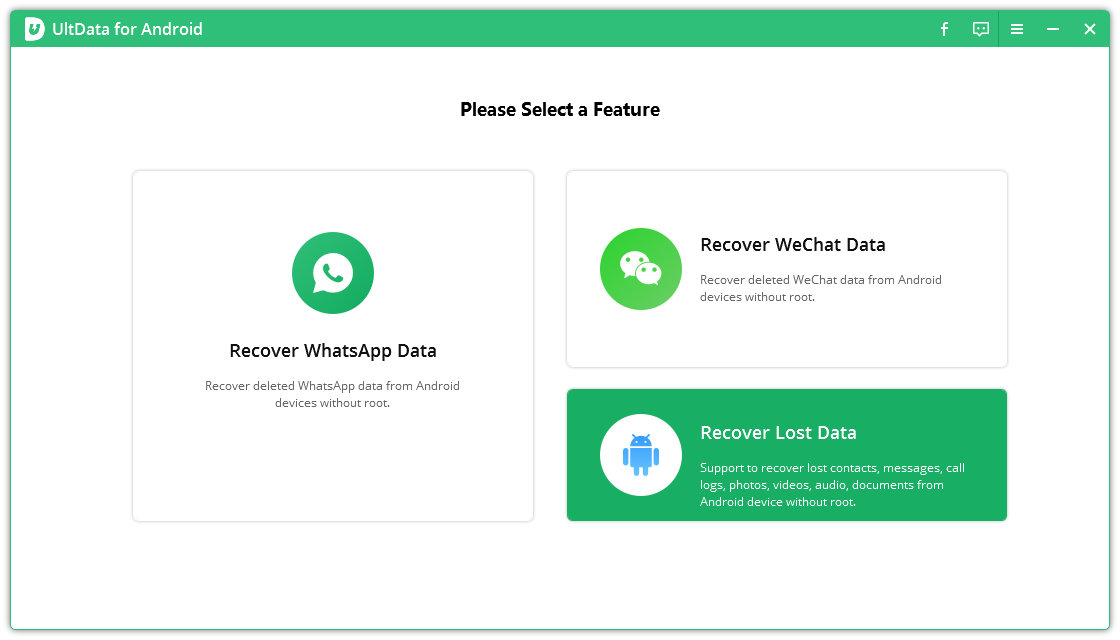 Tenorshare UltData for Android can be described as a capable Android data recovery app with not-so-capable customer support behind it. Compatible with all recent Android devices, this mature solution can scan thousands of files in seconds and perform Android data recovery without root, making it one of the best Android recovery tools for users who prefer stock Android.
Unfortunately, the app could use a better customer support team behind it. There are many negative reviews online that criticize the inability of Tenorshare's customer support staff to resolve even relatively basic requests and do so in a timely manner.
Pros:
Supports 6,000+ popular Android phones and tablets
Compatible with Android 4.4 and newer
Lets you freely check and preview the found data
Fully risk-free and read-only
Cons:
Lacking customer support
Poor user reviews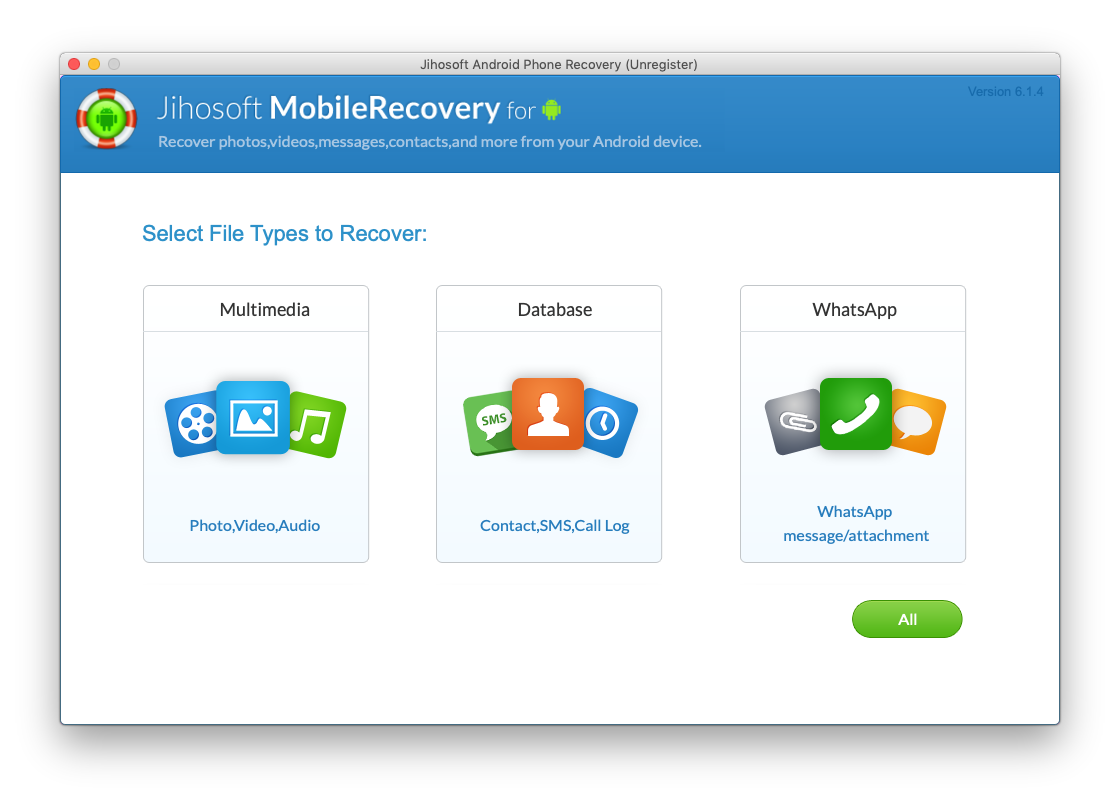 Featuring an intuitive three-step recovery process, Jihosoft Android Data Recovery is an attractive recovery solution that's held back by subpar data recovery algorithms that seldom fail to retrieve all lost data. But if all you need is to recover a couple of photos, contacts, or recently deleted SMS messages, then this app should be able to perform HTC, LG, Google, Sony, or Samsung data recovery on Mac just fine.
First, you need to launch the app and connect your Android phone or tablet. Then, you scan its internal storage and preview recoverable files. Finally, you select all important files and tell Jihosoft Android Data Recovery to move them to a safe location.
Pros:
Easy to use
Free trial before purchase
Recovers WhatsApp data
Cons:
Subpar data recovery performance
Won't help you if your device isn't rooted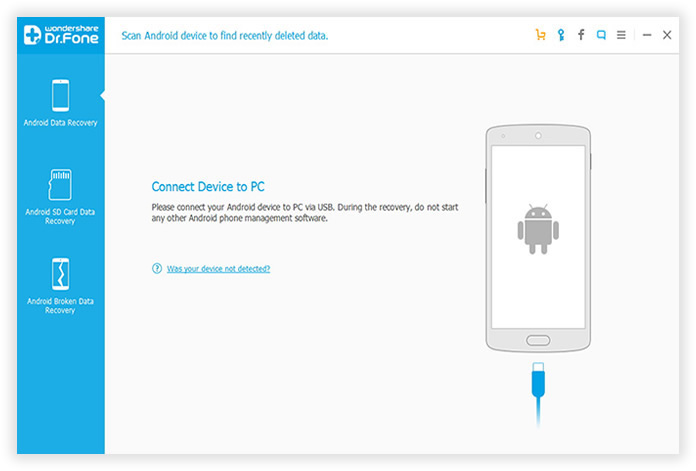 Dr.Fone Android Data Recovery is another solution that promises to effectively recover contacts, SMS, call history, photos, videos, WhatsApp history, and other files. The software boasts two main scanning modes: Standard Scanning Mode and Advanced Scanning Mode.
Scanning Mode quickly scans locations where deleted files are most commonly found, while Advanced Scanning Mode deeply scans all storage system on your Android phone to recover as many files as possible. Because Advanced Scanning Mode is more comprehensive, it takes more time to complete, so Dr.Fone doesn't recommend starting with it.
Pros:
Two scanning modes
Restores WhatsApp history and contacts
Cons:
Advanced scans take a lot of time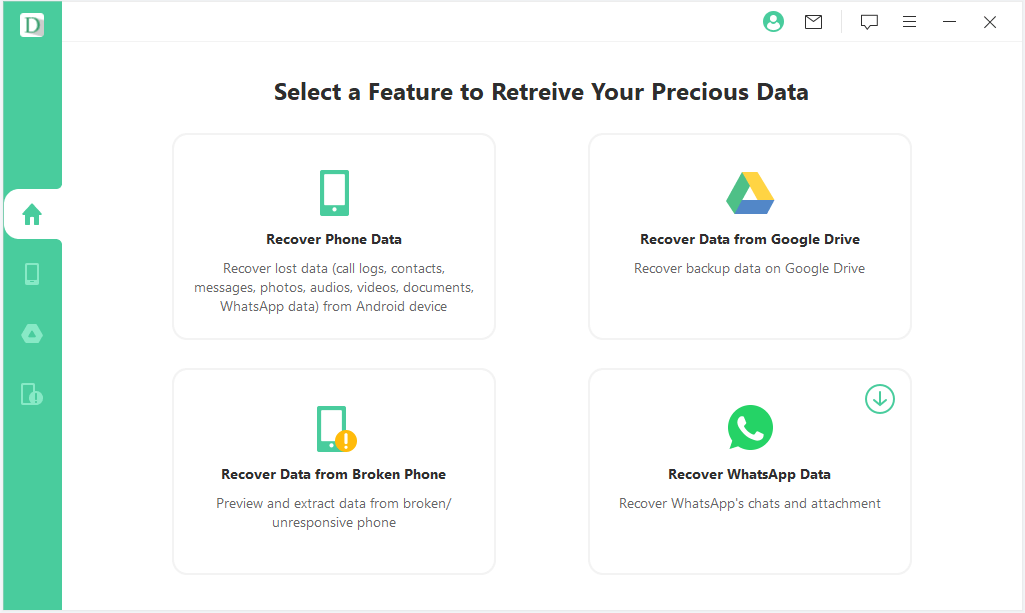 iMyFone D-Back for Android stands out with its support for over 6,000 smartphones and tablets, including those running Android 13. It promises to recover 11 types of Android data without root, including contacts, messages, call logs, WhatsApp data, images, videos, and audio files, documents, Google Hangouts chats, calendar appointments, and Wi-Fi passwords.
If your Android device is working, then iMyFone D-Back for Android should be able to recover data from it directly. If it has been damaged, then you can take advantage of the application's Google Backup recovery capabilities. Alternatively, you can use a special recovery mode (available only in the Premium version of the software) to recover your data despite the damage.
Pros:
Supports thousands of Android devices
Multiple recovery modes
Cons:
WhatsApp recovery requires a special license
How to Recover Android Data on Mac
To recover Android data on Mac, you need the following:
– Android data recovery software for Mac
– Root privileges (optional when recovering from a memory card)
Root privileges are optional because most Android data recovery for Mac solutions let you also recover lost data from the memory card, which isn't restricted in any way.
Of course, the ability to recover data from the memory card won't help you regain access to lost contacts, messages, call logs, recorded phone calls, and probably even recently taken photos and videos because all these files are typically stored in the internet memory.
Is rooting safe?
Yes, rooting itself is safe, and the chance of you "bricking" your device and making it unusable is pretty slim (at least if you follow a reliable tutorial and avoid shady rooting software). However, there are certain risks associated with opening the gates to the deepest layers of the Android operating system, such as malware infections and system file deletion.
If your Android device is already rooted, then you're in luck because you can simply download one of the free Android recovery software solutions for Mac listed in this article and begin the recovery process.
For the purpose of this article, we're going to show you how to recover Android data on Mac using Disk Drill, our favorite Android recovery software for Mac.
Step 1. Install Disk Drill on your Mac
You can download Disk Drill 5 for free from its official website and easily install it on any Mac running macOS 10.15.7+.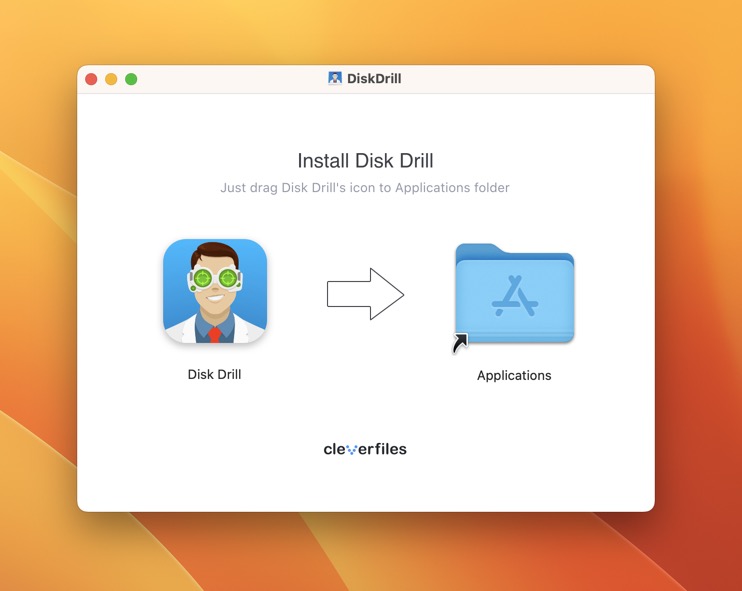 Step 2. Connect your Android device to your Mac
To perform Android data recovery, you need to connect your Android device to a Mac. We recommend you use the original cable that came with your smartphone or tablet. Aftermarket cables may negatively affect the recovery speed.
Step 3. Launch Disk Drill and scan your Android device
Once your Android device is connected (make sure USB debugging is enabled beforehand), you can launch Disk Drill and grant it the necessary permissions. Before you can begin a scan, you will need to allow Disk Drill access to your device, so make sure to monitor your notifications. Then, you can select your device and click the Search for lost data button.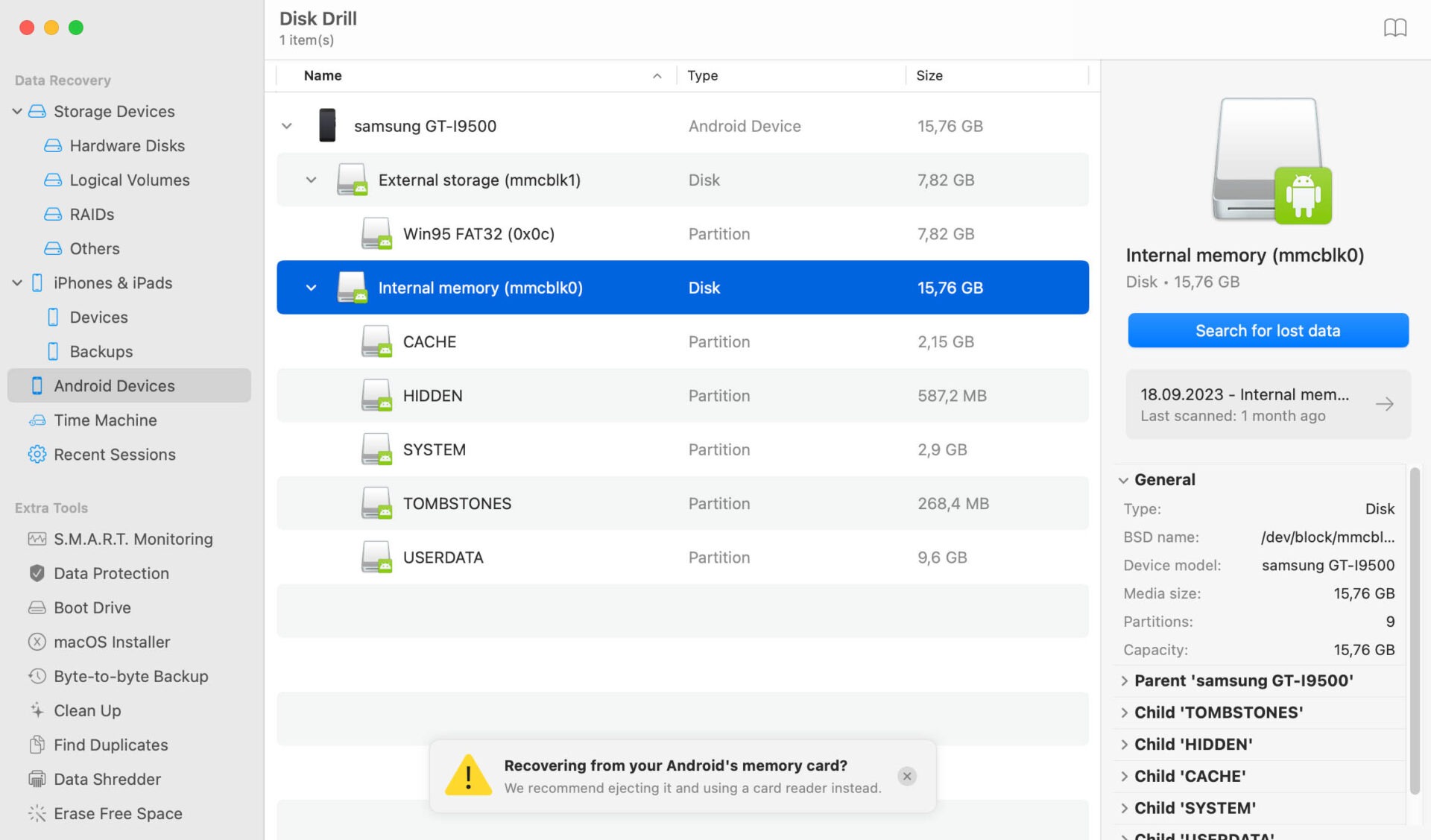 Step 4. Preview and select files for recovery
Give Disk Drill some time to finish scanning your device and go through the scan results. Preview all found files and select the ones you want to get back.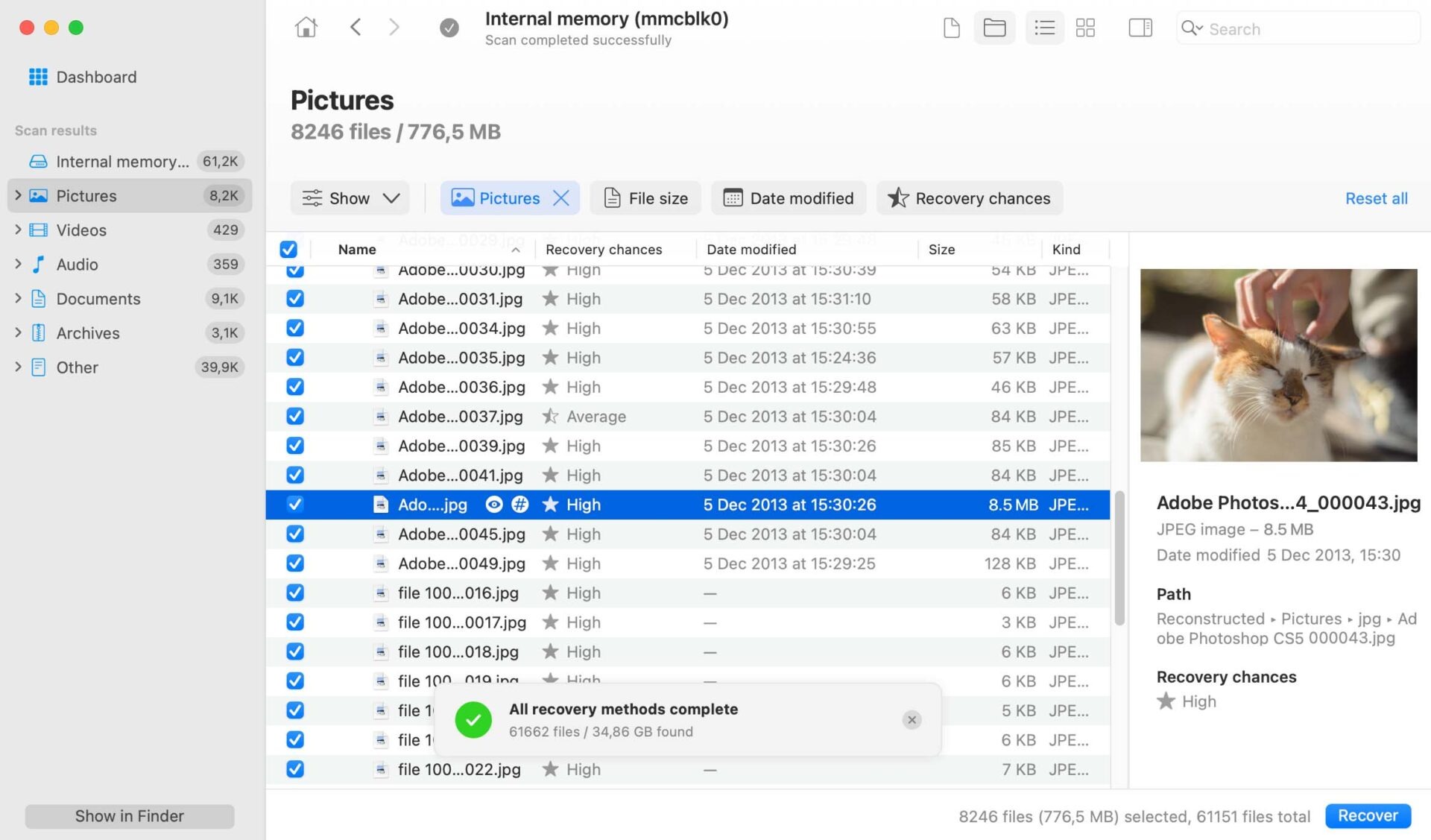 Step 5. Recover selected files to a safe location
Finally, tell Disk Drill that you're ready to recover your data and select a safe recovery location for them. That's how easy it is to perform Android data recovery with Disk Drill.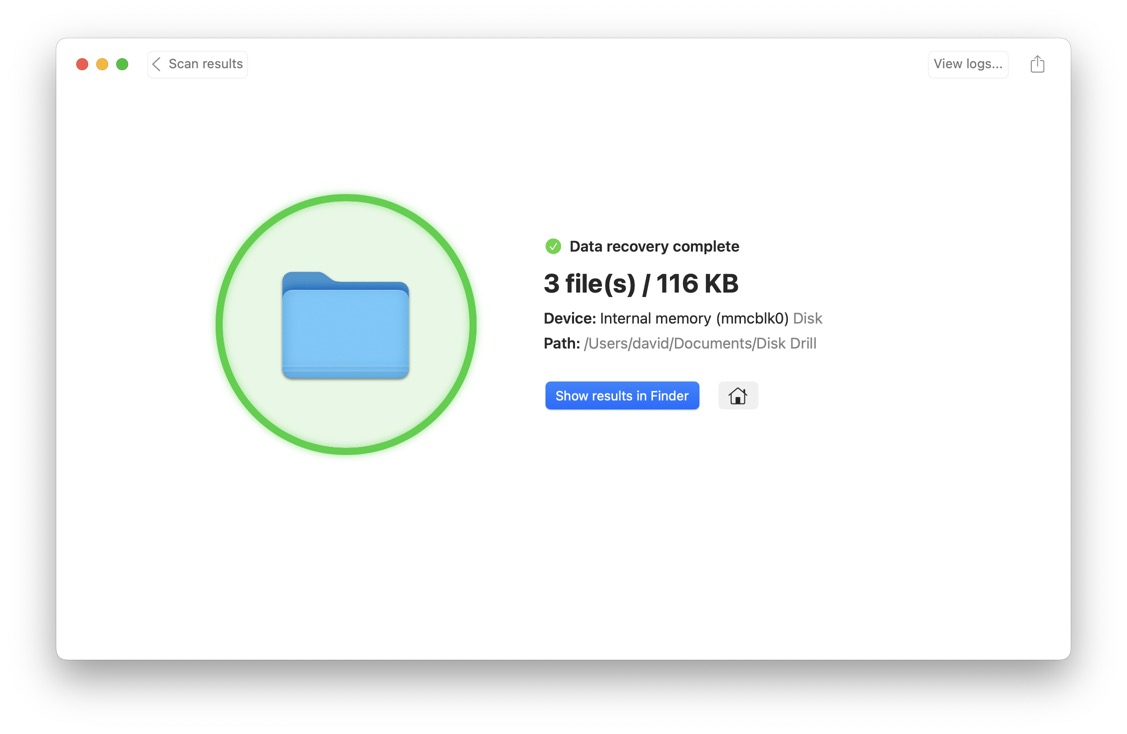 Conclusion
There are many Android data recovery software solutions Mac users can choose from, each offering its unique set of features and capabilities. While Disk Drill stands out as an all-around excellent choice for solving most data recovery scenarios, you should always take your own personal needs and preferences into consideration. Just don't take too much time to select the right software because acting promptly is key to successful data recovery: the sooner you start the recovery process, the higher the chances of retrieving your valuable data. Good luck!
FAQ
To factory reset an Android phone on a Mac:
Open your favorite web browser.
Go to: https://www.google.com/android/find
Select your Android phone.
Click Erase device.
Confirm your decision to factory reset your phone.
You can recover lost photos from an Android device on a Mac using data recovery software like Disk Drill:
Download and install Disk Drill.
Connect your Android device to your computer.
Scan the Android device.
Look for the lost photos.
Recover them to a safe location.
Yes, it's sometimes possible to recover data from a destroyed phone, but not without professional equipment and expert-level skills. If your phone has been destroyed, then we recommend you contact a professional data recovery center.