Kevin Rose outs Oink, Milk's first app
Josh Wright
| Thursday, October 20th, 2011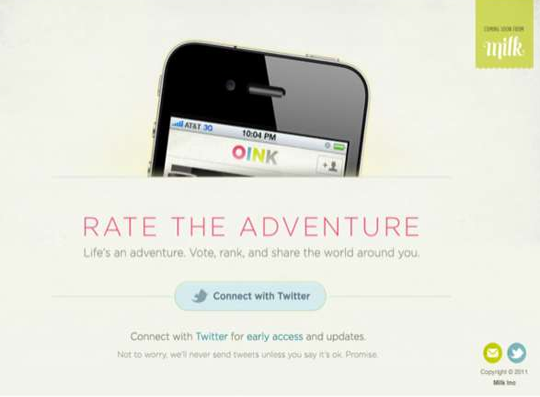 Kevin Rose, whose biggest accomplishment may be making it on my #ManCrush list (currently this is a short list of 2), unveiled Oink on stage at the Web 2.0 conference yesterday. Oink is an iOS app from Rose's new startup Milk and aims to let you "Rate the Adventure."
Milk recently raised $1.5m in capital from a number of different investors, who realize that investing in Kevin Rose is always a good idea. With that in mind, their first app launch has everyone wondering if the company might actually have some staying power.
Kevin has been talking a lot and building up quite the hype machine behind Oink over the last couple of months, but this is the first time we've gotten to see what it's going to really be all about and it looks pretty damn sweet!
One major advantage to Oink over other rating and review app/sites out there is the ability to literally rate anything, wherever you are. Sites like Yelp allow you to rate places you go, but what if you wanted to rate the chicken fingers at that place? Oink makes this possible with the atomization of the reviewing process.
With this granular data you are actually able to sit down somewhere and know exactly what's good and what's not so good. I have to say, this seems like a way more unbiased way to make a food selection than simply asking your server. Oink is extremely modular though, and reviews don't stop at the food industry.
There are still a lot of things we don't know about Oink, as it's still in private beta, but more beta invites are expected over the course of the next few weeks. We can, however, sit back and enjoy Kevin unveil Oink for the first time. I don't know about you but color me impressed.
Source: Milk Inc.